Ex-Turkish Ambassador Mocks Trump's Letter to Erdogan by Sharing 'Perfect Letter to Santa' Cartoon
The former Turkish ambassador to the U.S. on Friday shared a damning parody of President Donald Trump's recent letter to the Turkish president.
The New Yorker cartoon by Joe Dator reimagines Trump's October 9 missive to President Recep Tayyip Erdogan as if he were writing to Santa Claus. In the letter, Trump asks for a PlayStation 4, telling Santa, "Don't be a tough guy."
Ambassador Namik Tan, who served as a Turkish diplomat to the United States from 2010 to 2014, appeared to mock Trump's letter by invoking the president's own words on similar matters.
"Donald Trump's 'perfect' letter to Santa," Tan said on Twitter, preceding an attachment to the cartoon.
"Dear Santa, let's work out a good deal! History will look upon you favorably if you bring me a playstation 4," Trump's imagined letter to Santa begins. "Don't be a tough guy! Don't be a fool!"
The president concludes, "I will call you later or see you at the mall," leaving Santa Claus with a puzzled expression.
Trump's original letter to Erdogan was structured differently, but some of the phrases used in the New Yorker cartoon were copied verbatim from the widely reported letter, which was later confirmed by the White House.
"Let's work out a good deal!" Trump said to Erdogan after Turkey invaded northern Syria earlier this week. "You don't want to be responsible for slaughtering thousands of people, and I don't want to be responsible for destroying the Turkish economy – and I will."
He continued: "History will look upon you favorably if you get this done the right and humane way. It will look upon you forever as the devil if good things don't happen. Don't be a tough guy. Don't be a fool!"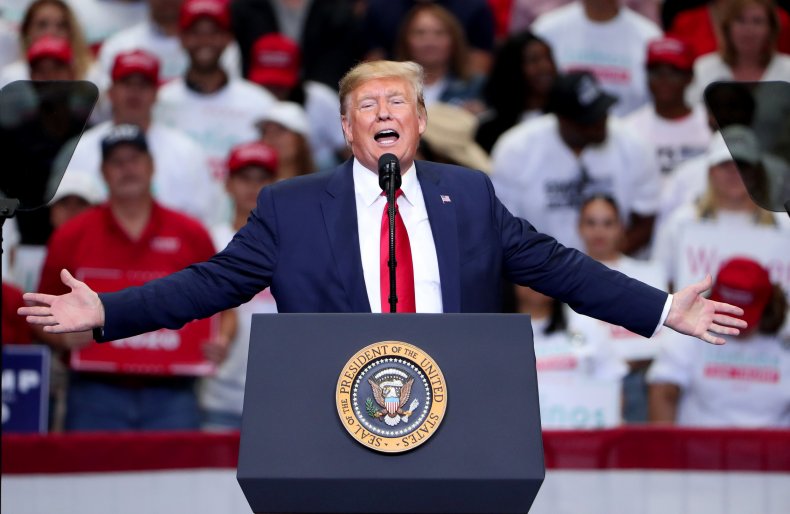 Tan wasn't the only Turkish diplomat to condemn the president's choice of words. Serdar Kilic, Turkey's current ambassador to the U.S., told the PBS NewsHour that the letter shouldn't have been sent.
"I hope history will not record that letter," he said, later adding that "it lacks all the niceties, and it's void of any established practices in that regard."
Erdogan told reporters on Friday that he hasn't forgotten the president's lack of regard for diplomatic courtesy.
"President Trump's letter, which did not go hand in hand with political and diplomatic courtesy, has appeared in the media," Erdogan told reporters in Istanbul. "Of course we haven't forgotten it. It would not be right for us to forget it."
The Turkish president added that it's not a priority right now, but at some point his administration would "take the necessary steps." He declined to elaborate further.
Correction (10/21, 11:00 p.m.): This article has been updated to provide credit to the original cartoonist, Joe Dator. We regret the omission.