Former United Auto Workers VP Aide Pleads Guilty, Becomes 10th Conviction in Federal Probe Into Union Corruption
A probe into Detroit's United Auto Workers union has resulted in a 10th conviction as a former official has pleaded guilty to conspiracy charges. He accepted $120,000 in kickbacks and bribes from contractors with business at the UAW training center.
Jeff Pietrzyk has accepted a plea deal that will require prosecutors to pursue no more than two years and three months' prison time, according to The New York Times. He is the former Administrative Assistant to the former Vice President of the UAW, Joe Ashton, and the 10th person to be convicted in a ongoing probe into corruption in the UAW.
Pietrzyk admitted that he took payments to steer union contracts toward vendors to make watches, jackets and backpacks for union members. After five years, 58,000 watches sit in storage, undistributed and unsold, according to the Associated Press.
The probe began in 2015, when a Fiat Chrysler financial analyst confessed that he'd doctored fake tax returns for UAW officials to hide instances of bribery and embezzlement, according to NPR. Among those convicted from 2015 to September 2019, four Fiat Chrysler department workers and one GM department worker have been sentenced.
In September, the homes of UAW president Gary Jones and his immediate successor Dennis Williams, both of whom were accused of lavishly spending union dues on non-union related matters, were raided.
The UAW has claimed it has undertaken measures to prevent such corruption and the raids were unnecessary.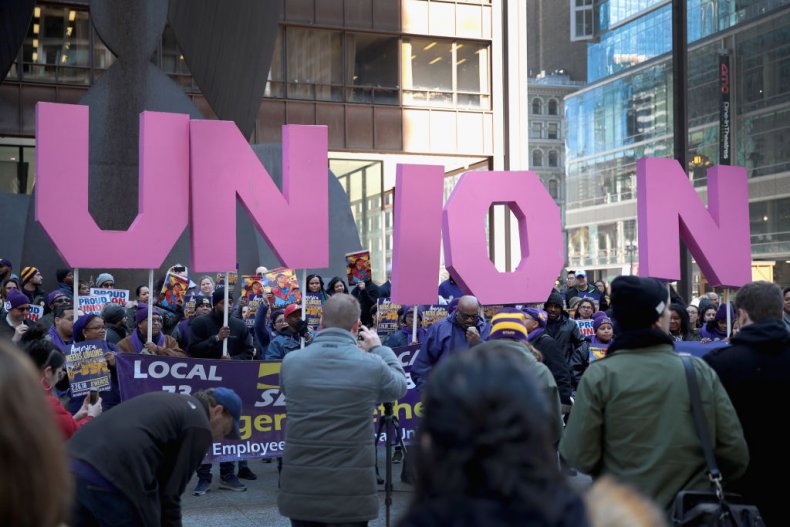 According to NPR, some union members believe that the probe is an attempt to weaken the union's bargaining position in its recently-concluded strike. The UAW had been striking for a month, demanding the return of jobs from Mexico and the reopening of GM plants in Detroit, as well as a reversal in the decision to close Lordstown Assembly. GM plans on closing two more plants—Baltimore Operations in Maryland and Warren Transmission in Michigan—which will allegedly save the company billions.
In a tentative deal stricken on Monday, the UAW received neither, but raises and bonuses are in the offing. On top of the promised raises and bonuses, the elimination of a the $12,000 cap on profit-sharing payouts and a record $11,000 in ratification bonuses were agreed upon.
"I don't think they took a step backwards," Marick Masters, business professor and former director of labor studies at Wayne State University, told The Detroit News. "I think they took a step forwards. These are pretty big achievements by the union's bargaining team. I think my sense is they pushed it as far as they could. They weren't going to get the assurances of plant allocations that they wanted."
In response to the wave of arrests, a few members of the UAW refused to march in Detroit's annual Labor Day parade.