Former U.S. Attorneys Who Served GOP Administrations Denounce Trump's 'Baseless,' 'Reckless' Voter Fraud Claims
A group of former U.S. attorneys who served under Republican administrations issued a joint statement Thursday night, criticizing President Donald Trump's false claims about election fraud and recent efforts to halt ballot counts in Pennsylvania and other key battleground states.
The statement, signed by 19 former federal law enforcement officials, came just before Trump delivered public remarks for the first time since early Wednesday morning, when he prematurely declared himself winner of the general election.
The incumbent GOP candidate and his reelection campaign announced multiple lawsuits aiming to halt ballot counts in states across the U.S. over the course of the following day, as Trump repeatedly claimed some votes were unlawfully cast or counted. Numerous critics underscored the absence of evidence to support his claims, while Twitter and Facebook worked to flag the outpouring of false statements from the president and his following.
Those who authored Thursday's statement said they felt "compelled to speak out against President Trump's premature, baseless, and reckless comments about the vote in Pennsylvania and elsewhere," noting the ways in which his actions subvert civic procedure and, more broadly, American democracy.
"Unfounded allegations of fraud and threats to initiate litigation aimed at stopping the vote count are clearly inappropriate and have the potential to undermine the rule of law as it applies to our electoral process," the statement read.
"Moreover, for any candidate, let alone the President of the United States, to claim victory, without justification, before each and every vote is counted is imprudent and irresponsible," it continued. "Therefore, we hereby call upon the President to patiently and respectfully allow the lawful vote-counting process to continue, in accordance with applicable federal and state laws, and to avoid any further comments or other actions which can serve only to undermine our democracy."
Trump's Thursday night press conference prompted widespread backlash, even from fellow conservatives, after he renewed unsubstantiated suggestions about election "fraud" and Democrats' scheme to "steal" the presidency. He again claimed to have won Tuesday's election, although the race has not yet been called and officials in several battleground states continued to tabulate ballots at the time his conference took place. Still, "If you count the legal votes, I easily win [the election]," Trump insisted. "If you count the illegal votes, they can try to steal the election from us."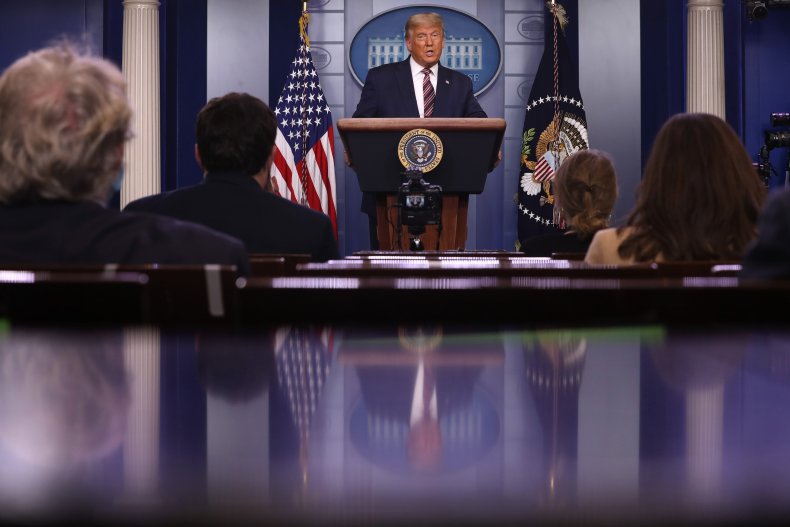 Almost two dozen U.S. states allow mail-in ballots received after Election Day to be tabulated and added to final vote counts. In Pennsylvania, the Trump campaign is pursuing litigation that aims to halt ballot tabulation and invalidate mail ballots through multiple means. One legal effort attempts to challenge a state law that permits elections departments to accept and tally votes received by mail for 72 hours following Election Day. Legal experts and political leaders alike have noted the Trump campaign's lack of standing to pursue any of its claims related to unlawful election proceedings. His claims about voter fraud, in general, are unsubstantiated.
Newsweek reached out to the Trump campaign for comment but did not receive a reply in time for publication.