Former VA Official Claims Refusal to Discredit Female Veteran Who Complained of Sexual Assault Led to Firing
The former Deputy Secretary of Veteran Affairs has claimed in an exclusive interview with Newsweek that he was fired for refusing to damage the reputation of a female Navy veteran who alleged she was the victim of a sexual assault in a V.A. facility.
Former Deputy Secretary James Byrne is a Marine veteran and former federal prosecutor. He was Senate-confirmed as V.A. general counsel in August 2017 and then nominated by the president the following year for deputy secretary, a position in which he served in an acting capacity until September 2019, when he again was Senate-confirmed just four days before the alleged incident.
According to Byrne, Secretary of Veteran Affairs Robert Wilkie embarked on a mission to discredit the female veteran, citing the name of a U.S. congressman to help support his disparaging claims in an attempt to shut down her sexual assault allegations and attack her reputation. Byrne told Newsweek that his refusal to go along with the conspiracy contributed to his eventual ouster from the V.A. and a forced retirement.
"I wouldn't personally, or direct or encourage anybody, to trash this woman's reputation and credibility," Byrne said.
The victim of the alleged assault, whose name Newsweek has withheld at her request, was a Navy veteran. She went on to become a lead staff member for the House Veterans Affairs Committee's Women Veterans Task Force.
She reported that while on a line in the atrium cafe in the Washington V.A. Medical Center, a man approached her, pressed his body against her, and made lewd comments. She got her order and reported him. When the alleged assault occurred, she carried the text of a bill discussed on Capitol Hill earlier that day that called for more stringent measures against sexual assault and harassment.
A week later, a press conference was convened outside the building where she told her story. The optics for the Department of Veteran Affairs could not have been worse: a female Navy veteran, a V.A. facility, alleged sexual assault.
While the female veteran who made the complaint was not known to Wilkie prior to the incident, Byrne said, it was Wilkie's perception that Democratic leadership—from Representative Mark Takano of California, who serves as the House Veterans Affairs Committee chair, up to Speaker of the House Nancy Pelosi—had fabricated the incident to take him down as a senior official in President Donald Trump's administration. That view of the incident, Byrne said, apparently fueled Wilkie's determination to kill the case and pursue the complaining party instead.
"From the very beginning, [Wilkie] was saying it was all BS, that it was totally orchestrated," Byrne said, "that this thing was totally orchestrated by [the alleged victim] and Takano to attack him and the V.A."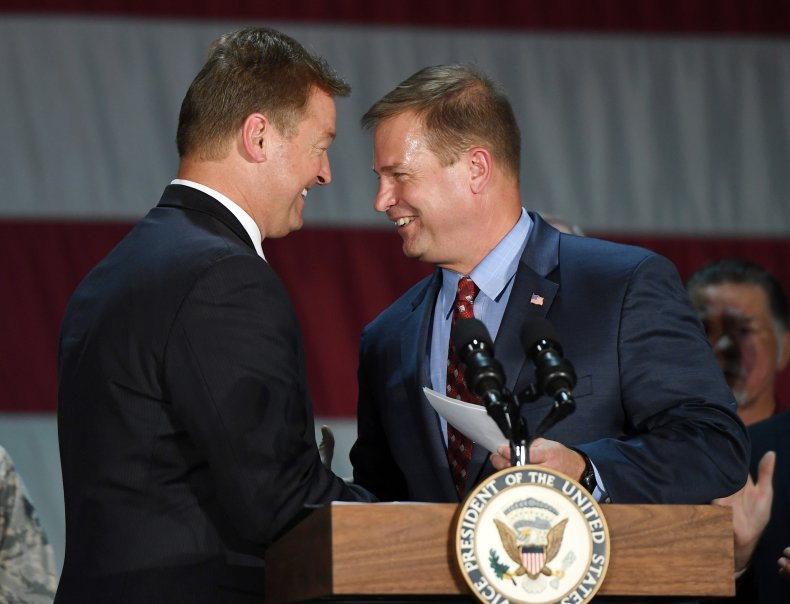 Newsweek reached out to the V.A. for comment via email on Thursday, and received an email response from V.A. Press Secretary Christina Noel in which she defended Wilkie, and dismissed Byrne's allegations as "false," and claimed he was "fired for cause." Newsweek also reached out to Wilkie for comment via text message, but received no reply.
While only the president has the final say on the fate of Senate-confirmed positions, Trump, often vocal in his hiring and firing processes, offered no public indication he was even aware of the events. A White House official who spoke with Newsweek on condition of anonymity said the White House Counsel's office was surprised by Byrne's termination.
According to Byrne's account, as the complainant's story began to gain media traction in the weeks that followed, Wilkie began to openly pursue information that would paint her as an untrustworthy plaintiff, and then he went back to "his people" in an attempt to confirm his suspicions about her.
Byrne said Wilkie claimed that the female veteran was "a serial complainer" and a "pain in the ass" who had filed six similar complaints against commanders in the past—a claim of which Byrne was skeptical. Among the "people" Byrne said Wilkie mentioned to support his story was Republican Representative Dan Crenshaw, of Texas, who had served in the same Coronado-based Navy Seal unit as the female veteran.
Her lawyer, Mark Zaid, confirmed to Newsweek that the two served together; he said the allegations about his client's prior complaints are "absolutely false." He confirmed she had in fact filed one complaint during her active duty and "the perpetrator was disciplined as a result because her complaint was substantiated."
Newsweek was shown the text of an internal email in which Wilkie references a conversation he had about the female veteran with Crenshaw. In it, Wilkie appeared to belittle her narrative of the V.A. incident as it was portrayed in an article published at the time by The New York Times.
"The tone of the email to me was derogatory," a senior V.A. official, who had seen the email but requested anonymity because they were not authorized to speak with the media, told Newsweek. "It was just kind of casting aspersions on her."
The official also expressed that Wilkie was, at that point, overstepping his bounds by willfully obstructing the investigation.
"We should just be weighing the facts that come in without trying to protect or defend or castigate anybody," the official said.
Crenshaw previously denied to ProPublica having ever discussed the Navy veteran or her case with Wilkie, and did so to Newsweek, as well. No one with whom Newsweek spoke could confirm that the two men actually discussed her independently of Wilkie's own email.
Crenshaw's account, however, otherwise supported many of Wilkie's assertions about the veteran, including that she had filed six complaints while they served together in the Navy. Crenshaw also confirmed that, just as the news of the case began to take hold, the two men had breakfast, which the lawmaker said was planned months in advance.
"It just so happened that the week we met was the day or was the week that that all blew up with [the alleged victim]," Crenshaw told Newsweek.
He could not say for sure why Wilkie would have brought up his name and referenced a conversation he asserts never occurred, but Crenshaw suggested that the V.A. chief might have been confused because of the close timing of the events.
"He probably brought up my name because of the timing, like we met at the same time and he knows that I know her," Crenshaw said. "It was just ironic. It was coincidental."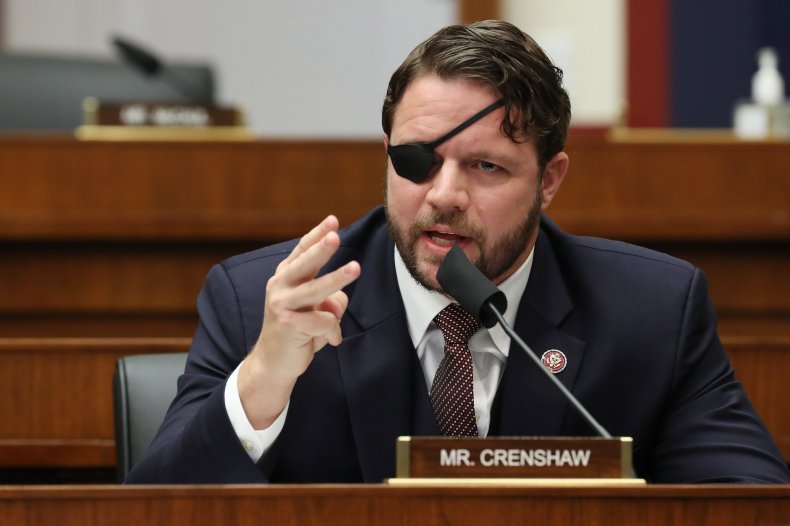 When Newsweek asked whether Crenshaw had provided Wilkie with information about the veteran, Noel wrote that "Sec. Wilkie had discussions about a VA-related issue that was in the news and under congressional scrutiny."
Like Wilkie, the Republican lawmaker believed the scandal surrounding the sexual assault case and the V.A.'s handling of it to be part of a political stunt concocted by Democrats.
"The Democrats created this narrative. They're so good at this, it's unbelievable," Crenshaw told Newsweek. "They take a few facts, and then they construct a narrative."
He called it "dangerous territory for the Democrats to be pursuing this" because of what he knew about his fellow Navy veteran, including six prior complaints that he and Wilkie alleged she filed during their military service together.
"If you really want to know what are the things I know about [the Navy veteran], then by all means," Crenshaw said. "But I've no intention of slandering her, nobody's ever asked me to."
Following the incident, with his suspicions supposedly confirmed on a matter that would normally fall outside his purview as the agency secretary's and member of the president's Cabinet, Wilkie set out to take action, Byrne recalled, that made Byrne increasingly uncomfortable.
"I was thinking, 'Oh, my God, he's gone from just spouting off crazy foolishness to maybe he did actually try to trash this woman,'" Byrne said. "At the time, I thought, 'Oh, my God, he did go try to dig up dirt on this woman,' and he's, of course, exaggerated it."
Byrne said his fears were at least partially rooted in his knowledge of Wilkie's background. Prior to assuming the top job at the V.A., Wilkie—also a Navy veteran—was the Under Secretary of Defense for Personnel and Readiness, and the former deputy secretary worried that this connection could afford Wilkie access to the Navy veteran's personnel file.
"I had concern that he was able to access [her] military records," Byrne said, "and he implied that he was doing so."
As Wilkie continued to fume about the issue in various formal and informal meetings, Byrne said, the situation escalated one day when he was cornered by Wilkie in his office—a room with an impressive view overlooking the Washington Monument and White House—and tasked with discrediting the veteran and defending the V.A.
The then-deputy secretary said there was little more he could respond with other than, "I hear ya," an effort to politely distance himself from the situation.
Byrne said Wilkie approached him twice more, trying to prod him into action by making him feel guilty, urging him to do the right thing for the good of the agency and their personal relationship. When it became clear Byrne wasn't budging, he said, his work dynamic immediately changed.
"It was basically like the end of our relationship," Byrne said.
Byrne's account is supported by a senior V.A. official, a former career official, and White House official those who testified to his integrity. The first source described Byrne as "a Boy Scout," while the latter called him "the straightest arrow I've ever met." The White House official with whom Newsweek spoke gave a similar assessment of Byrne's character.
"To be clear, the only investigation into [the alleged victim's] allegations was that of the independent inspector general and U.S. Attorney—an investigation Sec. Wilkie requested immediately upon learning of the allegations," Noel said.
Byrne's actions in relation to this case apparently didn't bode well for his career, especially when combined with his refusal to issue two out of three formal memorandums ordered by Wilkie for the removal of people in other Senate-appointed positions on grounds Byrne called "baseless."
A third strike, Byrne said, came when he pushed back on what he said were Wilkie's orders to "lighten up" on the agency's scrutiny of a company's fulfillment of obligations on a $15 billion contract to modernize its electronic health records.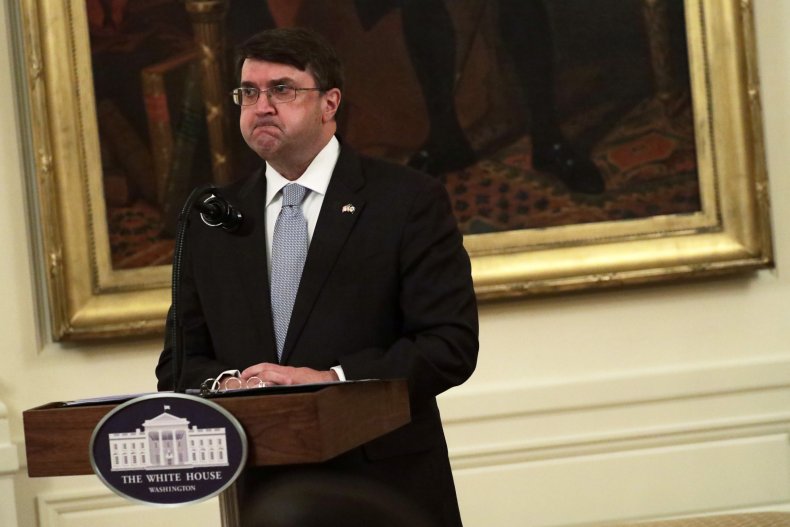 By New Year's Day 2020, Byrne said word around the agency was that the White House was getting set to fire Wilkie, a development that would put Byrne in position for promotion to the top spot.
Just days before February 5, the date Byrne said Wilkie was to be fired—and just one day after the U.S. Senate acquitted Trump of the charges related to his impeachment—Byrne was approached by Wilkie in an encounter that would spell the end of his V.A. career.
Byrne said Wilkie told him on February 3 that he'd lost confidence in him and demanded his "resignation, effective immediately." When Byrne refused, two security guards escorted him out of the V.A.
Byrne said he stayed silent for four months before speaking with the V.A. Office of Inspector General, which had opened an investigation of Wilkie's handling of the sexual assault complaint at the request of Takano and other lawmakers. Today, Byrne still is waiting for the report to be released, and he told Newsweek that he worries with each passing day that there has been a deliberate effort to block it.
Byrne said that he has kept quiet to this point to avoid his story being caught up in the political cycle surrounding the presidential election, but he feels the need to speak out now out of concern that the report might never see the light of day.
Zaid, the veteran's lawyer, hopes more individuals speak out to shed additional light on the incident and the alleged smear campaign that followed.
"The more information we learn, either through honorable officials coming forward and speaking out or via our FOIA litigation," Zaid said, "it appears there was a concerted effort at the highest levels to try and discredit a sexual assault victim rather than acknowledge and fix the problems that exist in V.A. hospitals."
Byrne said the brazenness of Wilkie's actions make them difficult for some to believe but also signal an urgent need for the truth to emerge.
"I think that's why some people don't believe it, because it's so outrageous," Byrne told Newsweek. "Who in their right mind would conduct an investigation into the character and complaint history of a sexual assault victim? And that's why this report, when this report comes out, it's going to be really, really clear."
Update (11/19/2020, 10:30 p.m., 11:30 p.m.): This article has been updated to reflect that the alleged victim's press conference was held a week after the incident in question and to include additional comment from her lawyer, Mark Zaid.