Former Victoria's Secret CEO Wexner May Produce Documents in Epstein Case
Les Wexner, the former CEO of women's clothing retailer Victoria's Secret, may be asked to testify in a defamation case related to the crimes of late sex trafficker Jeffrey Epstein, according to documents released Monday by a federal judge.
Information from Wexner and John Zeiger, the Wexner family legal counsel, could provide insight into a pair of concurrent defamation lawsuits. Virginia Roberts Giuffre, who claims to have been part of Epstein's stable of minor girls that Epstein forced to have sexual relations with adults, alleged that Harvard Law professor Alan Dershowitz had engaged in sex with her.
Dershowitz filed a countersuit against Giuffre, alleging he and Giuffre had not met. Both sides have asked for Wexner to hand over documentation and possibly undergo deposition in the cases. Those requests had been held as private until Monday.
"First, the Court sees no reason for that correspondence to remain under seal," Judge Preska wrote. "The parties shall file their respective letters on the public docket as soon as is practicable."
Judge Preska also ordered all those involved to appear before the court in August.
"I want every bit of evidence unsealed," said Dershowitz in a Monday statement to Newsweek. "Unlike my false accuser who has deep sixed evidence of my innocence, I have absolutely nothing to hide."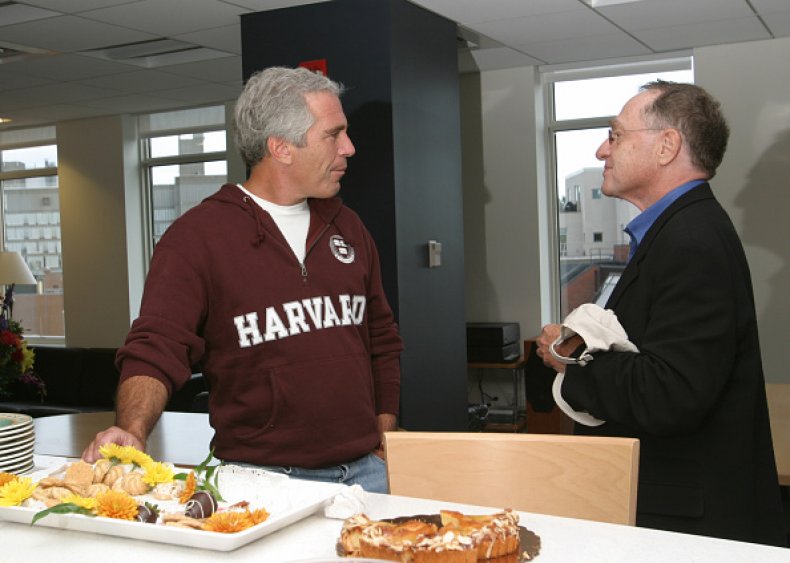 In a 2019 letter to his foundation, Wexner said that Epstein, who was given control of Wexner's personal finances, had "misappropriated vast sums of money from me and my family."
"I am embarrassed that, like so many others, I was deceived by Mr. Epstein," Wexner added. "I know now that my trust in him was grossly misplaced and I deeply regret having ever crossed his path."
Despite his previous business relationship with Epstein, Wexner said he was not in possession of important information relating to the case. Nonetheless, both sides appear interested in what Wexler has to say. In a letter filed with the U.S. District Court by Dershowitz's attorney Howard Cooper in July, Wexner's input is expected to be "key evidence at trial." Giuffre's legal team also sought information from Wexner and requested in July that "the Court allow these depositions to proceed."
Epstein was arrested by federal agents in 2019 for the sex trafficking of minors. While awaiting trial in the Manhattan Metropolitan Center, Epstein was found hanged. His death was ruled a suicide, but the behavior of his cell guards and an instance of missing security video led some to believe Epstein did not kill himself.
Giuffre has alleged that Epstein forced her to have sex with high-profile individuals that include Dershowitz and Britain's Prince Andrew. Both Dershowitz and Prince Andrew have denied the claims.
In July, Epstein's associate Ghislaine Maxwell was arrested in July for recruiting girls for Epstein. Giuffre has also alleged that Maxwell sexually abused her.