Former Virginia Governor Says 'Stop Calling Me About Virginia,' Says 'We Will Win Big'
Former Virginia Governor Terry McAuliffe implored people to "stop calling me" about the state's election results and said he believed Democrats "will win big" once early voting ballots have been tallied.
"Please stop calling me about Virginia," McAuliffe said Tuesday night on Twitter. "They have not counted the 2.7M early votes. They'll all be in by 11 and we will win big."
The Associated Press called the presidential race for Democratic presidential nominee Joe Biden shortly after 7:30 p.m. local time. The Virginia Department of Elections said it will continue to accept absentee ballots postmarked by Election Day until midday on Friday and warned that the state's official election results will not be certified until 10 days after that.
More than 2.7 million early votes were cast in Virginia this election cycle, Virginia Department of Elections Commissioner Christopher Piper said during a Tuesday night news conference. That number—which was about 1.2 million votes shy of the total votes cast during the 2016 presidential election—included nearly 1.8 million votes cast in person leading up to Election Day, as well as more than 960,000 mail-in ballots, according to data compiled by the U.S. Elections Project.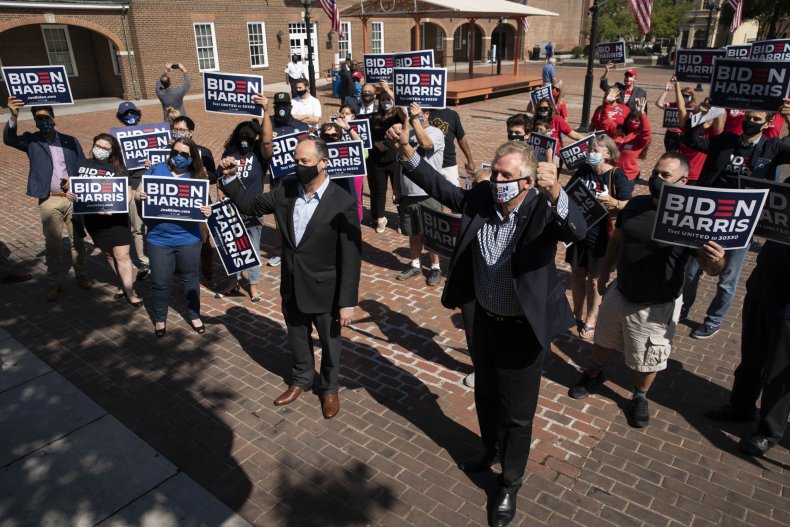 Piper praised voters and election officials for helping the state report record voter turnout numbers and said the department would count all ballots received by the deadline.
"Virginia is going to count every single vote," Piper said.
In the leadup to Election Day, McAuliffe campaigned frequently on behalf of Biden and vice presidential candidate Kamala Harris. McAuliffe, a former chair of the Democratic National Committee who oversaw the party's convention in 2000, collaborated with the committee once more in late October to film a video ad encouraging voters to make plans for when and how they would vote if they hadn't done so already, and he told WCAV-TV on Election Day that he and other members of the Democratic Party put together more than 150 events on Biden's behalf in the state to support the former vice president's campaign.
After the AP announced its prediction for Virginia, McAuliffe celebrated the win on Twitter. "Virginians chose unity over division and hope over fear by voting decisively for @JoeBiden and @KamalaHarris," he tweeted. "The Commonwealth leading the way yet again. Proud to have been part of the Biden-Harris for VA team!"
With election results still expected to filter in over the coming days, the margin with which Biden won Virginia's 13 electoral votes was unknown Tuesday night. In 2016, then-Democratic presidential nominee Hillary Clinton won the state by more than 5 points.
Newsweek reached out to Biden's campaign for comment.