Former WH Press Secretary Tells Fox News Trump's Acting Chief of Staff Made a 'Terrible Mistake' During Press Briefing
President Donald Trump's acting chief of staff Mick Mulvaney's admission Thursday that the administration used quid pro quo to temporarily withhold aid to Ukraine was a major flub, according to a former White House press secretary.
"First of all, that is the reddest, hottest room on Earth. You don't take that podium unless you are aware of every implication of every word and every sentence you say. He went too far," Ari Fleischer, George W. Bush's press secretary, told Fox News on Friday morning.
Fleischer added that Mulvaney made a "terrible mistake" because he was saying something that was in direct contrast to what the president and his senior administration officials have said regarding the controversial dealings with Ukraine.
"The President has said there's no quid pro quo and that's exactly what his Chief of Staff should have said," Fleischer told Fox News.
Mulvaney was asked by reporters during a rare White House press briefing on Thursday to explain why the Trump administration decided to temporarily withhold $400 million in military aid to Ukraine earlier this year. The order to withhold the funds was made days before Trump's July 25 phone call with Ukrainian President Volodymyr Zelensky, during which Trump asked the foreign leader to do him a "favor" and investigate former Vice President Joe Biden and his son.
Mulvaney said the decision had "absolutely nothing to do with Biden" and instead was connected to an investigation of the hacking of the Democratic National Committee during the 2016 election. ABC News correspondent John Karl noted that would still be considered a "quid pro quo" agreement between the two leaders.
"We do that all the time with foreign policy," Mulvaney said, adding that everyone should "get over it."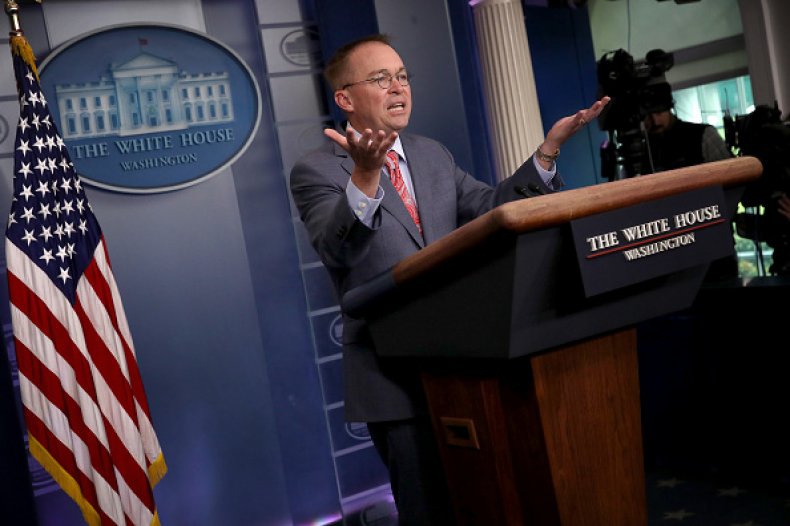 The White House has repeatedly denied any quid pro quo deals between Trump and Zelensky. The administration also released a rough transcript of the phone call between the two leaders, which showed that Trump never explicitly used the term "quid pro quo" when discussing the possible investigation into the Bidens.
Mulvaney was forced to walk back his comments late Thursday and issued a statement in which he also blamed the media for misinterpreting his comments to "advance a biased and political witch hunt against President Trump."
"Let me be clear, there was absolutely no quid pro quo between Ukrainian military aid and any investigation into the 2016 election," Mulvaney said in the written statement. He added that the "only reasons we were holding the money was because of concern about lack of support from other nations and concerns over corruption."