10 Ex-White House Chiefs of Staff Scoff at Idea of Seeking Political Help from Foreign Countries: 'This Is Unprecedented'
Ten former White House chiefs of staff slammed the idea of asking a foreign country for political help, saying that they couldn't recall any circumstances during their administrations when it would have been considered a possibility.
"This is unprecedented," Samuel Skinner, the chief of staff under late President George H.W. Bush, told The New York Times. Ten former chiefs of staff from five different administrations, both Republican and Democrat, told the outlet that the very thought of soliciting political aid from foreign leaders was "out of bounds."
"I served three presidents in the White House and don't remember even hearing any speculation to consider asking for such action," said Andrew Card Jr., the longest-serving chief of staff in the past 60 years. He ran President George W. Bush's administration from 2001 to 2006.
Kenneth Duberstein, the chief of staff under President Ronald Reagan, told the Times that it "did not happen" and "would not have happened" during Reagan's administration. Former chiefs of staff for Presidents Bill Clinton and Barack Obama said they never had a situation where the White House was considering using foreign help for domestic political gain.
President Donald Trump, on the other hand, has already encouraged both Ukraine and China to investigate political rival Joe Biden and his son Hunter. The former vice president is currently leading the Democratic primary for the opportunity to take on Trump during the 2020 general election.
Speaking to reporters outside the White House last week, Trump doubled down on his calls for Ukraine to look into the Bidens over what he claims were corrupt business deals. His controversial communication with Ukrainian President Volodymyr Zelensky on the matter already prompted the House of Representatives to launch an official impeachment inquiry.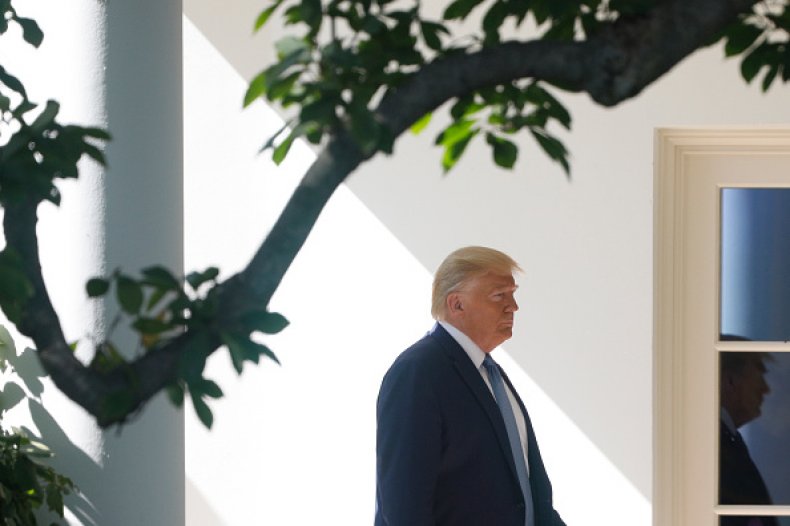 "China should start an investigation into the Bidens because what happened with China is just about as bad as what happened with Ukraine," Trump told the press. "I'm sure that President Xi [Jinping] does not like being under that kind of scrutiny where billions of dollars is taken out of his country by a guy that just got kicked out of the Navy."
Former Watergate prosecutor Nick Akerman told Newsweek that asking China to intervene is Trump's "new defense" against the impeachment inquiry but that the strategy was "still illegal" and "still a crime."
Shortly after Trump's remarks, House Speaker Nancy Pelosi told reporters that lawmakers wouldn't need to conduct "too much inquiry" on Trump since he had just essentially "confessed to his violation of his oath of office."
Trump has dismissed the inquiry as a "Democratic witch hunt," but polling shows that public support for impeachment has been growing since the House began their investigation. A plurality of Americans support Congress impeaching Trump and removing him from office, according to a recent survey from USA Today/Ipsos.