Former White House Ethics Head Slams President's Golfing Habits After Trump Property Breaks Pledge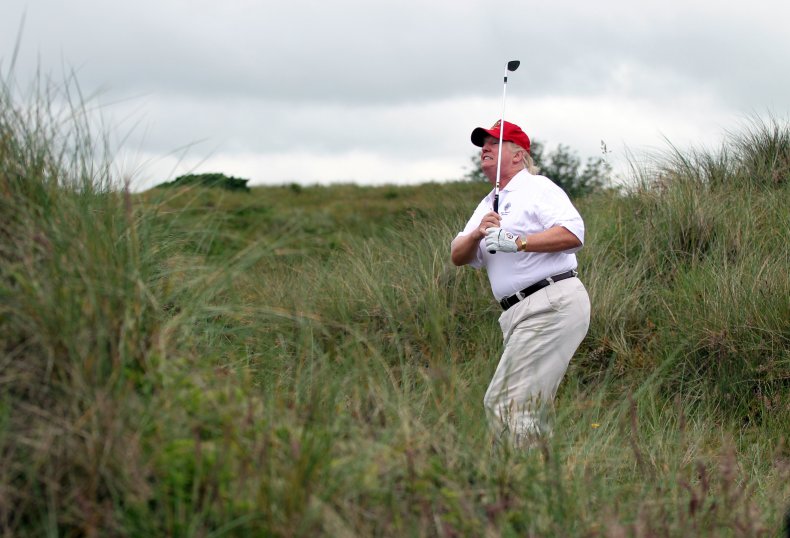 Former White House ethics chief Walter Shaub issued a fiery retort directed at President Donald Trump on Saturday, ribbing the commander-in-chief for once again golfing at a Trump-branded property and bringing along a costly entourage.
Shaub, who worked under the Obama administration and during the first six months of Trump's White House, joked that there should be a new act designed to cut taxpayer costs associated with sustaining presidential golfing trips.
"How about a law that says anytime POTUS visits a property on or adjacent to a golf course, he/she must pay for all costs incurred by the entourage from the minute he/she left the White House until he/she is back inside the White House?" Shaub said. "The Golf On Your Own Damn Dime Act of 2019"
Since leaving office, the former ethics head has become a popular pundit known for using his considerable online platform to document and share the ways in which Trump's potential conflicts of interests have skirted—and, in his view, sometimes crossed—an ethical line.
Shaub's latest tweet came after the Trump International Golf Links & Hotel in Doonbeg, Ireland— the venue to which the president took his latest golfing trip—broke a pledge promising not to use the president's appearances there to drum up publicity.
"No communications of the organization, including social media accounts, will reference or otherwise be tied to President-Elect Trump's role as President of the United States or the Office of the Presidency," the 2017 pledge stated. The account has since deleted the offending tweets, although it's hardly the first time Trump properties have been under fire for using its owner's status as an elected to gain attention.
A 2019 report from the Government Accountability Office found that trips to Trump's private clubs like Mar-a-Lago cost taxpayers an average of $3.4 million. That includes renting golf carts, secret service detail, flight travel, among other expenses.
Estimates for how much the trips have cost taxpayers in total vary. According to The Washington Post, Trump's trips have likely cost taxpayers about $64 million as of February 2019—and the president has hit the green at least a dozen times since then. A report from HuffPost published last week put the cost at around $106 million.
While Trump's predecessors also favored the sport and racked up large bills to facilitate stints on the green, Trump's golfing sprees have become controversial for allegedly being used to boost the profile of Trump's chain of golf resorts and because the president, before taking office, was a frequent critic of presidents who spent considerable time golfing. He sent out dozens of tweets on the issue during the tenure of President Barack Obama.
While campaigning, he also promised voters he wouldn't have time to waste on the sport if elected president.
"I'm going to be working for you," Trump said in 2016. "I'm not going to have time to go play golf."
So far, Trump has visited golf resorts 183 times since taking office, according to a Trump Golf Count, a website that meticulously logs each visit. Since taking office, he has been photographed or recorded playing golf 83 times, up from the 73 times President Obama was confirmed to have played golf during the same point in his tenure.
For the most part, Obama played rounds of golf at military links, while Trump has favored his private resorts.