Former White House Press Secretary Compares Seattle CHOP Zone To Confederacy
A former White House press secretary compared Seattle's Capitol Hill Occupied Protest Zone (CHOP) to the Confederacy during a segment of Fox News' Outnumbered on Thursday.
"At a time when we are debating Confederate statues, I don't know what the difference is between the Confederacy and CHOP, other than slavery," Ari Fleischer said.
Fleischer, who served as press secretary under former President George W. Bush, made the comparison Thursday amidst much criticism of how Seattle has handled the protest zone.
Fleischer seemed to believe that protesters in CHOP wanted to be recognized as their own fully autonomous entity, similar to the past desire of Confederate states.
"The fact is they are both secessionist movements, and what happened in Seattle should be condemned as secessionism," he said.
Newsweek contacted Fleischer for further comment but did not hear back in time for publication.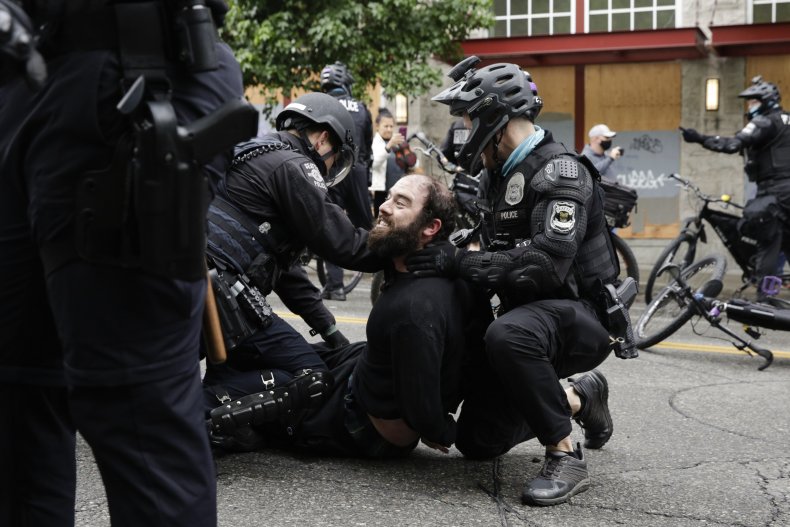 CHOP, an occupied area of the city spanning roughly six blocks, organized in the days following the death of George Floyd, who died in Minneapolis on May 25 while in police custody.
After several nights of demonstrations held in front of the Seattle Police Department's East Precinct, officers left the area, boarded up the building and allowed protesters to freely march.
The area known attracted hundreds of protesters since June 8, until Seattle Mayor Jenny Durkan ordered its dismantling early Wednesday morning.
"At 2:00 am on July 1, 2020, the entirety of the Cal Anderson Park Area shall be closed to the public to restore public safety," according to Durkan's executive order.
Anyone who refused to obey the closure would be subject to arrest by the SPD, the order stated. Durkan's move to dismantle the zone was due to violence in the area, as well as the harassment of residents who lived near and inside the CHOP zone.
During the zone's occupation, four separate shootings occurred, resulting in the deaths of a 19-year-old and a 16-year-old. Others were injured in the shootings, and Durkan's order also referenced reports of robberies, assaults and property crime ongoing in the area.
Speaking to Fox News on Thursday, Fleischer said Durkan should never have allowed CHOP to be set up in the first place.
"It was naive and dangerous right from the word go," he said, adding that "mayhem" and "anarchy" were foreseeable consequences.
On Wednesday, Horace Lorenzo Anderson Sr., the father of the 19-year-old shooting victim, said that neither the SPD nor Durkan had contacted his family. Instead, he learned about his son's death from two friends who happened to be in the area when his son died.
"Someone should've came and knocked on my door and...let me know about my son," he said during an appearance on Fox News' Hannity. "To this day, I really don't know nothing."
During Thursday's interview with Fleischer, Fox News contributor Emily Compagno said Durkan "has lost any credibility and any iota of respect that she began with."
"She has failed as a leader, she is incompetent," Compagno said.
Newsweek contacted Durkan's office for comment but did not hear back in time for publication.