Former World Champion Converts Archery Business to Make 3D Printable Respirator Masks For Coronavirus Pandemic
Newsweek's "Heroes of the Pandemic" series features everyday heroes showing service, sacrifice or kindness in the time of COVID-19.
Kolby Hanley wanted to shoot archery so bad when he was a kid that he made his own bows from tree saplings. After finally getting real bows and arrows, he shot his way into becoming one of the top junior archers in the world.
His next venture in bow building began in the basement of a college fraternity house. The 22-year-old recent engineering graduate now uses his archery business to help develop one-size-fits-all respirator masks that can be made from any 3D printer in the world.
Hanley said Monday that, after several attempts, the product has been finalized. He is now working on the printing protocol for the finished product so it can be used to help those on the front lines battling COVID-19, better known as the coronavirus pandemic.
"I would have never thought that my business would be able to pivot to help fight a worldwide pandemic," Hanley told Newsweek. "I also never really planned to start a business when I first started college, so I guess you could say I like taking opportunities when they present themselves."
Personal protective equipment (PPE) is needed around the country and around the world, so Hanley used his company, UltraView Archery, to team up with AtlantaBeatsCovid.com to create respirator parts that can be made from any 3D printer.
The key was making a mask that would fit the face of an average human being. The soft, rubbery silicone part is pressed onto the face to create a tight seal. It uses ABS (Acrylonitrile Butadiene Styrene) plastic and then smoothed out for a mirror-like finish.
Next up is making several molds of the mask, simplifying directions and protocols for downloading print instructions, and then delivering these kits to healthcare workers who are on the forefront fighting coronavirus.
"I've been using my expertise on how to make them the quickest, but where the parts are also usable," Hanley said.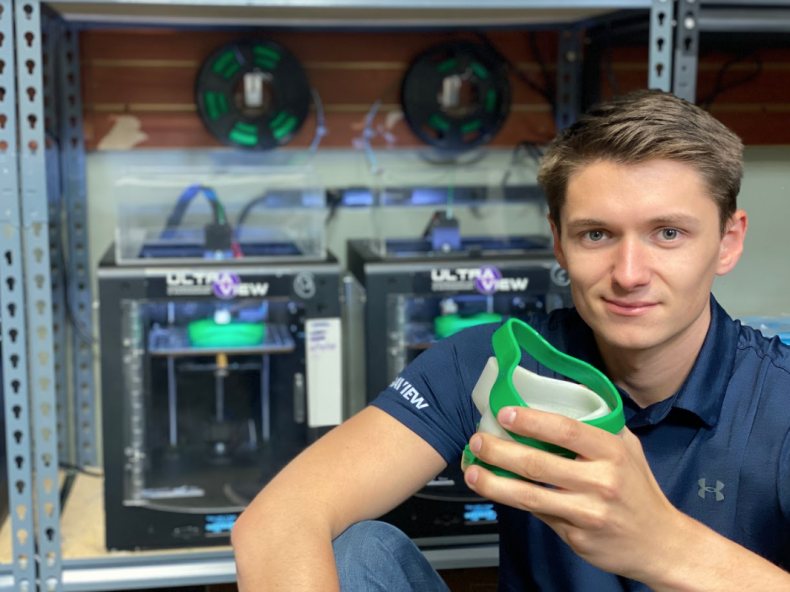 Hanley said the mask is made in three separate parts. He said each part takes about an hour to make. So any place that has multiple 3D printers can make several masks per day.
The project not only falls in line with Hanley's business, but his archery background. He was one of the top junior archers in the world all through high school. Archery takes patience, practice and precision. It takes having the ability to deal with unseen variables like sudden wind shifts and noise. It takes complete focus and making adjustments on the fly.
It also takes good equipment that works every time it's needed, so Hanley knew he had what it takes to tackle something like this.
"Archery is a sport where there's a lot of equipment you use, and it all needs to be precise and it needs to work all the time," Hanley said. "We've been programmed to make high-precision parts that fit a human being and are comfortable. So we know the pressure of deadline and make sure these parts work just right."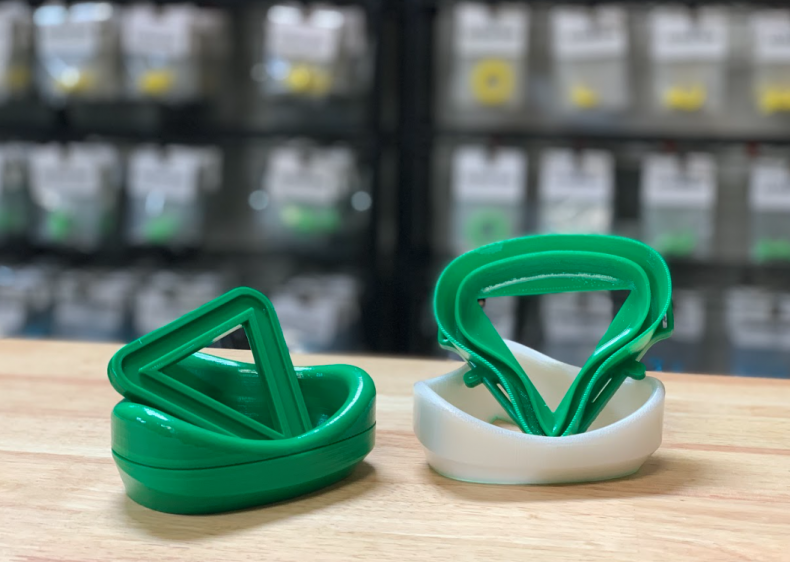 Though he has spent countless time on the respirator parts, his archery business has actually been busier than normal—because of the pandemic.
"More people are staying at home now, so more people are out shooting their bows, so we've stayed busy simultaneously," Hanley said.
Hanley was just 10 when he crafted his own archery sets from small trees in the backyard of his Vermont home. His parents finally bought him a bow, and he shot arrows all day and night. He became one of the top junior compound archers in the world, winning junior world championships along the way. His most recent success was a team bronze at the 2017 Rosario World Archery Youth Championships in Argentina.
He went to Georgia Tech to study engineering, and in 2017, found himself renting out the basement of a fraternity house because that's the only place he could find to live on a shoestring budget. While living in the basement that summer, Hanley began making archery parts on a three-dimensional printer.
Hanley graduated from Georgia Tech in December of 2019 with a degree in materials science engineering. With school behind him, he was able to dedicate himself full-time to his business that began in college.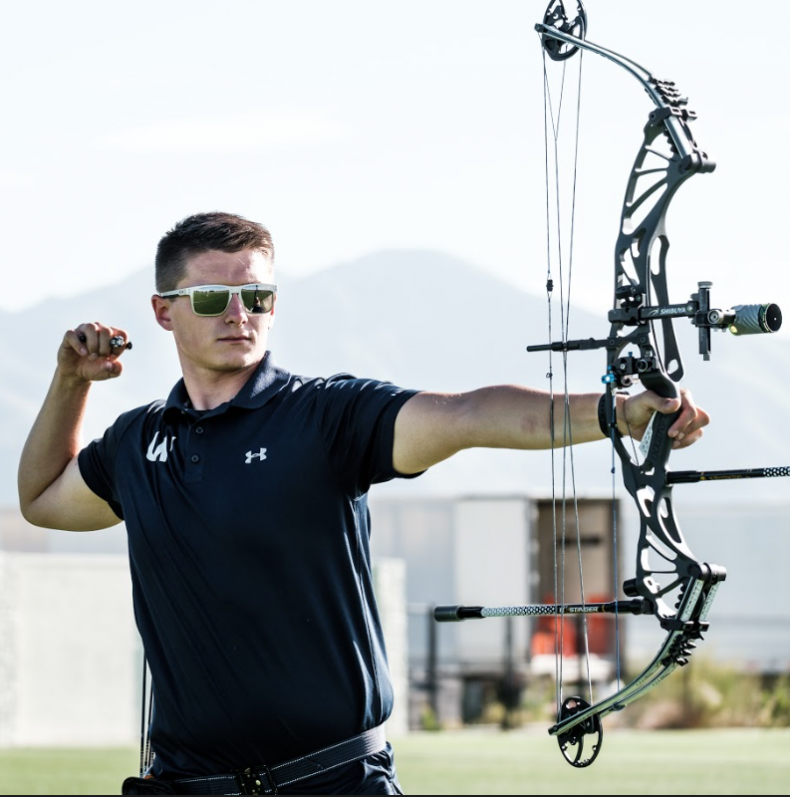 UltraView Archery makes and sells scopes, grips, hinges and other parts to help archers. When COVID-19 became a worldwide pandemic, Hanley put his warehouse full of 3D printers to a different use.
Hanley might not be on the shooting line at an archery competition, nor the front lines of the coronavirus pandemic. But he's used his ingenuity to play an important role in the supply chain not just for coronavirus, but for also anything in the future that might require respirator masks.
Know a hero you want to nominate to be featured in our series? Drop us a line at heroes@newsweek.com.