Former Zimbabwe President Robert Mugabe Says His Pension Is Too Small, Wants $10 Million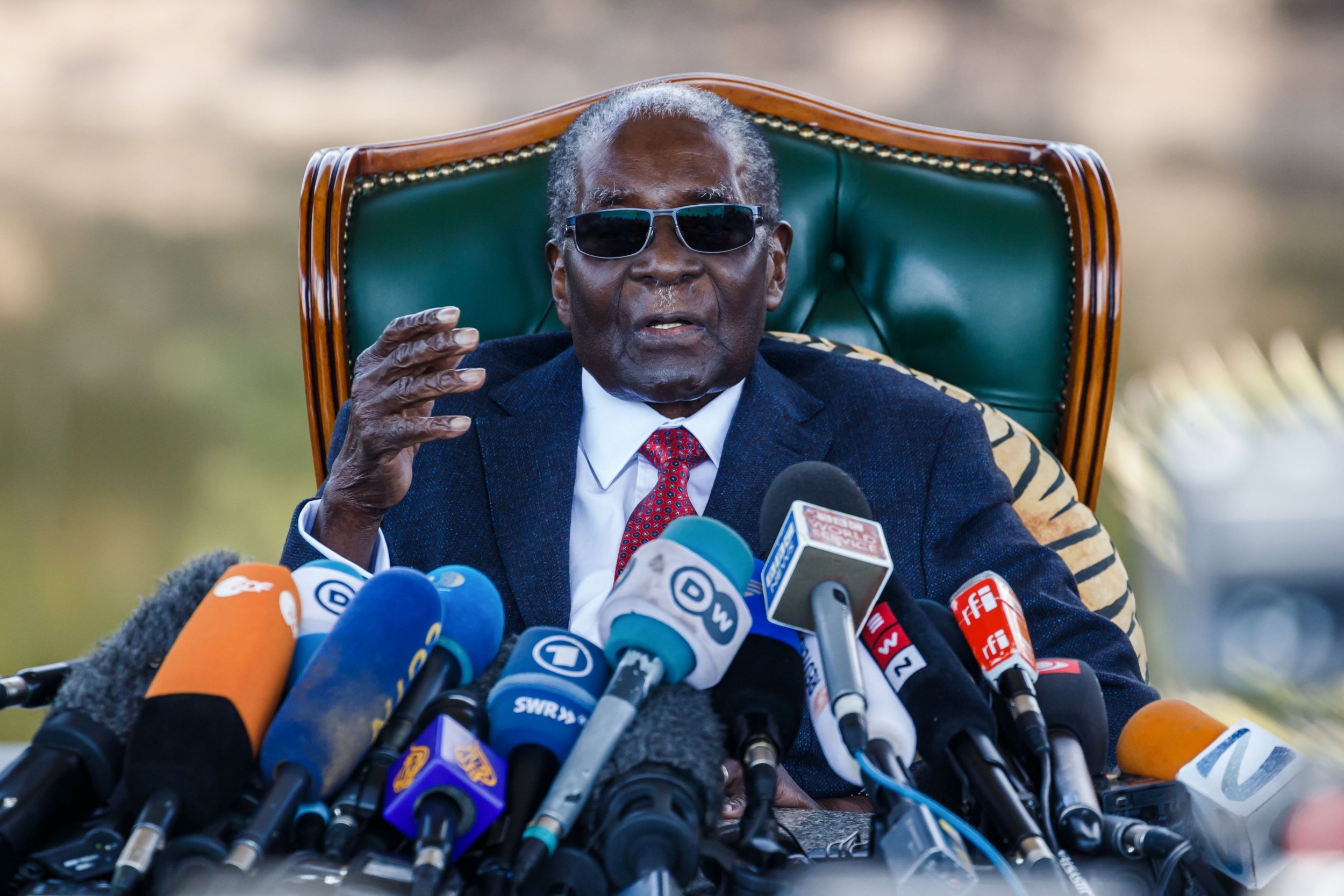 As Zimbabwean citizens wait to hear who will be the country's new president, the country's former leader Robert Mugabe—deposed by a military coup last year—is demanding the state give him more money.
At a press conference Sunday, Mugabe also denounced his own ZANU-PF party and refused to back its new leader Emmerson Mnangagwa. He suggested he may instead vote for Movement for Democratic Change leader Nelson Chamisa, South African website Fin 24 reported.
When Mugabe left office, there were rumors that he and his wife Grace would receive a "golden goodbye" package to ease their transition from power, totaling around $10 million, immunity from prosecution and military protection.
However, Mugabe has now said he never received the lucrative pay off. "After I resigned I went to the pension office to inquire what I was entitled to," he told reporters. "Financially the total amount I got was $467,000, not the $10 million being talked about."
His wife Grace noted the money was not being paid in U.S. dollars, another grievance for the former power couple. In Zimbabwe's multi-currency system, the country's bond notes are currently trading at 45 percent to the dollar on the black market, Fin 24 said, though the government maintains that there is parity between the two.
The former president revealed he was given two houses as part of his severance deal, including one at a resort. Mugabe's Blue Roof mansion, on the outskirts of the capital Harare, is an iconic symbol of the family's wealth. The deposed dictator claimed it was built slowly over many years, and paid off in installments.
But Mugabe now says his luxurious home is in desperate need of repairs. With the roof sagging, the 94-year-old said he needs money to relocate while the issue can be addressed.
Mugabe ruled Zimbabwe as either prime minister or president from 1980 to 2017. He was widely criticized for human rights abuses, corruption and economic mismanagement that left the country grappling with a hyperinflated currency. Fellow Zimbabweans are unlikely to sympathize too strongly with the nonagenarian—most of the country's pensioners receive just $80 per month and the average annual wage is below $2,000.
During the two-hour press conference, Mugabe denounced ZANU-PF, who he claimed "have tormented me." The former president called on Zimbabweans to "thrust away the hypocrites" and remove the ZANU-PF figures who he said were put in power by the armed forces. Given his rejection of his former colleagues, Mugabe said: "What is left? It is only Chamisa."
Polls have now closed and the votes are being tallied. Officials have reported a high turnout of around 75 percent, and pre-election polling suggested it would be a tight race between Mnangagwa and Chamisa. If neither man can secure 50 percent of the vote in the first round, a runoff will be held on September 8.