Formerly Conjoined Twins Finally Go Home After 15 Months in the Hospital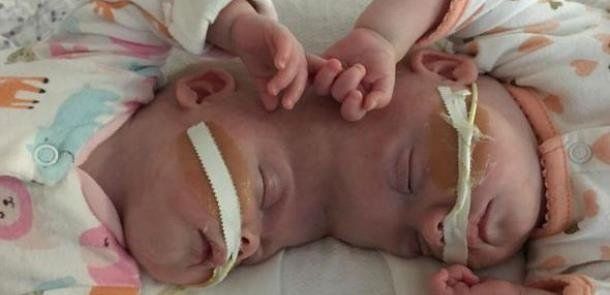 Twins Erin and Abbey Delaney were born in Philadelphia on July 24, 2016. As many twins are, they were close—specifically, they were joined at the top of the head.
But they were not inseparable. After significant treatment, an 11-hour surgery by a team of 30 physicians at the Children's Hospital of Philadelphia on June 6, and the contribution of considerable medical technology, they were successfully detached from each other. The twins soon will be allowed to go home together—more than a year after they were born.
On October 1, after 435 days in the hospital, Erin was discharged. However, her sister Abbey, who lost part of a major cranial blood vessel during the surgery, still needed to be monitored and treated. The Delaneys documented their journey on a blog.
Despite bleeds in both of the twins's brains after their separation, they appear to be doing well. They act similarly to other babies, playing with each other, crying, laughing and going to activities like aquatic therapy. However, it will be hard to know if they have any cognitive disabilities, and to what extent, until they are around three years old.
While the babies were born attached at the head, scans and X-rays showed that they did not share brain tissue, meaning that surgery to separate them would not have to include the highly risky process of cutting into brain tissue. However, simply separating them without preparation would leave their brains exposed, without the other child's skull shielding it. Instead, the doctors implanted inflatable sacs under their head skin and slowly expanded it. They created a synthetic membrane to go over the tops of their brains, which the babies were missing. After the surgery that separated them, the doctors used the excess skin to cover the holes in their heads.
Erin and Abbey are lucky to be alive. According to a study in the journal Teratology, half of all conjoined twins are born dead, and of those that are born alive, 35 percent die within 24 hours. Twins joined at the head, or Craniopagus twins, account for 6 percent of these cases. However, when doctors have time to plan surgeries to separate twins, one study documented that 91 percent of those twins survived.
It depends greatly on the situation, however. Conjoined twins who are joined too closely would not undergo such a procedure at all and therefore would not be counted in that estimate.
The Delaney family estimates that the surgeries, time in the hospital, and physical therapy would cost "well into the double-digit millions," according to Charlotte, North Carolina, TV station WBTV. However, the girls are covered by Medicaid and they have set up a GoFundMe for associated costs.