Formula 1 TV Schedule 2019: Abu Dhabi Grand Prix Start Time, TV Channel, Live Stream and Latest Odds
The 2019 Formula One season comes to a close on Sunday, with the Yas Marina Circuit in Abu Dhabi playing its now customary role of last race on the calendar.
It marks a milestone event for the circuit, which made its Formula One debut a decade ago and since 2014 has replaced the Brazilian Grand Prix as the stage of the season finale.
However, aside from 2016 when Nico Rosberg edged out Lewis Hamilton to clinch his maiden world crown, the ultra-modern track in Abu Dhabi has never had the privilege of having the world title decided on its soil.
This year will be no different, with Hamilton and Mercedes having long secured a sixth drivers' and constructors' crown. That is not to say that there will be little riding on the Grand Prix on Sunday, as a number of teams and drivers are desperate to end the season on a high note.
None more so than the Ferrari duo of Sebastian Vettel and Charles Leclerc, who will be looking to swiftly put their catastrophic performance in Brazil two weeks ago behind them.
Vettel and Leclerc made contact while vying for fourth place with five laps remaining and were both eliminated from the race as a result. Team boss Mattia Binotto insisted the teams have "cleared the air" after holding talks with both drivers, but warned them against committing similar errors in the future.
Speaking ahead of the Grand Prix, Leclerc hinted that Vettel had acknowledged he had caused the incident.
"Seb probably shouldn't have gone to the left and he knows it," he was quoted as saying by The Guardian. "And I could have done a better job of avoiding him going to the left."
The 22-year-old added that the talks within the team had been productive and that the two drivers had agreed to curb their attacking instincts.
"We will be able to race together," he said.
"We will try to not let it happen again. Seb and myself are very competitive. We both want to win but we need to find the right compromise because we are racing for the same team
The Scuderia has taken seven pole positions from 20 races so far, but has finished top of the podium just three times and its late summer revival has rapidly disappeared in the rearview mirror.
Ferrari hasn't finished top of the podium since Vettel took the chequered flag in Singapore on September 22 to make it three consecutive wins for the Italian team.
Since then Hamilton and Valtteri Bottas—who will start from the back of the grid in Abu Dhabi because of an engine-related penalty—have taken two wins each for Mercedes, while Max Verstappen secured his and Red Bull's third win of the season when he topped the podium in Brazil two weeks ago.
Mercedes may have won 14 of the 20 races so far this season, but team manager Toto Wolff insisted Silver Arrows remained as motivated as ever, despite clinching both world titles for a sixth consecutive season.
"The underperformance in Brazil means we head to Abu Dhabi with a point to prove," he said in his press conference earlier this week
"Yas Marina has been a good circuit for us in the last years and we'll push hard to continue in the same way."
Here's all you need to know ahead of Sunday.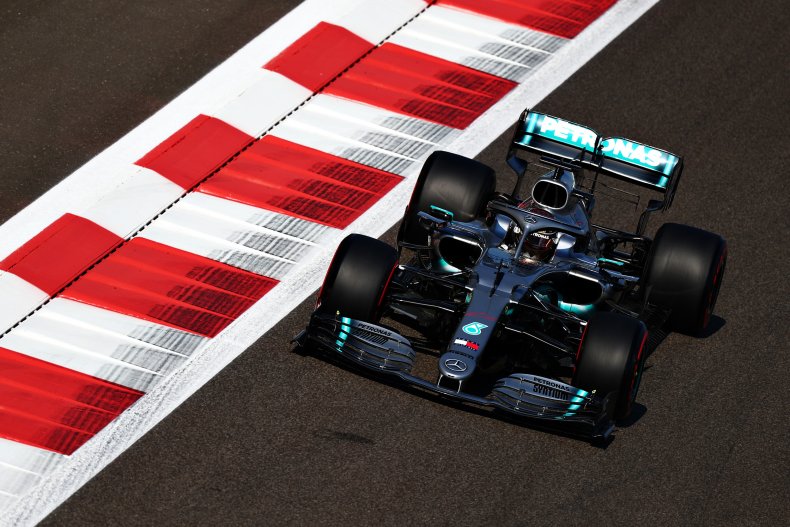 Where is the Abu Dhabi Grand Prix?
The race will be held at the Yas Marina Circuit in Abu Dhabi, United Arab Emirates.
The second track in the Middle East to host a Formula One Grand Prix after Bahrain, the circuit made its F1 debut in 2009—when it became the first track to ever stage a day/night race—and has hosted the event ever since.
Since 2014, Abu Dhabi has been the last race of the F1 season.
When is the Abu Dhabi Grand Prix?
The race is scheduled to start at 5:10 p.m. local time (8:10 a.m. ET) on Sunday, December 1.
TV channel
The Abu Dhabi Grand Prix will be broadcast live by ESPN2. Coverage of race day begins at 7:30 a.m. ET on Sunday.
Live stream
The race will also be available on ESPN+ and via WatchESPN.com, while Sling TV, Hulu, YouTube TV and PlayStation Vue will all offer a live stream.
Odds
According to Oddschecker, Lewis Hamilton is a 3/2 favorite, followed by Charles Leclerc and Max Verstappen at 3/1, while Sebastian Vettel is a 5/1 outsider.