Formula 1 TV Schedule 2019: Brazilian Grand Prix Start Time, TV Channel, Live Stream and Latest Odds
The Formula One season moves to Brazil for the penultimate round of the 2019 campaign, with both titles already decided.
A second-place finish at the U.S. Grand Prix two weeks ago was enough for Lewis Hamilton to become only the second driver in Formula One history to win six World Championships.
The Briton now stands just one title behind Michael Schumacher's all-time record of seven world crowns, and on current form there is little to suggest he won't go on to match the German's record—and perhaps even overtake it.
Hamilton and Mercedes have dominated the sport over the last six years, with the German manufacturer securing the drivers' and constructors' titles in each season—with Hamilton winning five and Nico Rosberg triumphing in 2016.
The 34-year-old's contract with Mercedes runs out at the end of the 2020 season, but it would be a major surprise to see Hamilton and the Silver Arrows part ways.
"It feels like I've only just signed my current contract, and I've already got to start talking about the next one," he said in his press conference on Thursday.
"It's frustrating because it's another stressful moment where you get into the negotiating room, get into the ring and have a friendly yet intense conversation about terms and all this kind of thing."
Sixty-two of Hamilton's 83 wins have come since he joined Mercedes in 2013 and the six-time world champion suggested the relationship between driver and team could continue to improve even further in the future.
"You're both wanting to see what more you can get out of it, how you can do things better," he explained.
"There are things that you have to change. It's taken years to change some of the formalities that we go through within this team.
"It won't be really stressful to be honest, but it's daunting when you think of it coming up, because also you're committing to a period of time in your life."
After having to wait nine years for his first in Brazil, Hamilton has won the race twice in the last three seasons and he is the bookmakers' favorite to become the first driver to take the chequered flag in consecutive years since Rosberg won in 2014 and 2015.
Ferrari, meanwhile, will be hoping to bounce back from a disappointing performance at the U.S. GP when both cars were off the pace. An already difficult weekend was made even worse by speculations about the legality of its engine, which was first brought up by Red Bull's Max Verstappen.
The Dutchman pointed out Ferrari's drop in performance had coincided with a directive from FIA—the sport's governing body—which underlined what would be considered illegal in terms of interfering with the running of the engine's hybrid system.
Vettel, however, dismissed the speculations.
"We have had Mercedes having the best engine for five years and if it is now for a couple of months we are ahead, hopefully it stays like that for another five years and I don't care what people think or say," he was quoted as saying by the BBC.
Here's all you need to know ahead of Sunday.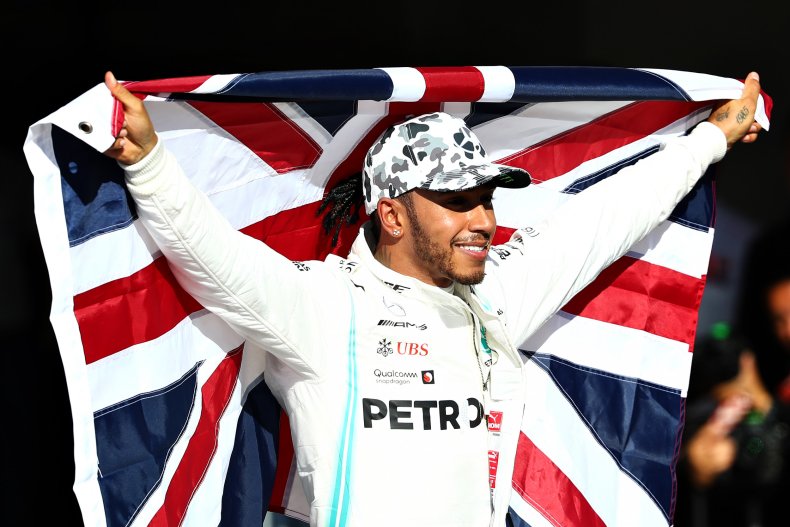 Where is the Brazilian Grand Prix?
The race will be held at the Autódromo José Carlos Pace in the Interlagos neighborhood of Sao Paulo, which has hosted the Brazilian Grand Prix in three separate spells and continuously since 1990.
The track made his Formula One debut in 1973 and hosted the event until 1977 and then again in 1979 and 1980, before the race returned to the Jacarepagua circuit in Rio de Janeiro—which had first been included in the Formula One Calendar in 1978—from 1981 until 1989.
Lewis Hamilton and Sebastian Vettel have split the last three races at Interlagos, with the former winning in 2016 and 2018 and the latter clinching the third of his wins in Brazil in 2017.
When is the Brazilian Grand Prix?
The race is scheduled to start at 2:10 p.m. local time (12:10 p.m. ET) on Sunday, November 17.
TV channel
The Brazilian Grand Prix will be broadcast live by ESPN2. Coverage of race day begins at 11:30 a.m. ET on Sunday.
Live stream
The race will also be available on ESPN+ and via WatchESPN.com, while Sling TV, Hulu, YouTube TV and PlayStation Vue will all offer a live stream.
Odds
The bookmakers expect Lewis Hamilton to take the chequered flag in Brazil for the second consecutive year. According to Oddschecker, the Briton is a 3/2 favorite, followed by Red Bull's Max Verstappen at 11/4 and teammate Valtteri Bottas at 3/1.
Ferrari duo Sebastian Vettel and Charles Leclerc, meanwhile, are 6/1 and 14/1 outsiders respectively.