Formula One Team Faces Backlash From Racing Fans Over Driver Who Posted Groping Video
On Wednesday morning, American Formula One racing team Haas announced it will keep Nikita Mazepin as one of its drivers despite a video he posted that shows him groping a female model. F1 fans quickly took to social media to voice their anger, with #WeSayNoToMazepin quickly trending on Twitter.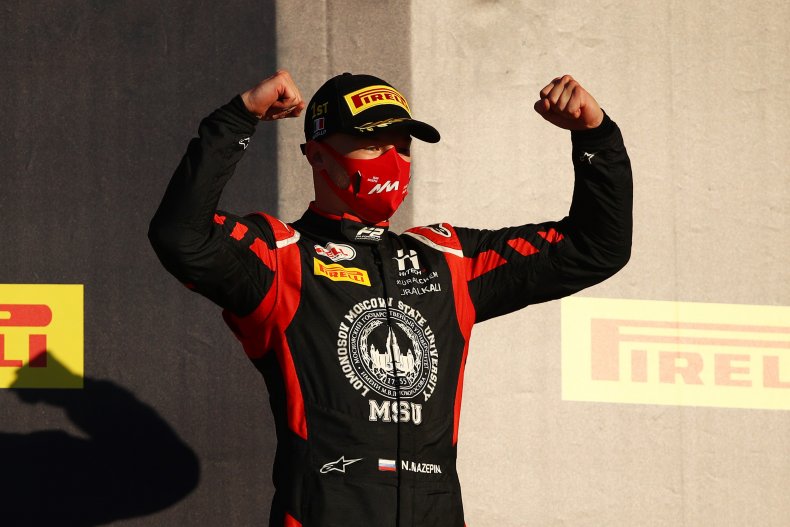 The team made the announcement with the following statement on Twitter: "Haas F1 Team would like to reaffirm that Nikita Mazepin and Mick Schumacher will form its driver line-up for the 2021 FIA Formula 1 World Championship. As per the team's previous statement regarding the actions of Nikita Mazepin (December 9)—this matter has now been dealt with internally and no further comment shall be made."
The "previous statement" alluded to in that release was made following the groping video going viral. At the time, the company commented: "Haas F1 Team does not condone the behaviour of Nikita Mazepin in the video recently posted on his social media. Additionally, the very fact that the video was posted on social media is also abhorrent to Haas F1 Team. The matter is being dealt with internally."
The video in question was posted by Mazepin on December 9 to his Instagram account and shows him touching the breast of a woman after her dress became loose. The 21-year-old Russian driver promptly removed the video, but not before many people captured it and shared it around social media. In the fallout, Mazepin issued a public apology.
However, fans want him removed from Haas F1, a company he is signed with to make his F1 debut next season alongside fellow rookie Mick Schumacher. Many Twitter users expressed fury for what they contend is sexual assault.
This Twitter commenter said that Haas keeping Mazepin on the team condones unacceptable behavior to women and disrespects all women who work for other F1 teams or cover races as journalists.
This past June, Formula One announced the "We Race As One" initiative aimed at fighting inequality and racism in the face of COVID-19. Some on Twitter called out F1 for what they deemed as hypocrisy in allowing Mazepin to debut with Haas next year.
The groping video isn't the only controversy dogging Nikita. As the post below details, he was investigated after hitting a second place marker board in the direction of driver Yuki Tsunoda, who was in the middle of celebrating victory. He also received a one-race ban after punching another driver, Callum Ilott, following a practice lap. Then there are comments he's made on social media that many feel are racist, sexist, homophobic and violent.
Meanwhile, other people on social media made note that Mazepin's father—Russian billionaire Dmitry Mazepin—could be a potential sponsor for Haas next season. When speaking with Global Motorsports Media, Haas F1 team principal Guenther Steiner did not back away from suggestions that Dmitry may throw his financial backing behind the team. Steiner said: "Haas has made a name for itself in Formula One, but we are looking for commercial partners, of course. Dmitry Mazepin has a company, so if everything goes well, and he sponsors us, why not?"
This suggestion does not sit well with many racing fans, like the writer below.
A Change.org petition to remove Mazepin from Haas F1 Team has garnered more than 44,000 signatures as of press time.
Newsweek reached out to Haas for comment but did not hear back in time for publication. Formula One and Fédération Internationale de l'Automobile, F1's governing body, provided Newsweek with this joint statement: "We strongly support the Haas F1 Team in its response to the recent inappropriate actions of its driver, Nikita Mazepin."