F1 Hungarian Grand Prix: Start Time, TV Channel, Live Stream and Latest Odds
This Formula One season might no longer be Mercedes' playground after all.
Having won each of the first eight races, the Silver Arrows have finished on top of the podium just once in the last three Grands Prix.
While it would be both premature and naïve to suggest Mercedes is in crisis—the combination of team and car remains by far the best in the sport—Red Bull's return to form in the last three races has revitalized a championship that had turned into a procession.
Sunday's Hungarian Grand Prix—the last before a month-long summer break—should give a clearer indication on whether Red Bull and Ferrari can challenge the German team in the second half of the season.
Last weekend, Max Verstappen took the chequered flag at the end of a chaotic race in Germany, claiming a second win in three races.
In a race that featured six safety cars as the weather conditions caused havoc, the Dutchman finished ahead of the pack as Lewis Hamilton made a series of uncharacteristic errors and finished eleventh.
The Briton was then promoted to ninth after the Alfa Romeos of Kimi Raikkonen and Antonio Giovinazzi were handed 30-second penalties for driver aid infringements.
His teammate, Valtteri Bottas, crashed, as did Ferrari's Charles Leclerc, one of many to fall victim to the wet weather.
Hamilton remains 41 points ahead of Bottas and 63 ahead of Verstappen, but the last three races have shown Mercedes isn't unbeatable.
Verstappen's talent has never been in doubt but the 21-year-old has now added some much-needed consistency and has finished in the top five since he retired at the Hungarian Grand Prix a year ago.
Despite Red Bull's new-found form, Hamilton can find solace in the fact he extended his lead over Bottas last week. In six of the past seven times he has not won a race, the Briton has then won the following Grand Prix.
That is not the only positive omen for the five-time world champion ahead of this weekend, as Hungary is one of his favorite hunting grounds.
Hamilton has won six times at the Hungaroring, two more than any other driver.
Here's everything you need to know ahead of Sunday.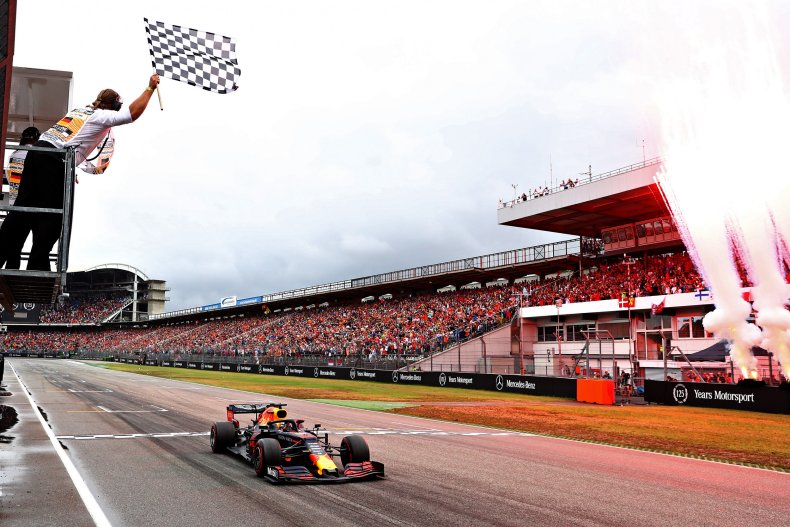 Where and when is the Hungarian Grand Prix?
The Hungarian Grand Prix will be staged at the Hungaroring, where it has been held since it was first introduced in 1986.
Located in the town of Mogyorod, just under 15 miles away from the Hungarian capital Budapest, the Hungaroring became the first track behind the Iron Curtain to host a Formula One race.
Since its debut in 1986, the race has developed into a staple of the Formula One calendar and has been held every year.
Overtaking spots are at a premium at the Hungaroring, with the track's twisty and bumpy nature making it very difficult for drivers to clear cars ahead.
As it was the case last week in Germany, weather could be a major factor this weekend. However, while the rain caused havoc at Hockenheim, it's the searing heat that normally presents teams and drivers with the greatest challenge at the Hungarian Grand Prix.
TV channel
The Hungarian Grand Prix will be broadcast live by ESPN2. Coverage of race day begins at 8:30 a.m. ET on Sunday, with the race scheduled to get underway just over 30 minutes later.
The race will re-air at 7 p.m. on Sunday on ESPNEWS and at 11 p.m. on ESPN2.
Live stream
The race will also be available on ESPN+ and via WatchESPN.com, while Sling TV, Hulu, YouTube TV and PlayStation Vue will all offer a live stream.
Odds
Bookmakers are backing Lewis Hamilton to win in Hungary for the second consecutive year. According to Oddschecker, the Briton is a 21/20 (+101 in moneyline terms) favorite to win on Sunday, while Red Bull's Max Verstappen is 2/1 to make it two wins in two races after his triumph in Germany.
Hamilton's teammate Valtteri Bottas is third-favorite at 6/1, followed by Ferrari duo Sebastian Vettel and Charles Leclerc at 15/2 and 8/1 respectively.