It is a rivalry that has simmered over the past two seasons, one tipped for future classics, that has the potential to drag Formula One into the realms of justifiable hype.
Fans would have to wait, though, because Max Verstappen was too young and his Red Bull too slow to compete with the might of Mercedes or Ferrari. His duels with Lewis Hamilton, though inevitable, were not imminent as their two cars were incomparable.
That may well still be true, but on Sunday a collision between the two men at the Bahrain Grand Prix—a touching of tires that saw Verstappen retire on lap two after trying to overtake—escalated after the race.
Cameras appeared to catch Hamilton calling 20-year-old Verstappen a "dickhead" as the Briton, who finished third behind winner Sebastian Vettel and teammate Valtteri Bottas, watched the incident on television.
And still he bubbled when facing the press. "It was an unnecessary collision," he said. "There needs to be a certain respect between drivers."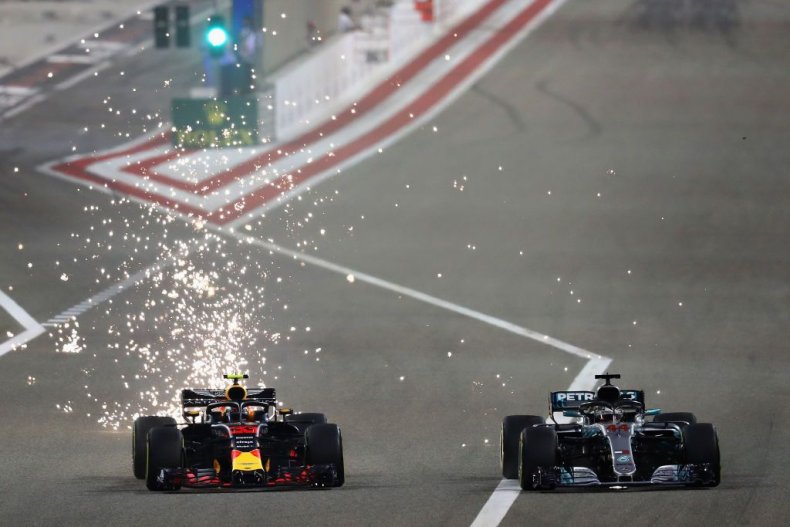 Verstappen, though, did not back down. "I had a good run on to the straight and going for the inside under braking I was next to him, going in to the corner I was ahead," he said, placing the blame at Hamilton's garage instead.
Verstappen, 13 years Hamilton's junior, has regularly been compared to the four-time world champion, as his explosive start in Formula One three years ago was reminiscent of a young Hamilton at McLaren in 2007. Like his rival, Verstappen is frequently thrilling, always daring.
Giancarlo Tinini, the head of his former karting team CRG, believes their similarities run deep. "Lewis Hamilton is the only one like this," he told Newsweek. "Not many others have the control he has. It is not normal for a driver."
Verstappen has regularly been criticized for his style of racing. In 2016, the sport's governing body, the FIA, brought in a regulation banning a practice known as "moving under braking" which was adopted after fellow drivers complained about Verstappen blocking cars from overtaking as they approached a turn. It was nicknamed the "Verstappen rule" but dropped a year later.
After the Belgian Grand Prix in 2016, Kimi Raikkonen, the veteran currently racing for Ferrari, warned that Verstappen would cause a big accident unless he reined in his style. Verstappen would not relent.
In an interview with Newsweek last season, Verstappen was adamant the criticism would not affect him; he would not change for anybody. "This is what brought me here and made me perform," he said, steely eyed. "I don't think there is any reason to change."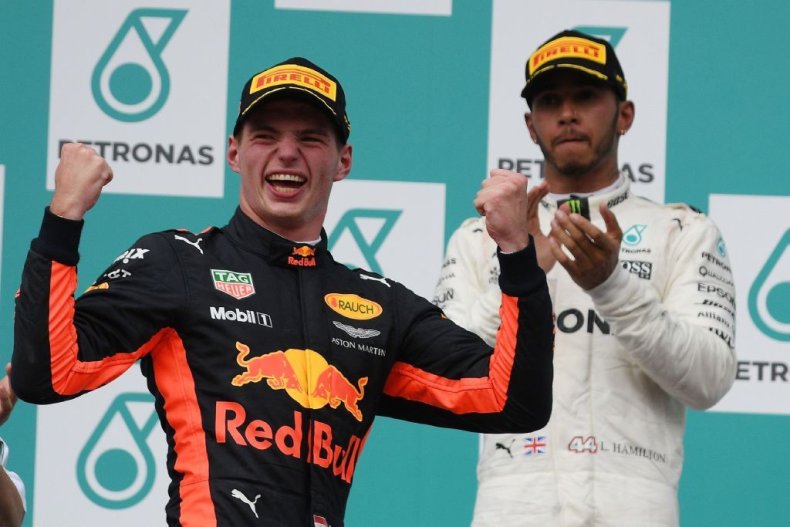 Tinini believes there is a lack of understanding and respect for Verstappen. "It's normal to have some problems with other drivers because many drivers are jealous," the Italian said.
"Sometimes people don't accept his aggressivity but Max is one guy, he has aggressivity because he has control. In karting he had some problems but not a lot."
His journey to karting and Formula One began in 2001 when a four-year-old Verstappen went to his father, Jos, a former F1 driver, with tears in hit eyes, and begged him for a go-kart. Since then, the aim has been to follow in the family trade; Verstappen's mother, Sophie Kumpen, won two Belgian karting championships and her cousin, Anthony Kumpen, races in NASCAR.
The whole family, including his younger sister Victoria, who now runs his social media accounts, would spend every weekend at the local race track in Genk, 20 minutes from their home in the small town of Maaseik, in the north-east of Belgium. "My mum was always a good support but the main tips came from my dad," Verstappen said.
Throughout his professional career, Jos Verstappen was nicknamed "Jos the boss," and he certainly adopted the authoritative role when coaching his son: Jos was strict and unforgiving. In 2012, then aged 14, Verstappen was racing at the karting world cup in Sarno, southern Italy. In the final, he attempted a kamikaze manoeuvre to overtake the leader but crashed, damaging his kart beyond repair and knocking him out of the race.
Verstappen was inconsolable, but there were no attempts to comfort him anyway. Jos walked away from the track, packed up the van and illustrated his disappointment through silence. "I didn't speak to him for seven days," he told The Daily Telegraph in 2014. "I ignored him. I was really pissed. I really wanted to teach him a point that it should hurt him. I wanted to show him that." And he did, regularly.
Charles Leclerc, newly promoted to Formula One this season and a rival of Verstappen's in karting, recalled how Jos would show his anger in front of the other drivers. "You see lots of fathers helping their sons on track, but it's true you could see a lot more passion with Jos," Leclerc, 20, told Newsweek. "The way he behaved was a little different to the other fathers."
This intense relationship has also drawn similarities with Hamilton and his father, Anthony, who was also his manager until 2010. A complicated split affected Hamilton both on and off the track.
In an interview with Newsweek ahead of the 2017 season, Anthony Hamilton warned potential opponents of the dangers of going up against his son following Nico Rosberg's retirement.
"My own personal view is that anyone who goes up against Lewis really needs to have their career mapped out for them, because it's a career killer," he said.
"He gets under your skin, because he is fast like hell. And you can't figure out how he's developed the car, how he has got the speed, how he can take that corner, how he can take that lane and it screws with your head."
Verstappen, it seems, is willing to take Hamilton on. That may not end up being this season, but it is a rivalry that has been sparked in Formula One. Fans of the sport are just waiting for it to ignite.
Uncommon Knowledge
Newsweek is committed to challenging conventional wisdom and finding connections in the search for common ground.
Newsweek is committed to challenging conventional wisdom and finding connections in the search for common ground.