Formula 1 TV Schedule 2019: Mexican Grand Prix Start Time, TV Channel, Live Stream and Latest Odds
Two weeks after Mercedes sealed a sixth consecutive constructors' championship, Lewis Hamilton could win his sixth Formula One world title this weekend in Mexico City.
The Briton is 64 points ahead of teammate Valtteri Bottas, who won in Japan two weeks ago, and would clinch a third straight drivers' championship in a row if he gains 14 points over the Finn on Sunday.
The scenario is reminiscent of the one Hamilton faced at the same venue a year ago, when he finished fourth and secured a fifth world title with two rounds to go. Three more races follow the Mexican Grand Prix this year and Hamilton will get another shot at the title next week in Austin, Texas, if he fails to clinch it on Sunday.
Mercedes won the first two races in Mexico City since the Mexican Grand Prix returned to the Formula One calendar four years ago, with Nico Rosberg winning in 2015 and Hamilton taking the chequered flag a year later.
The Silver Arrows, however, have been playing catch-up in the last two years, with Red Bull's Max Verstappen triumphing on both occasions.
Verstappen hasn't won since finishing top of the podium at the German Grand Prix at the end of July, but could become the first driver in the history of the Mexican Grand Prix to win the race three times.
Hamilton also has history in his sights, but his achievement is of altogether different magnitude as a sixth world title would make the Briton the second's most successful driver in the history of the sport.
With six titles, Hamilton would be just one title behind Michael Schumacher's all-time record of seven world titles.
Not that the Mercedes driver expects this weekend to be a coronation.
"Mexico is generally our Achilles heel—probably our worst race of the year," Hamilton was quoted as saying by the BBC after his third-place finish at Suzuka, Japan, two weeks ago.
"The last few have been pretty shocking, even though we've won the title there."
Ferrari and Red Bull are again expected to be the biggest threat for Mercedes.
The Scuderia took pole in 2017 with Sebastian Vettel and placed third and fourth in the race, before finishing second and third last year.
Red Bull won in both years, with Daniel Ricciardo taking pole 12 months ago, before retiring with just 10 laps to go.
Ferrari has started from pole position in the last five races, with Charles Leclerc finishing first in qualifying for four straight races and Vettel taking pole in Japan two weeks ago.
Here's all you need to know ahead of Sunday.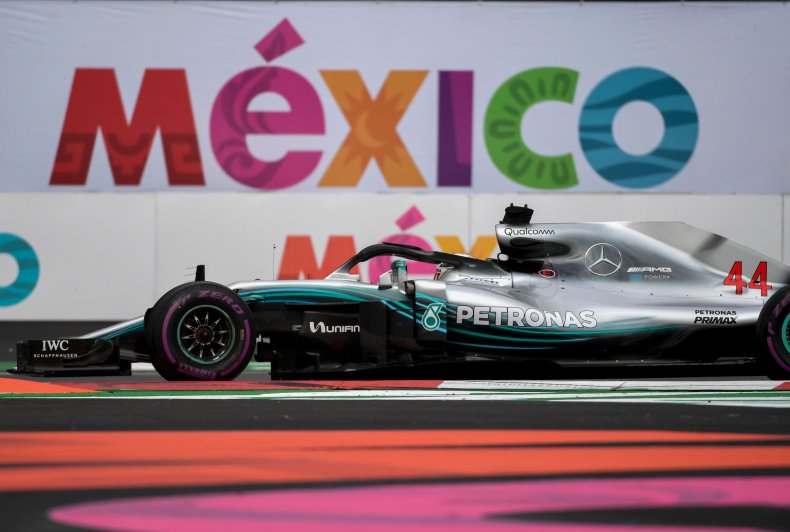 Where is the Mexican Grand Prix?
Autodromo Hermanos Rodriguez in Mexico City, which has been the only home of the Mexican Grand Prix since it made its debut on the Formula One calendar in 1963.
The race was held until 1975 and then again between 1986 and 1992, before making its return in 2015 after a 21-year hiatus.
The circuit has undergone extensive renovation before making its return to the Formula One calendar and it partly runs through a baseball stadium, which is located on the inner part of one of the turns.
When is the Mexican Grand Prix?
The race is scheduled to start at 1:10 p.m. local time (2:10 p.m. ET) on Sunday, October 27.
TV channel
The Mexican Grand Prix will be broadcast live by ABC. Coverage of race day begins at 2:30 p.m. ET on Sunday.
Live stream
The race will also be available on ESPN+ and via WatchESPN.com, while Sling TV, Hulu, YouTube TV and PlayStation Vue will all offer a live stream.
Odds
According to Oddschecker, Charles Leclerc is a 7/4 favorite to win in Mexico, followed by Lewis Hamilton at 3/1. Red Bull's Max Verstappen and Leclerc's Ferrari teammate, Sebastian Vettel, are next in line at 7/2 and 17/4 respectively.