'Stupid Is as Stupid Does': 16 'Forrest Gump' Quotes by Winston Groom You'll Never Forget
Winston Groom, the famous author responsible for the book-turned-Oscar-winning film Forrest Gump, died on Wednesday. He was 77 years old.
A Washington D.C. native, Groom died in Fairhope, Alabama where he lived for many years.
Alabama's Governor Kay Ivey confirmed the novelist's death in a tweet on Friday, "Saddened to learn that Alabama has lost one of our most gifted writers. While he will be remembered for creating Forrest Gump, Winston Groom was a talented journalist & noted author of American history. Our hearts & prayers are extended to his family," Ivey wrote.
Although Groom authored 16 books including his 1982's, Conversations with the Enemy, which was a Pulitzer Prize finalist, he was most known for developing the lovable, simple character Forrest Gump in the 1986 novel of the same name.
The film adaptation, starring Tom Hanks as the lead, released in theaters in July 1994. The iconic movie was the second highest-grossing film at the box office that year behind The Lion King, which debuted a month prior. Forrest Gump also stole the show at the 1995 Academy Awards, snagging six Oscars including Best Actor for Hanks and Best Director for Robert Zemeckis.
While the novel and movie followed the interesting life of the slow-witted Forrest as he witnessed some of America's most notable moments like the Vietnam War and civil rights protests of the 1960s, there were some differences between the versions. For instance, Hanks portrays a simple-minded yet fascinating Forrest with the soul of a saint whereas in the book, Forrest—while still socially challenged in some aspects—is a mathematical mastermind. The character is also significantly more profane in the novel and enjoys a titillating sex life. But the moments where the film and book align, particularly within the many life-enriching anecdotes Forrest delivers throughout the film, are what makes it the memorable classic that is is.
Whether written on the page or delivered on-screen, Forrest drops words of wisdom that have become just as commonly used by readers and viewers as they were by his dear old mama. See below for some of the best quotes of Groom's Forrest Gump.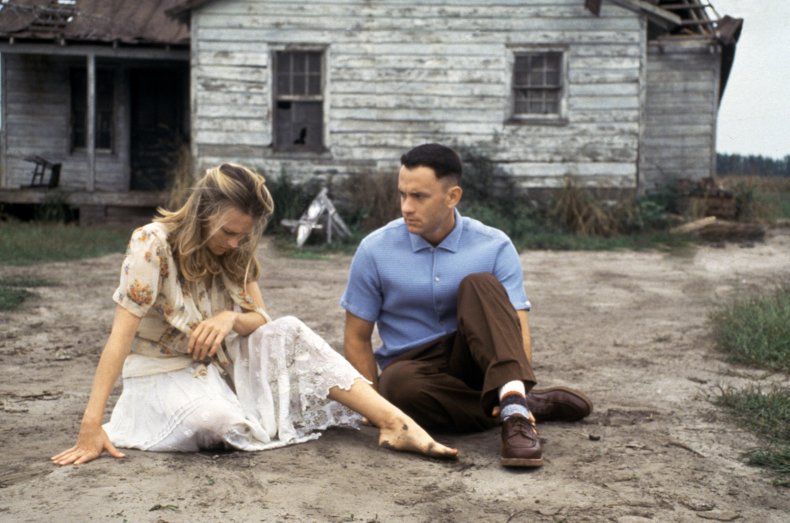 "Stupid is as stupid does."
"My mama always said, 'Life was like a box of chocolates. You never know what you're gonna get."
"I don't know if we each have a destiny, or if we're all just floatin' around accidental-like on a breeze. But I, I think maybe it's both."
"Me and Jenny goes together like peas and carrots."
"My mama always told me that miracles happen every day. Some people don't think so, but they do."
"Mama always said, dying was a part of life. I sure wish it wasn't."
"Bubba was my best good friend. And even I know that ain't something you can find just around the corner."
"When I got tired, I slept. When I got hungry, I ate. When I had to go, you know, I went."
"What's normal anyways?"
"You have to do the best with what God gave you."
"Now, mama said there's only so much fortune a man really needs... and the rest is just for showing off."
"My mama always said you've got to put the past behind you before you can move on."
"Run, Forrest! Run!"
"Mama always had a way of explaining things so I could understand them."
"For no particular reason, I just kept on going. I ran clear to the ocean. And when I got there, I figured, since I'd gone this far, I might as well turn around, just keep on going. When I got to another ocean, I figured, since I'd gone this far, I might as well just turn back, keep right on going."
"Remember what I told you, Forrest. You're the same as everybody else. Do you hear what I said, Forrest? You're the same as everybody else. You are no different."