Trump-Supporting Mayor Defends Calling Democrat Voters 'Retarded,' Doesn't Care If He's Removed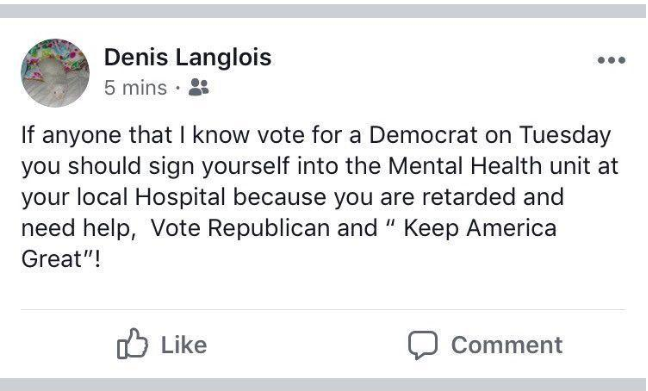 A Donald Trump-supporting upstate New York mayor said he doesn't care if his Facebook post calling Democratic voters "retarded" gets him removed from office.
Fort Ann Mayor Denis Langlois initially told The Post-Star he didn't remember writing the Facebook status, but he later changed his story, saying he posted it as a private individual and not as the mayor of the 6,500-person New York town. Langlois later said he meant his post, which called people who vote for Democrats "retarded" because he's a person "who believes in Republican values." Langlois then changed course and proceeded to go on a rant about how Americans don't vote and nobody even knows he is the mayor.
Although Langlois' Facebook page is private, an unidentified social media friend sent The Post-Star a screenshot of the pro-Trump Republican's status before Election Day. Several of his public posts tout President Trump while mocking former president Barack Obama.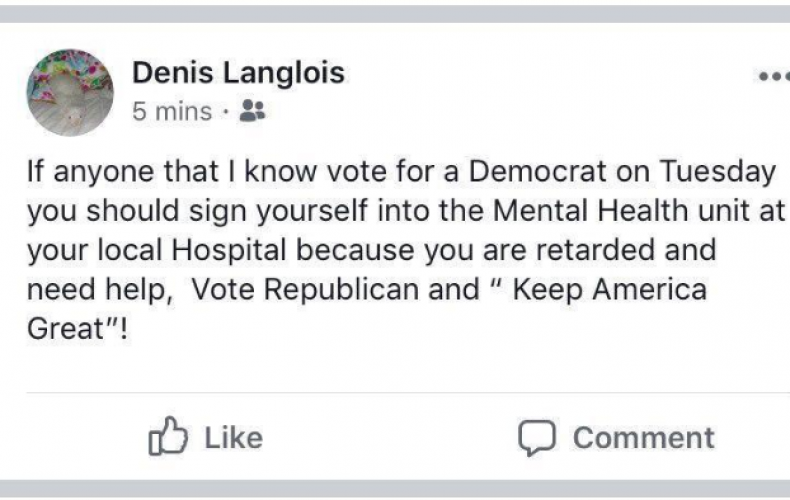 "If anyone that I know vote for a Democrat on Tuesday you should sign yourself into the Mental Health unit at your local Hospital because you are retarded and need help, Vote Republican and 'Keep America Great'!"
When confronted by the local newspaper about his Facebook post, Langlois said "I might have" written it, "I post things all the time. I really don't remember what I do half the time."
But Langlois later changed his story: "I'm not doing it as an official, I'm doing it as a person. You can't quote me as the mayor, you can only quote me as a person. As a mayor I wouldn't say that, but as a person who believes in Republican values. Most people don't even know I'm the mayor. Nobody cares anymore. That's the problem with America today. Everybody just goes around with their life, and if it doesn't affect them, they don't care. It's a terrible thing."
Langlois said he was a Canadian for 63 years before getting his U.S. citizenship and successfully running and winning "big time" as a village trustee in 2017. Langlois was appointed mayor earlier this year after Russell Blair resigned and has only been mayor for about five months. He complained about going into a business recently and hearing several people tell him they didn't intend to vote.
Langlois told The Post-Star he speaks from the heart and does not care if he is removed as mayor of Fort Ann over his Facebook post.
"If you write something and it gets me out of the mayor, I don't care," Langlois said. "I live for myself and what I believe in. ... I have no regrets on what I say. I never have regrets on what I say. I believe what I believe. Whether it's politically correct or not, it's what I believe, and it doesn't matter. I talk from my heart and my soul, and that's all there is to it."