Fort Jackson To Probe Viral Video of Black Man Being Harassed in South Carolina
Fort Jackson is investigating after a viral video captured a white man reportedly linked to the Army base harassing a Black man in the street.
The confrontation took place in a neighborhood in Columbia, South Carolina, earlier this week, according to Shirell Johnson, who posted the video on Facebook.
The three-minute video shows the white man threatening and yelling at a man, who Johnson identified only as Deandre. He is seen repeatedly telling Deandre to leave, and pushes him violently at one point.
"Go away right now," the man is heard telling Deandre at the start of the video.
Deandre tells him to call the police and a woman, identified by the man as his wife, is heard saying that the police have already been called.
The couple then accuse Deandre of "picking fights" with people in the neighborhood.
"What is it that you are doing here?" the man asks Deandre.
"Walking," Deandre replies. "Then walk," the man says.
"Well you've been here like 15 minutes now," the man's wife interjects.
The man continues: "Walk away. Walk away right now. You need help?.. I'm happy to help."
He then denies hitting Deandre, adding that "there's a difference between pushing you."
He then accuses Deandre of "aggressing on the neighborhood" and, as Deandre moves a little closer to the man's wife, the man shoves Deandre in the shoulder.
"You better walk away," he says. Raising his voice, he ads: "You walk away. You're talking to my wife right now."
He continues: "Check it out, you either walk away or I'm going to carry your a** out of here."
"You better not touch me," Deandre tells him.
"What are you going to do? Let's go, walk away... I'm about to do something to you. You better start walking... You're in the wrong neighborhood motherf*****. Get out."
"I live here, sir," Deandre tells him.
"Where? Where's your house? What's your address?" the man asks.
When the man again accuses Deandre of "harassing" the neighborhood, Deandre replies: "I'm not harassing anyone, I'm walking through the neighborhood, I live here, sir."
The man maintains that he lives in a "tight-knit community," adding: "We take care of each other... I have never seen you before in my life."
Getting up close to the Deandre's face, he adds: "Check it out motherf*****, I ain't playing with you. You either get your a** moving or I'm going to move you... I'm about to show you what I can do. You better walk away. Walk away."
He refuses to identify himself when asked by Deandre. "Are you an officer of the law?" Deandre asks him.
"I'm about to throw you out... you wanna bet? I can do a hell of a lot more than you think I can," the man responds.
A shorter version of the video was posted on Twitter on Tuesday, where it has since amassed more than 1.5 million views.
Some social media users said the man in the video was an Army sergeant, and tagged accounts associated with Fort Jackson.
Fort Jackson Commanding General Milford Beagle Jr. responded, writing in a tweet: "This is by no means condoned by any service member. We will get to the bottom of this ASAP."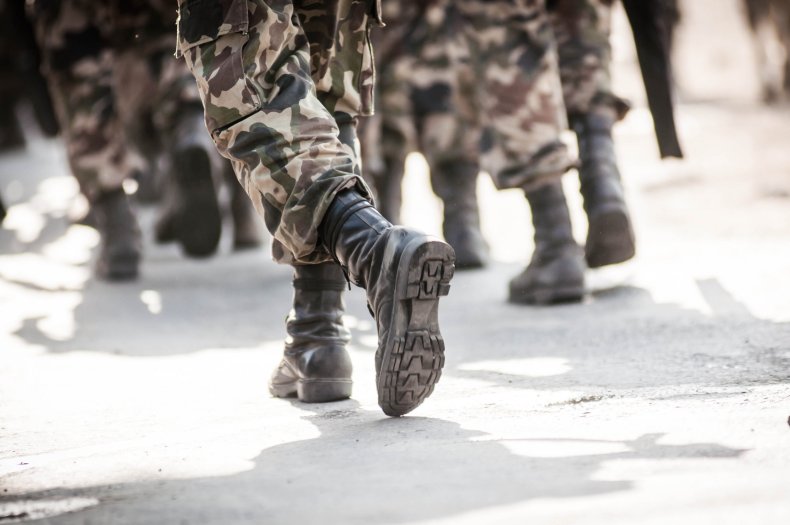 On Facebook, Johnson said she and a friend had been walking in the neighborhood on Monday when they saw what was happening. Another woman filmed the video, Johnson said, and she posted it with her permission.
"She saw the young man in distress and knew he didn't do anything wrong so she started videoing for his safety!" Johnson wrote.
Johnson said the video didn't capture the man slapping Deandre's hand, prompting his phone to fall to the ground and crack.
She added that she waited at the scene until an officer arrived, and repeatedly told them that Deandre had been assaulted. "The officer told us that his supervisor told him that he could only charge the white guy with malicious injury to property and not assault!" Johnson wrote.
She said she and a friend "circled back to get him out of that situation bc we refused to see D go to jail or lying there dead simply bc he was black. The only thing he did was be black while walking!!!"
Fort Jackson, Johnson, the Richland County Sheriff's Office and the Columbia Police Department have been contacted for comment.