Fort Jackson Trainee Allegedly Left Base With Rifle, Hijacked School Bus Before Being Arrested
A soldier from South Carolina's Fort Jackson has been arrested after escaping the base armed with a rifle and allegedly hijacking a bus full of elementary schoolchildren.
"A Fort Jackson trainee ran away from his unit this morning with his Army issued rifle. The trainee managed to hijack a school bus before being subdued to Richland County Sheriff Department," Leslie Ann Sully, a Fort Jackson media relations officer, confirmed in a statement.
Sully said leaders at the base are aware of the situation and are working closely with law enforcement officials.
"This was a failure in our accountability procedures that we truly regret and are apologetic to our community," she said. "We are thankful for the fast actions of RCSD and the local community to assist in the apprehension of the individual."
The trainee, later identified as Jovan Collazo of New Jersey, was dressed in physical training clothes when he got onto the bus around 7:15 a.m. local time on Thursday, according to authorities. The soldier told the driver he didn't want to hurt anyone, but that he wanted to be driven to the next town.
Some of the children used cellphones to start calling their parents, and one parent eventually flagged down a deputy to inform authorities about the armed man on the bus.
The trainee then brought the children to the front of the bus. Soon after, he became frustrated and stopped the bus to let the kids and driver off. He went on to drive a few more miles before he abandoned the bus, where he left the rifle, and began walking through neighborhoods trying to find clothing and rides.
Deputies spotted him on the road and he was arrested without incident. The 18 children on the bus and its driver were all safe, officials confirmed.
Collazo has been charged with 19 counts of kidnapping, carjacking, possessing a weapon on school property, armed robbery and weapons possession during a violent crime.
"Probably one of the scariest calls we can get in law enforcement and as a school district is that a school bus has been hijacked with kids on it with someone with a gun. And that's what we had this morning," Richard County Sheriff Leon Lott told reporters during a press conference Thursday.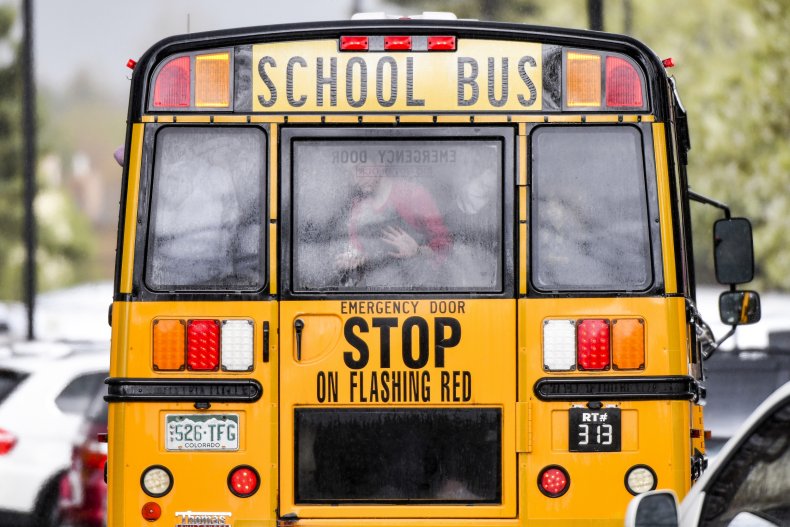 Lott said authorities are also addressing the needs of the children who were on the bus.
"You can just imagine they were scared to death, along with that driver," he said. "I'm going to give the bus driver credit, he kept his cool. ... His main concern was the safety of those kids and he did his job."
This story was updated May 7 with information on the identity of the Fort Jackson trainee.