Fort Lauderdale Accepts Elon Musk Proposal to Create Beach Access Tunnels for Teslas
The city of Fort Lauderdale, Florida, accepted Telsa CEO Elon Musk's proposal to create a Telsa-exclusive tunnel system under the city.
The Las Olas Loop, the name given to the underground tunnels, would stretch from downtown to the beach. Specifics of the loop's plan won't be released until after competitors have had the opportunity to make similar offers, according to Florida State laws.
Mayor Dean Trantalis heard Musk's proposal on June 30. The Boring Co., Musk's infrastructure company, provided an "innovative and unprecedented approach to addressing traffic congestion and transit needs," according to Trantalis.
The proposal was set to a vote by the City Commission on Tuesday.
Trantalis announced the acceptance of the proposal on Twitter. He said the city will be accepting competing offers for the next 45 days.
"This could be a truly innovative way to reduce traffic congestion," Trantalis tweeted.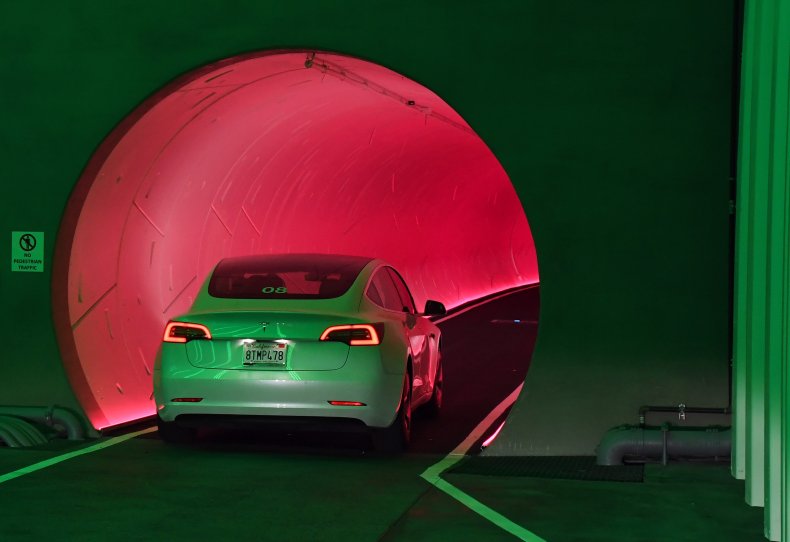 The mayor was unavailable to speak with Newsweek, but City Manager Chris Lagerbloom said the project "will advertise officially next week, and the 45-day period will commence from that day. At this point, nothing happens until that time period elapses."
The loop would act like a subway system, shuttling people back and forth from the beach and downtown. City officials previously said that a ride in one of the Teslas would cost $5 to $8.
"An underground transit line could remove both tourists and beach-goers from western suburbs from street-level traffic," Trantalis said on Facebook. "That would provide quicker and more efficient access between downtown and the beach for everyone."
"Fort Lauderdale would be the first city on the East Coast—and only the second city in the world—to benefit from The Boring Co.'s technology," a July 1 press release read.
The Boring Co. recently opened the country's first Telsa loop system in Las Vegas. The Las Vegas Convention Center (LVCC) Loop was built in a year and is comprised of 1.7 miles of tunnels under the convention center. The LVCC Loop cuts down the 45-minute walk across the center's campus to just two minutes, according to The Boring Co.'s website.
The LVCC Loop is currently being expanded into a larger system dubbed the "Las Vegas Loop." The expansion will bring the shuttle system to the Strip, Allegiant Stadium, McCarran International Airport and downtown Las Vegas, with plans to connect Los Angeles later on.
The LVCC Loop was initially envisioned to be autonomous by Musk, meaning the rider would get in the Tesla without a driver, and the car would drive itself to the next stop in the loop. The LVCC currently uses drivers to operate, but it is unknown whether or not the Las Olas Loop will be autonomous or not.
Newsweek reached out to Tesla and The Boring Co. but did not hear back by publication time.