Backlash on Native American Reservation Over Transgender Bathroom Policy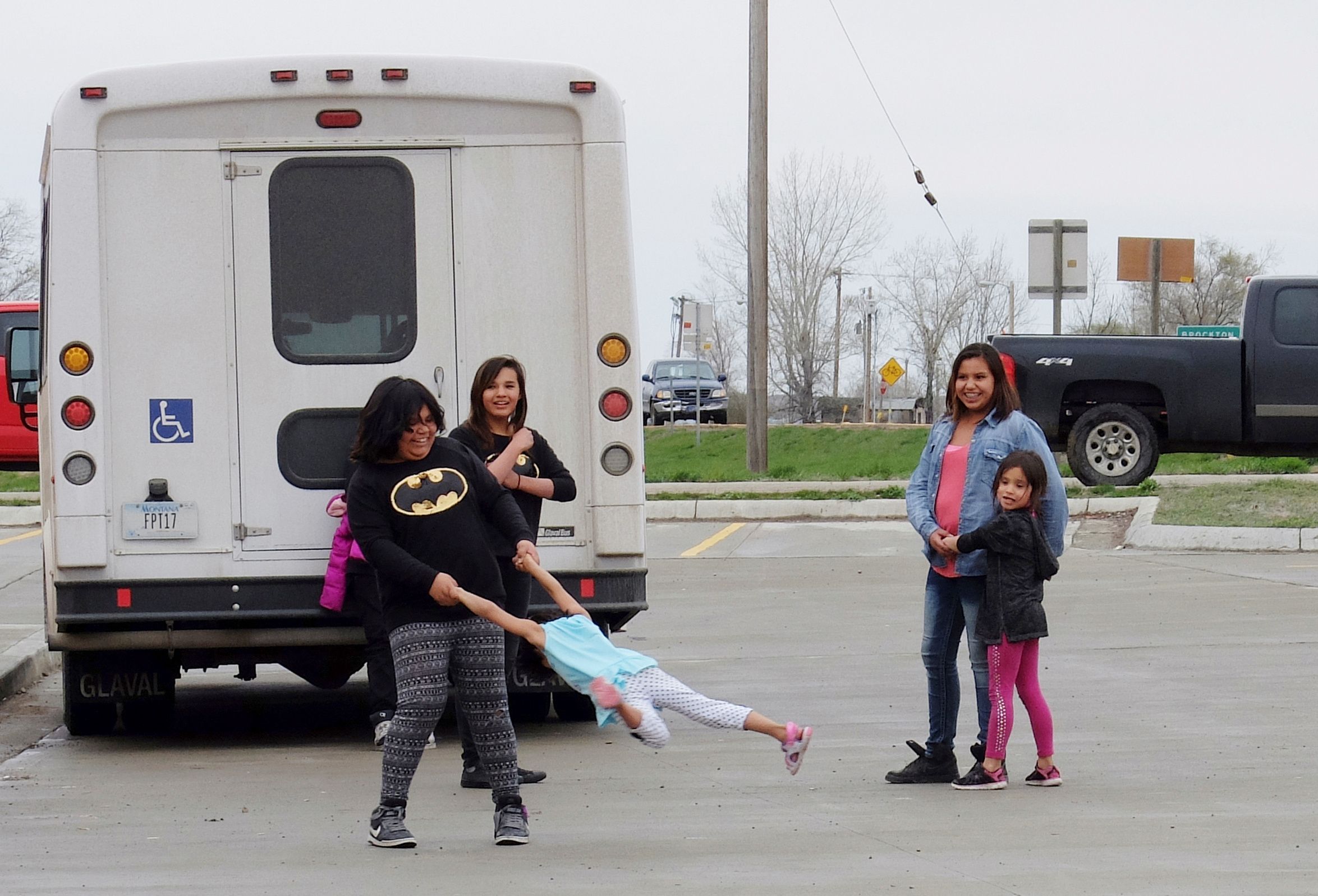 As several U.S. states consider public bathroom policies similar to the one that passed in North Carolina this spring, a Native American reservation in Montana is facing criticism for passing its own version of the law. The Fort Peck Reservation in northeastern Montana has likely become the first Native American group to say that tribal members must use the public bathroom corresponding to their gender at birth.
On May 23, the executive board on the 2 million–acre reservation, which is home to roughly 10,000 members of the Assiniboine and Sioux tribes, passed a motion "regarding transgender use of public bathrooms to mirror the position the state of North Carolina has taken," according to the minutes from the meeting, obtained by a local media outlet.
"What people do in their bedrooms is their business. How public bathrooms are used is [my] business," Tribal Councilman Edward Bauer said during the meeting.
Bauer told a local outlet that the policy was meant to reinforce an existing one and also respond to the United States Department of Justice and Department of Education mandate in May that public schools must allow transgender students to use bathrooms for the gender with which they identify, not necessarily the one on their birth certificate. On May 25, 11 U.S. states sued the federal government to overturn that directive.
"We just have a problem with male adults using bathrooms with young girls," Bauer told the press. "We have enough problems here with death and drugs, so maybe we're just a little protective…. I'm more concerned with being physically correct and protecting our children than being politically correct."
Because the motion did not say how the tribal policy will copy North Carolina's legislation, some tribal members have questioned how far the policy goes and whether it has been finalized. But many on and off the reservation have criticized tribal leaders.
"I'm extremely upset that it has hit home in Montana and even more so that it hit home on one of our tribal reservations," says Bree Sutherland, executive director of the Montana-based Gender Expansion Project, which does education and advocacy work related to transgender, intersex and gender diverse people. "My understanding from talking to individuals at Fort Peck [is] many…weren't even aware that it was being passed or that it was even being considered."
Anthony Shields Sr., an executive board member on the Fort Peck Reservation, says tribal leaders have been inundated with calls about the bathroom policy. "They basically don't know how to handle it," he says. "A lot of them have been catching hell from tribal members for doing this."
Shields was the only board member to vote against the policy. He says the policy is now law on the reservation, though the official resolution needs to be written.
"It's very offensive to our people," he adds. "These guys who brought it up are in the dark about our gays and lesbians and our transgender [people]. They don't understand it, they don't want to understand it."
The tribal chairman's office directed questions about the motion to the tribe's general counsel. Following multiple requests for comment, the general counsel's office said, "We were not involved in that resolution and so we have no comment on it."
Bauer, the councilman, did not respond to emails seeking comment, nor did any of the 14 other board members, except for Shields and another member who said to contact the chairman and vice chairman.
The number of transgender people living on the Fort Peck Reservation is unclear, but the controversy comes at a time when the tribes there are dealing with catastrophic problems related to sex trafficking, poverty and drug use.
Transgender Native Americans report facing hardships at higher rates than transgender people of other races, according to a report by the National Center for Transgender Equality and the National LGBTQ Task Force. Responding to a 2008–2009 survey, Native American transgender people reported higher rates of poverty, HIV infection, suicide attempts, unemployment and homelessness than overall transgender survey respondents. Nearly a quarter reported having been sexually assaulted, a rate higher than for transgender respondents of any other race.
A recent study that analyzed the 2008–2009 data found that overall transgender respondents who said they had been denied access to bathrooms at school reported having attempted suicide at a higher rate than those who said they had not been denied access—60.5 percent versus 43.2 percent.
Two experts on Native American history and issues, from the University of New Mexico and the Lewis and Clark Graduate School of Education and Counseling, say they are unaware of any other tribe with such a bathroom policy in place.
"It's just a big setback," Steven Barrios says of the Fort Peck Reservation policy. "It's going back against all we fought for to get to where we are today, reclaiming our Two Spirit history."
Two Spirit refers to a tradition in many Native American tribes in which people adopt qualities associated with a different gender or sexual orientation. Barrios is a board member of the Montana Two Spirit Society, which was founded in 1996 and attracts nearly 100 people to its annual gathering. He says he finds the Fort Peck Reservation news surprising, saying, "I was always treated with respect there."
"There have always been within Native cultures and the different tribes individuals that were said to possess both the masculine and the feminine," says David Herrera, another Montana Two Spirit Society board member. "In the different tribes, those individuals were actually revered."
When Christian missionaries came to reservations, Herrera says, "people were forced to basically abandon their cultures," including those who would later identify as Two Spirit. "They were said to be satanic."
Each tribe had its own term for these people, and in 1990, attendees at an indigenous gay and lesbian gathering adopted the term Two Spirit. Herrera says some Two Spirit people identify as transgender, but not all. "That's kind of a Western construct," he says.
A week and a half since the bathroom motion passed, tribal members are now considering how to deal with the bathroom policy. Shields, the tribal board member who voted against it, says he might call for tribal members to petition for a special meeting, where they could vote to overturn the policy. "It needs to be fixed," he says, "and fixed fast."