During Tuesday's press conference with President Donald Trump in Washington, Polish President Andrzej Duda floated the idea of opening a permanent U.S. military base in Poland named "Fort Trump."
"I hope that we will build Fort Trump in Poland together, Mr. President," Duda said to Trump when asked about the Polish security landscape. Trump, nodding his head, did not rule out the proposal. Nevertheless, he noted that Warsaw would have pay if such an installation were to be opened.
"Poland would be paying billions of dollars for a base," Trump said. "When we're defending immensely wealthy countries they're just taking advantage of us. It's time they help with, we call it 'burden sharing.' The president offered over $2 billion to do this."
It's unclear whether the proposal is in the works, but the majority of the joint press conference was spent outlining ways to counter Russian influence and dominance in Eastern Europe. Trump touted the two countries' efforts to "bolster our robust defense ties" and highlighted Poland's recent purchase of a U.S. Patriot missile system. He also pledged that Washington would sell more liquefied natural gas (LNG) to Poland, a move that would ensure the country isn't overly dependent on Russian natural gas imports.
"No nation should be dependent on a single supplier," Trump said about Poland's energy needs. "A tremendous amount of LNG will be exported to Poland. We're giving them a pretty good price, but they're buying a lot of it," he added.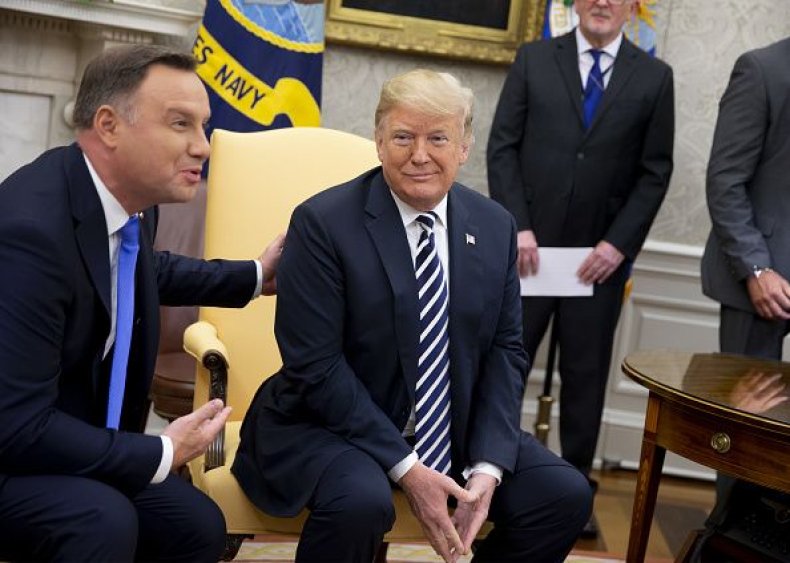 Meanwhile, Duda was quick to extol the importance of having U.S. military personnel in Poland, saying that he is "delighted over the presence of U.S. soldiers in Polish territory."
"We have American soldiers as part of our bilateral agreements. We believe the presence of the U.S. is a guarantor of security," Duda said during the press conference. The Polish president also warned of Russia's "absolute domination in Europe" over natural gas supplies, and pointed to the need to diversify energy supply routes to counter the Russian monopoly.
The statements will likely rile Russia, which feels threatened by a Western military presence on its border. Despite Trump's stated desire to forge closer ties with Moscow, the president said he's considering more U.S. troops on Polish soil, in addition to an already increased military presence there since he took office. The U.S. deployed around 3,000 soldiers to Poland last year.
Throughout the event, Duda appeared eager to flatter Trump. "Mr. Trump is saying 'America First' and I am saying 'Poland First,' so we understand each other very well," the Polish leader said.