Texas Father Averts Potential Mass Shooting After Reporting His Son to Police: 'He Wanted to Kill Many People'
Police in Texas said they have foiled another potential mass shooting in the state after they received a call from a concerned father detailing his son's plans to "kill many people."
The Fort Worth Police Department said they received a tip-off that the 27-year-old son was planning on carrying out an attack similar to the one which occurred in Midland and Odessa last month which left seven people dead and a further 22 injured.
The father said his son had withdrawn between $600 and $700 in order to purchase guns. After failing background checks, the 27-year-old, whose name has not been made public, then attempted to purchase a firearm off the street, reports NBCDFW.
Officers said that they had interacted with the suspect before and were aware he suffers from severe mental health issues. He was later located just west of downtown Fort Worth and taken into custody.
"He made multiple statements to officers indicating he was going to harm many people, kill as many as he could, go to Midland-Odessa and kill people," Officer Buddy Calzada told the Fort Worth Star-Telegram.
"He wanted to kill many people," Calzada added to NBCDFW. "He wanted to do something that was very similar that took place in the Midland-Odessa area and he basically wanted to mimic that."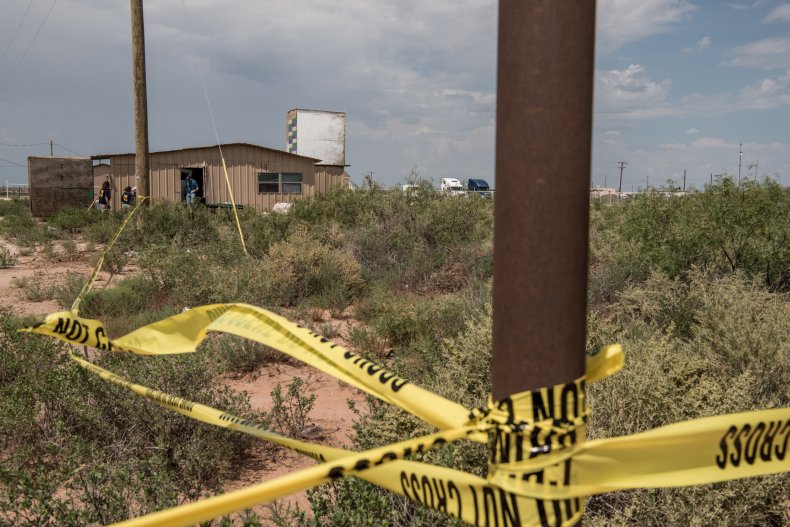 Police praised the actions of the father for providing information to police about his son's behavior.
"The great part is that somebody, which would be the father in this case, was able to reach out to police with valid information and we were able to do something very significant," Calzada said.
The suspect has since been checked into a local clinic to receive to receive treatment.
Seth Aaron Ator, the man suspected of killing seven people during the mass shooting in Midland and Odessa on August 31, began his rampage after he was pulled over in his Honda by police. He then sped away in his vehicle before firing at random people.
He was eventually shot and killed by police at the Cinergy in Odessa.
The graph below, provided by Statista, shows the number of fatalities caused by mass shootings before and after the assault weapons ban.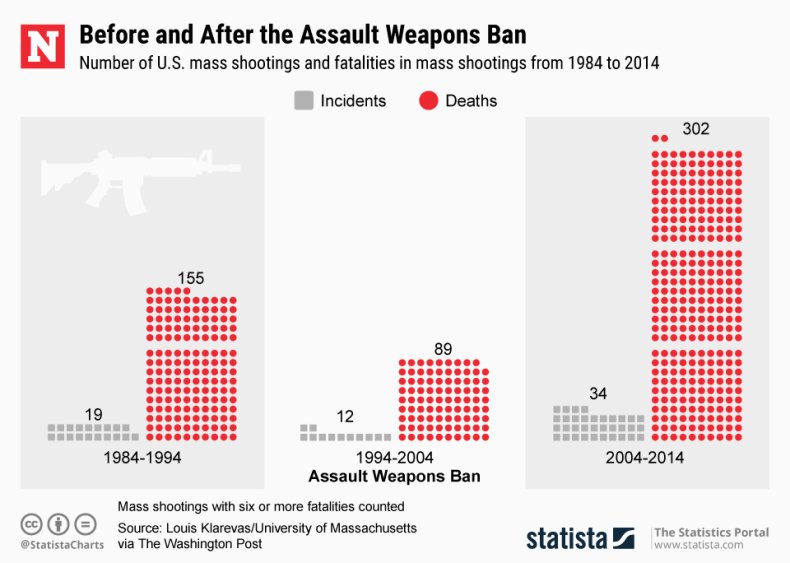 The incident occurred just a few weeks after 22 people were killed at a Walmart store in El Paso on August 3 by a suspected white supremacist.
Texas Governor Greg Abbott issued a statement in the wake of the Midland and Odessa attack, condemning the second mass shooting to occur in the state in less than a month.
"The First Lady and I are heartbroken over this senseless and cowardly attack, and we offer our unwavering support to the victims, their families, and all the people of Midland and Odessa," Abbott said.
"I thank the first responders who have acted swiftly and admirably under pressure, and I want to remind all Texans that we will not allow the Lone Star State to be overrun by hatred and violence. We will unite, as Texans always do, to respond to this tragedy."