'Fortnite' $1 Million Super Cup Start Time, Leaderboards and How to Watch
Fortnite's $1 million Super Cup is currently underway around the world, and that means 500 of the very best Duos are competing for their share of a massive global prize pool. Below, we outline all you need to know about start times, streams, leaderboards, prizing and more.
What time is the Super Cup in Fortnite?
Just like the Venom Cup before it, the $1 million Super Cup takes place across two sessions in every region. When it comes to our home territory in NA East, the Super Cup runs from 1 p.m. to 4 p.m. EST and 4 p.m. to 8 p.m. EST. The first session is an open qualifier, while the second one is locked to just the top 1,000 in each set.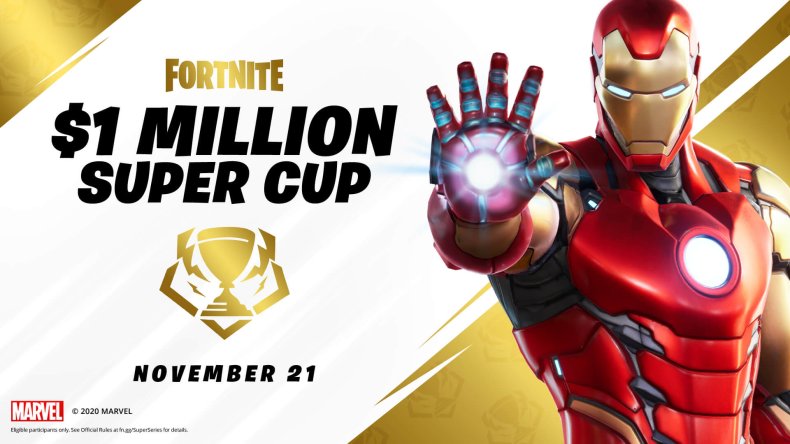 Here are the rest of the global times converted into Eastern Standard Time. We've removed any sessions that have already occurred.
NA East: 1 p.m. to 4 p.m. EST / 4 p.m. to 8 p.m. EST
NA West: 4 p.m. to 7 p.m. EST / 8 p.m. to 11 p.m. EST
Europe: 1 p.m. to 4 p.m. EST
Oceania: 2 a.m. to 5 a.m. (November 22)
Brazil: 2 p.m. to 5 p.m. EST
Asia: 2 a.m. to 5 a.m. EST (November 22)
Middle East 11 a.m. to 3 p.m.
How to watch the $1 million Super Cup
Unlike the other Marvel Knockout Super Series tournaments that didn't get much official air time, the $1 million Super Cup is currently being streamed on the Fortnite Twitch channel and YouTube Channel. In the tradition of official hub streams, this one will keep you up to date with the very latest action across the finals tournaments as they occur. The format and leaderboards may be slightly more difficult to follow due to the large number of players, but you'll get a solid overview here.
Fortnite Super Cup rules, leaderboard and prizing
Unlike the Marvel Super Series Cups that functioned under Marvel Knockout rules, the $1 million Super Cup features a slightly modified version of traditional Battle Royale. Mat caps are slightly restricted, and all Superpowers are available. As a result, you'll see some classic competitive Fortnite action with a bit of a Marvel twist. Duos play up to 10 matches over a three-hour session period.
Here's how each match will be scored.
Eliminations: Five Points each
Victory Royale: 55 Points
Second: 49 Points
Third: 46 Points
Fourth: 43 Points
Fifth: 40 Points
Sixth: 37 Points
Seventh: 35 Points
Eighth: 33 Points
Ninth: 31 Points
10th: 29 Points
11th: 27 Points
12th: 25 Points
13th: 23 Points
14th: 21 Points
15th: 19 Points
16th: 17 Points
17th: 15 Points
18th: 13 Points
19th: 11 Points
20th: Nine Points
21st: Seven Points
22nd: Five Points
23rd: Four Points
24th: Three Points
25th: Two Points
26th-45th: One Point
NA East Prizing
First: $3,500
Second: $3,000
Third: $2,700
Fourth: $2,600
Fifth: $2,500
Sixth: $2,400
Seventh: $2,300
Eighth: $2,100
Ninth: $2,000
10th: $1,800
11th-20th: $1,500
21st-30th: $1,400
31st-40th: $1,100
41st-50th: $1,000
51st-75th: $950
76th-100th: $850
101st-250th: $750
NA West Prizing
First: $3,000
Second: $2,500
Third: $2,300
Fourth: $2,000
Fifth: $1,900
Sixth: $1,800
Seventh: $1,700
Eighth: $1,600
Ninth: $1,500
10th: $1,400
11th-20th: $1,200
21st-30th: $1,000
31st-40th: $900
41st-50th: $850
51st-75th: $800
76th-100th: $750
Europe Prizing
First: $4,000
Second: $3,500
Third: $3,000
Fourth: $2,700
Fifth: $2,600
Sixth: $2,500
Seventh: $2,400
Eighth: $2,300
Ninth: $2,200
10th: $2,000
11th-20th: $1,800
21st-30th: $1,500
31st-40th: $1,300
41st-50th: $1,100
51st-75th: $1,000
76th-100th: $900
101st-250th: $800
251st-500th: $600
As for leaderboards, given how large the player pool for this tournament is, our best advice is to check out the live leaderboard in-game as the action unfolds. To find it, open up Fortnite, scroll over to the Competitive tab and press the designated button to view the session leaderboard on the Super Cup tournament page. The numbers will likely fluctuate wildly with so many players, which makes it especially difficult to keep up with the results on a manual basis.
That's all you need to know about the $1 million Super Cup in Fortnite.
Fortnite is available now on PS5, PS4, Xbox Series X|S, Xbox One, Switch, PC and Android.
What are your thoughts on the Super Cup so far? Which Duo will come out on top? Tell us in the comments section!