'Fortnite' 1.56 (3.5.2) Light Machine Gun 50v50 Update Live - Patch Notes
Fortnite Content Update 3.5.2, or 1.56 on PS4, has officially arrived alongside the Light Machine Gun and 50v50 V2 mode. Epic's full patch notes detail all the big changes Save The World and Battle Royale players should know.
GENERAL UPDATES
Double Battle Royale XP through April 22
Daily Into The Storm Llama in Save The World. You must log in each day to claim all four.
Network tweaks
BATTLE ROYALE TWEAKS
GENERAL TWEAKS
Rewards for past extended downtime: 20 Battle Stars, 1,600 Seasonal Goold
BATTLE ROYALE CONTENT
50v50 V2
Due to this being a "large squad" mode, Profile Stats will not be tracked. Daily & Weekly challenges will still work, with the exception of the Squad-based challenges ('Place Top 6 in Squads,' etc.).
Storm Map:

Each team has a bus, approaching the island from opposite directions. On the map, the friendly bus has a blue outline, enemy has red.
Final storm circle visible on minimap at start
Players have 10 minutes to loot the map as the storm closes in on the circle, then five minutes to fight, and another five minutes as the storm shrinks to the end.
Supply drops come in batches of three to six, fall every two minutes and only land in the final storm circle.
Added dotted line to map, which indicates the "battle lines" between the two teams. Crossing the line will make running into enemies more likely.

Loot:

Farming resources increased 75 percent over default
Increased floor loot spawn likelihood by 15 percent
Floor Loot spawns double ammo
Ammo boxes spawn triple ammo
Chests spawn double ammo & consumables
Supply drops spawn double ammo, and an extra consumable, resource drop and trap.

Bug Fixes

Fixed a bug that created uneven teams where one side could have more than 50 players.
Downed players lose health more quickly than normal (10 health per tick).
LMG
Rare and Epic rarities
Can be found in Floor Loot, Treasure Chests and Vending Machines.
25 / 26 damage (Rare / Epic)
100 round magazine, fires Medium ammo
Five-second reload time
SAVE THE WORLD CONTENT
Into The Storm Encore
Crank up the Steel Wool and get ready to fight as Lars continues his journey into the storm.
Complete this new questline to unlock one of the four new Cyberpunk Heroes.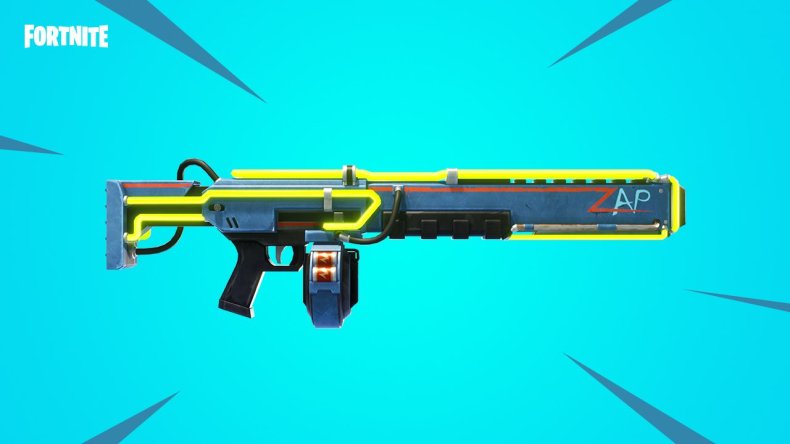 Mercury LMG
Energy assault weapon with a moderate rate of fire and large magazine size
Available in the Event Store at 8 p.m. EST on April 18
Those are all the big tweaks in this week's Content Update, and, as predicted, there aren't many to look at. That being said, the LMG should offer an interesting change to the Battle Royale meta in the days ahead. Also, with double XP in tow, snagging some cool rewards towards the end of Season 3 is more attainable than before. That's not nearly as cool as the thought of a meteorite destroying Tilted Towers, but it's a perk we'll gladly take.
On the Save The World side, new quests should keep players active as well. The changes are hardly drastic, but that's precisely what Content Updates are for: to get players back into the action more quickly with a few additional toys to play with.
Fortnite is in early access across PS4, Xbox One, PC and iOS. The 3.5.2 Content Update has been temporarily delayed on iOS.
What are your thoughts on Fortnite's 1.56 patch? Is an LMG and new mode enough to keep you playing? Tell us in the comments section!