'Fortnite' 4.3 Update Nerfs Llamas, Buffs Minigun & C4 - Patch Notes
Fortnite update 4.3 deployed Tuesday morning, and Epic has since added a few more tweaks to its initial patch notes. If you're wondering why your yield from Llamas feels a bit slim right now, this list of changes should explain why. The patch notes remain the same, but a few new entries have been added to the Weapons and Items section.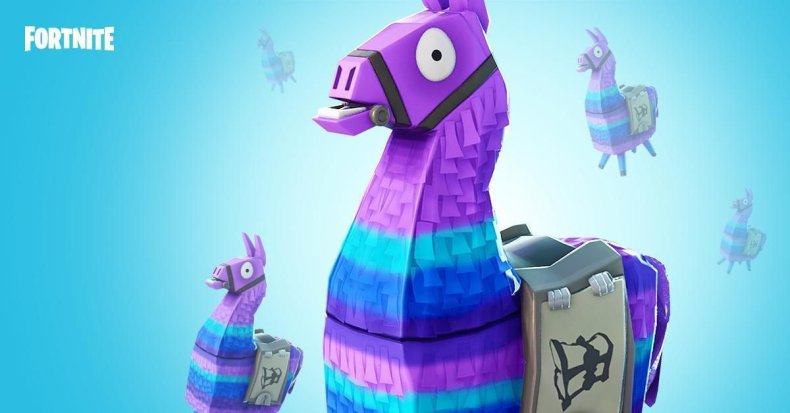 Supply Llama

Decreased material stacks from 500 to 200 per resource.
Explosive Ammo removed.

Damage fall-off vs. structures removed for Rifles, SMGs, Pistols and LMGs.
Floor loot materials adjusted:

Material drop chances in floor loot reduced by 33 percent.
Material stack sizes in floor loot reduced by 33 percent.

Ammo availability adjusted:

Light Ammo stack sizes increased from 12 to 18.
Explosive Ammo availability decreased 50 percent.

Minigun adjusted:

Accuracy increased by 10 percent.
Light Ammo spawn increased from 60 to 90.
Damage against structures increased from 25 to 30.

C4 structure explosion radius increased from 400 to 600.
Teams of 20 Storm Damage per tick adjusted.

Storm circle 1 damage per tick decreased from 10 to one.
Storm circle 2 damage per tick decreased from 10 to two.
Storm circle 3 damage per tick decreased from 10 to four.
Storm circle 4 damage per tick decreased from 10 to eight.
While these changes equate to an overall nerf to Llamas and less loot in general, Epic has noble intentions for implementing the tweaks. The notes suggest that, because Rocket Launchers and Grenade Launchers were starting to dominate the latter half of Battle Royale matches, Epic has taken away the loot that allowed the lopsidedness to occur. There's also a Light Ammo stack increase and Minigun buff, which ultimately make that class of weapon more competitive throughout the duration of a match.
A loss of supplies from your Llamas may not sound like a good thing on the surface, but it's all being done for the sake of balance. It remains to be seen how much these tweaks will even out the PvP experience, but Epic says developers are assessing the situation on a live basis. If it turns out the change was too heavy handed, they're committed to adjusting to meet the community's needs.
Fortnite update 4.3 also features the Bouncer Trap. For more info on that, read our initial post. We'll be back Thursday with all the Weekly Challenge guides you could possibly need.
Fortnite is in early access across PS4, Xbox One, PC and iOS.
What are your thoughts on the recent Llama nerf in Fortnite? Does it make launchers less dominant in the late game? Tell us in the comments section!