'Fortnite' 5.20 Leaked Skins and Weapons: Break Barrel Shotgun, Celestial, Fuzzy Panda Bear and More (UPDATE)
UPDATE: With Tuesday morning's update, pictures of the skins have been data mined.
Fortnite is coming to Android very soon and data miners have combed through the APK, finding delicious new goodies. There's a bunch of new guns, skins, emotes and items found in the files for V5.20. Sadly, there are no images for these cosmetics or items at present, meaning we only can only speculate from their names. The Fuzzy Panda Bear skin was a design on the Fortnite subreddit, but it's unclear if Epic Games will actually take inspiration from the design. Durr Burger was one of the victims of the portals created at the start of Season 4, making this cosmetic the perfect opportunity to commemorate our fallen, beefy comrade.
The break-barrel shotgun , heavy sniper and rail sniper are definitely the most interesting additions to the bunch. We know the heavy sniper will be able to punch through walls, but has a much slower reload time. The rail sniper will do crazy amounts of damage at long distances and could potentially have a larger hitbox like other rail guns. Break-barrel is similar to a double-barrel shotgun, which I hope isn't completely broken like the other shotguns in Fortnite.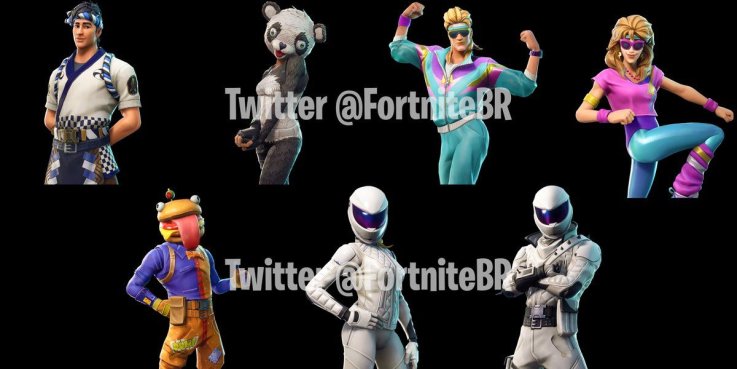 It's unclear when these items and cosmetics will come to the game, though it does look like Samsung Galaxy Note 9 pre-orders will give players 15,000 V-Bucks.
Here's the full list of items found in the code, courtesy of code diggers XDA-Developers:
Skins:
Celestial
Durr Burger Hero
Exercise
Fuzzy Bear Panda (Legendary)
Street Racer (Uncommon)
Sushi Chef (Male) (Uncommon)
Emotes:
Aerobics
Chug
Llama Bell
Hot Stuff
Pump
Gliders:
Durrburger Hero
Exercise
Street Racer Bike
Sushi Chef
Pickaxes:
Sushi Chef
Exercise
Street Racer Cobra
Durr Burger Hero
Wukong
Back Bling:
80's Exercise
Street Racer (White)
Sushi Chef
Durr Burger Hero
Fuzzy Panda Bear
Weapons:
Break-barrel Shotgun
Heavy Sniper
Rail Sniper
Gamemodes:
5×20
Bling Blitz
Comp Blitz
Deimos Final
Gameplay Mutators
Ground
Fly Explosives
Impact
Practice
Score
Shotguns
Sky Supply
Snipers
Solid Gold
Steady Storm
Taxes
"WW" (Wild West)
Items:
Durrrables Burger (Healing item)
Durrrables Drink (Shield Item)
Durrrables Fries (Movement Speed Boost)
Bottle Rocket
Grapple
ZipLine
"Shockwave" Grenade
Traps:
'Fortnite' 5.20 Leaked Skins and Weapons: Break Barrel Shotgun, Celestial, Fuzzy Panda Bear and More (UPDATE) | Gaming