'Fortnite' 5.30 Update Adds Shockwave Grenade & Solid Gold LTM - Patch Notes
Fortnite Content Update 5.30 is officially live, and it brings the Shockwave Grenade to Battle Royale. The new Epic throwable launches players to distant locations without inflicting fall damage. The patch notes arrive courtesy of a blog post on the game's official website.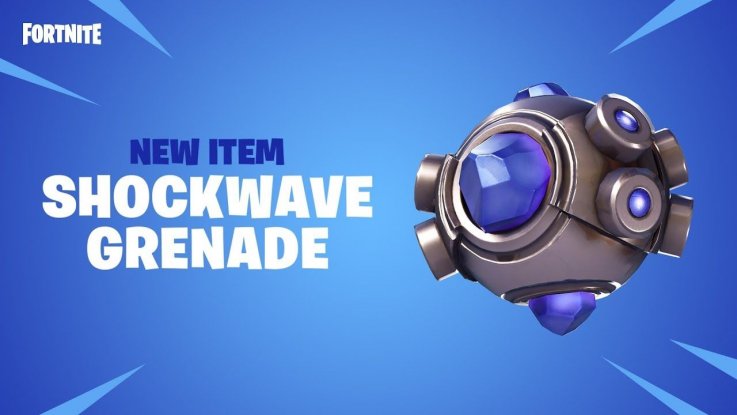 'Fortnite' Content Update 5.30 Patch Notes
Battle Royale
Solid Gold 50v50
The 50v50 LTM will consist of only legendary weapons and items for a limited time. Drop in and loot up.
Weapons & Items
Shockwave Grenade added.
Shockwave Grenade will knock players back and destroy objects in their path after being knocked back.
Allies, enemies and vehicles hit with Shockwave Grenade will not take fall damage.
Drops in stacks of two, maximum stack size of six.
Epic Rarity.
Can be found in Supply Drops, Vending Machines, Llamas and chests.
Save the World
Missions
Weekly Horde Challenge 4
This week, prepare your forts for a no-trap challenge: Husks will not trigger traps when walking over/near them.
Win a Legendary Redline Ramirez for the first-time completion of Weekly Horde Challenge 4.
The Horde Weekly Challenge quest is also repeatable for Event Tickets.
Heroes
Mythic Bladestorm Enforcer Ninja

Available in the Event Store Aug. 29, at 8 p.m. EDT.
Features new subclass - Bladestorm.

New Ability:

Kunai Storm: Ninja flips backward and throws 15 pointed knives downwards in a 0.5 tile radius. Dealing edged weapon damage. Damage are scales based on distance with a maximum range of four tiles.

New Perks:

Kunai Collection: Eliminating enemies with Kunai Storm reduces its cooldown by two seconds.
Kunai Barrage: Increase the number of kunai thrown from Kunai Storm by six and damage by 25 percent.
Kunnaihilation: Kunai will now randomly explode and deal Energy Damage in a 0.25 tile radius.

Redline Ramirez

Legendary variant of Raider.
Unlock by completing the Weekly Horde Challenge 4.
While it's cool to see the Road Trip Enforcer skin make its way to Save the World, the 5.30 addition most Fortnite fans will be talking about is the Shockwave Grenade. Somewhat similar to the suspicious purple Cube that spawned in Paradise Palms last week, this new projectile launches opponents to far off distances. Because it doesn't inflict fall damage on allies, there's a chance to utilize this weapon in some very creative ways. In a best-case scenario, you could theoretically launch a Squad member into an opponent's structure, destroy it and trigger a Battle Royale. Especially when it comes to high-level play, the Shockwave stands to be an interesting addition to a well-balanced loadout.
It should be noted that today's 5.30 Content Update is not at all tied to the Fortnite client-side update that went live early Tuesday morning. That small patch was deployed for stability reasons and will be making its way to Nintendo Switch soon.
For those just jumping in on the Fortnite craze, today's Content Update launches alongside a brand-new Ace Starter Pack as well. The $4.99 item features the Ace skin, Swag Bag Back Bling and 600 V-Bucks. It's a solid way to snag a few skins or your first Battle Pass in the closing weeks of Season 5.
Fortnite is available now on PS4, Xbox One, Switch, PC and mobile. Content Update 5.30 should be live on all platforms.
What are your thoughts on Fortnite's new Shockwave Grenade? What items would you like to see in the next update? Tell us in the comments section!
'Fortnite' 5.30 Update Adds Shockwave Grenade & Solid Gold LTM - Patch Notes | Gaming