'Fortnite' v6.31 Leaked Skins: Snowstorm and A.I.M. Bringing Something Fresh
Fortnite v6.31, released earlier this morning, brings with it a new Legendary shotgun and the Team Rumble limited-time mode. This patch is a light one, not bringing many big changes to the flagship battle royale. The past few patches have brought mini-turrets, balloons and crazy balance adjustments, so it's good to see Epic Games take a much lighter approach this time around.
Like every Fortnite patch, 6.31 has a few skins hidden in its code. Data miners, who scour the game's files looking for new information, post the secrets they uncover online for the rest of us to share. The last few patches have had dozens of skins, back blings and axes to comb through, many of which still haven't been released. This patch doesn't have much under the hood, with only two new skins, four emotes and a pickaxe. Longshot and Insight are poorly camouflaged special ops agents, ready to take on a fight - whether it's near a Volcano or on Pandora. The Lamp pickaxe attracts moths, Epic Games has truly mastered the art of bug creation.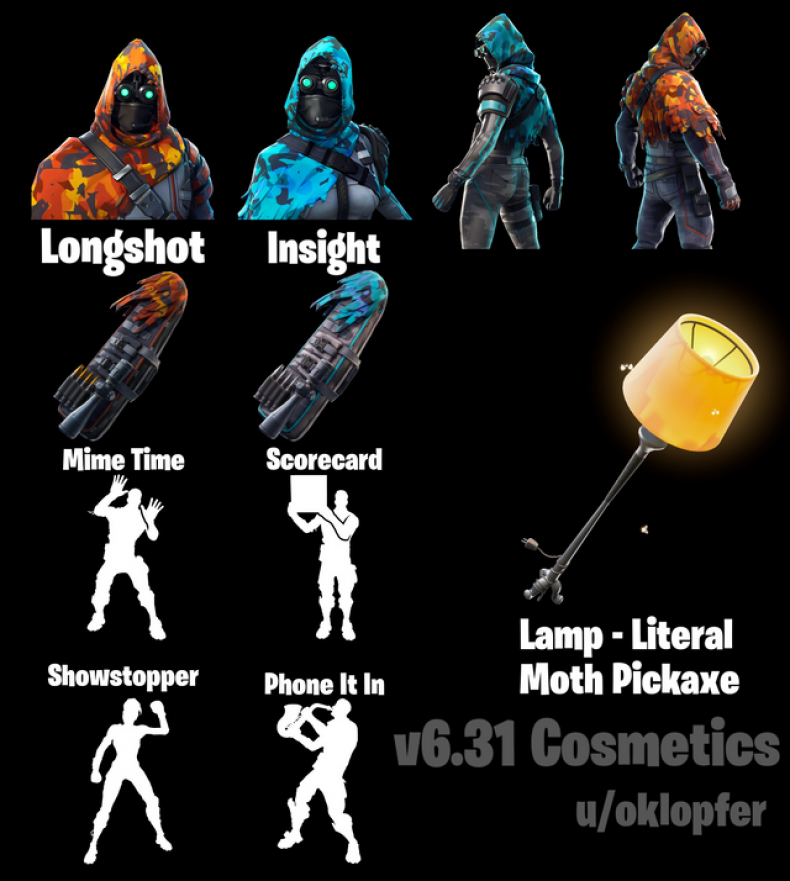 Dataminers have also turned up more snow files have been found, which might be the most exciting discovery of v6.31. Currently, Viking Village is covered in snow and a small storm has been gathering around the map. If the leaks are to be believed, a huge blizzard is coming to Fortnite and will engulf the map soon. Files for snowflakes were discovered by Fortory on Twitter, along with new icey textures.
The real insanity of the snowstorm starts to unfold when you take a closer look at the snow fall in Fortnite. Reddit user /0v3rK1ll_ took a spectrogram of the sound currently being heard inside the snow storm in Viking Village and saw an interesting sign . The symbol for the A.I.M. skin, available to users who complete all of the Season 6 Hunting Party challenges, has been found sitting in the sound. The robotic monstrosity is covered in ice, which could mean that he's bringing something new in the growing snow storm.
Epic Games loves to make little Easter eggs and teasers to keep fans engaged. Past seasons have included real-life scavenger hunts, in-game cutscene events and Thanos, all to keep players invested in their battle royale. If Fortnite loses momentum with bad patches or mediocre content, than it could mean the end of the cash cow.
If this patch doesn't satisfy you, enjoy this fantastic YouTube creation, "Take Me to Your Xbox to Play Fortnite."
Do you think A.I.M. is coming in with the blizzard? Tell us on Twitter @RealNewsgeek.