'Fortnite' 7.10 Update Adds Suppressed Sniper, Vaults Six Shooter - Patch Notes
Fortnite 7.10 Content Update #3 is officially live. The patch shuffles the Battle Royale weapon roster and features some much-needed balance tweaks. Say hello to the Suppressed Sniper Rifle and goodbye to the Six Shooter. The patch notes arrive courtesy of a blog post from Epic Games.
Fortnite 7.10 Content Update 3 Patch Notes
Battle Royale
Weapons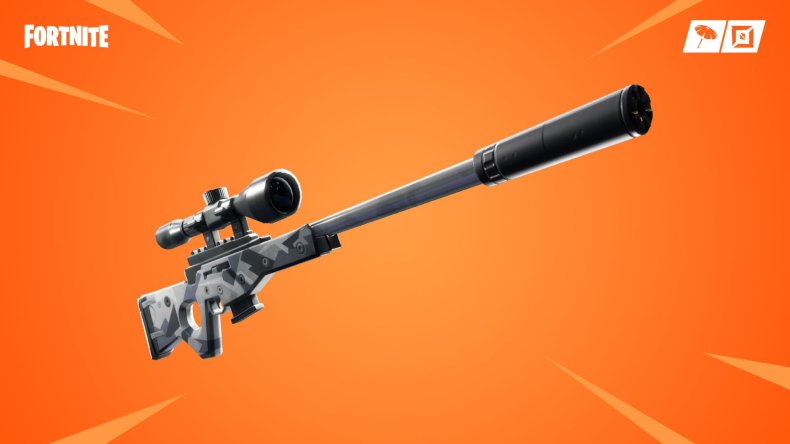 Suppressed Sniper Rifle added.

Available in Epic and Legendary variants.
Can be found from chests, floor loot, Vending Machines and Supply Drops.
A single shot, scoped sniper rifle.
The suppressor makes for a quieter shot, trading stealth for power.

Deals 100/105 base damage

Six Shooter has been vaulted.
The following variants of the Burst Assault Rifle have been vaulted:
Dual Pistols have been unvaulted.
Dynamite drop rate reduced by 40 percent.
Boom Box adjustments:

Drop rate reduced by 33 percent.
Health reduced from 600 to 400.
Duration reduced from 25 seconds to 18 seconds.
Gameplay
X-4 Stormwing adjustments:

The knockback a player receives after being hit by a Stormwing has been decreased by 70 percent.
Damage done to the Stormwing from colliding with structures has been increased by 50 percent.

Impact damage reduction while boosting through structures reduced from 50 percent to 25 percent

Increased the spread of the Stormwing machine gun by 75 percent.
Stormwing spawn chance has been decreased to 80 percent from 100 percent.

Supply Drop health has been reduced to 250/500/750 (Solo/Duo/Squad).
The X-4 Stormwing is no longer able to fly above the max build limit.
Creative
Suppressed Sniper Rifle added to Creative Inventory Weapons

Available in Epic and Legendary variants.
A single shot, scoped sniper rifle.
The suppressor makes for a quieter shot, trading stealth for power.
Deals 100/105 base damage
Save the World
Santa's Little Helper will be available in the Weekly Store

Launches explosive presents that damage and knockback groups of enemies. Does not consume ammo, but has very low durability.
Available from Jan. 9 at 7 p.m. EST until Jan. 16 at 7 p.m. EST.

The Popshot Shotgun will be available as a Frostnite Weekly Challenge reward

A rapid firing low capacity semi-auto shotgun

Weekly Frostnite Challenge 2: Burn Bright
Time between enemy waves is drastically reduced. Use your time wisely!
Weekly Frostnite Challenge 1 Quest rewards include:

Challenge Banner 2
Popshot Shotgun
Snowflake Tickets
While the changes in today's Content Update aren't exactly numerous, they're especially critical for those enjoying Battle Royale. The Boom Box and Dynamite, for example, have been disruptive to the meta for quite some time. The above-listed changes intend to make both explosives more counterable via weapons or building. The same goes for the X4 plane, which many believed was too powerful when filled with a full squad of firing opponents.
On the opposite end of the spectrum, the Six Shooter was introduced at the end of October and has essentially become irrelevant now that Cube Monsters no longer roam the map. During its time in the vault we expect it to become a slightly more formidable alternative to the Dual Pistols, which are now back in the game. The Dual Pistols were beloved during their tenure, so it's nice to see them making a comeback. In the current meta, they essentially fill the spot of a Heavy AR with a faster fire rate. Today's update isn't the biggest Fortnite update of all, but it's yet another showcase of Epic listening to player feedback and developing around it.
Fortnite is available now on PS4, Xbox One, Switch, PC and mobile. The 7.10 Content Update is live on all platforms.
What are your thoughts on the Suppressed Sniper Rifle and the death of the Six Shooter? Do these changes improve weapon balance? Tell us in the comments section!