'Fortnite' 7.20 Leaks Reveal Events for Ice Storm & Marshmello Concert
Fortnite update 7.20 just went live, but fans have already datamined it to leak two major events due to begin over the next few weeks. The files suggest a series of Ice Storm Challenges are coming in addition to a possible in-game Marshmello concert.
The Ice Storm Event & Ice Storm Challenges
It's been a little while since Fortnite Battle Royale has been privy to a major in-game event, but, according to leakers like s110x, Hypex and Lucas7Yoshi, a new one may be starting soon. Codenamed Mooney, files suggest the occurrence may have something to do with the massive ice boulder recently spotted around Polar Peaks.
While not certain, the evidence suggests the sphere might break to trigger an ice storm that envelops the entire Battle Royale map. This theory is buttressed by recently leaked Loading Screens as well, one of which shows the Ice King holding a special object that covers the surrounding area in a chilly fog. It's difficult to pinpoint exactly how everything will shakeout, but the images suggest the Ice King's got a few interesting ideas in the works that aren't exactly on the up and up.
In addition to the event itself, it appears there will also be a few Ice Storm Challenges where players have the chance to unlock the Winter's Thorn Glider and Blue Metallic wrap. The exact nature and order of these challenges may change before release, but here's what we know about them so far.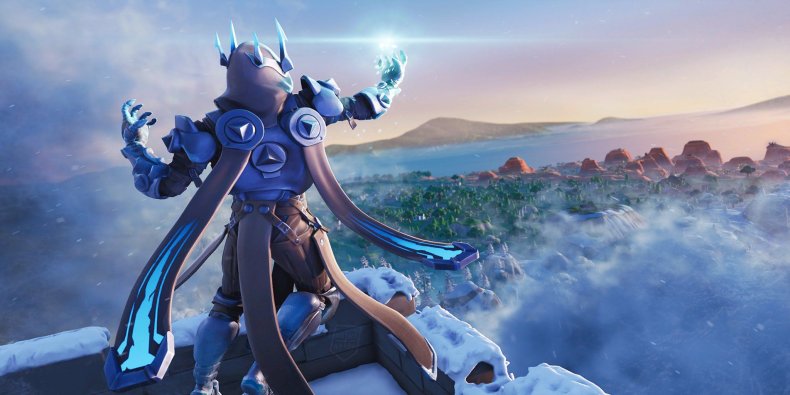 Complete Ice Storm Challenges
Deal damage to the Ice Legion
Deal damage to the Ice Legion in a single match
Deal damage with explosive weapons to Ice Legion
Deal damage with Assault Rifles or Pistols to Ice Legion
Deal damage with Shotguns or SMGs to Ice Legion
Destroy an Ice Shard in different matches
It's unclear what the Ice Legion is, but our assumption is they may be something like the Cube Monsters that made their presence known during Fortnitemares this past fall. It's possible that, once the Polar Peak sphere explodes, an Ice Legion army appears on the map to do the Ice King's bidding. If you want a couple cool cosmetics, it's your job to take them down with various weapons.
In-Game Marshmello Concert
If all that sounds a bit too complicated, you might be more interested in this second event leak. Following his Duos victory at the E3 Celebrity Pro-Am last summer, it looks like Marshmello is coming back to Fortnite with a surprising twist. According to a recent Instagram post from the artist's manager, Moe Shalizi, there's a big collaboration in the works that's set to debut next month.
"Something is coming with Mello and Fortnite next month that's gonna have the world shook," he teased to his followers on Sunday. This announcement was promptly followed up by dataminers' discovery of a video featuring Marshmello logos and a remix of "Wolves" by Selena Gomez. The assumption is that, similar to November's "Wreck-It Ralph" partnership, this clip will also play on in-game screens sometime in the near future. While most of this article focuses on predictions, one thing that's certain is that any Fortnite dance party is sure to involve plenty of flossing.
Fortnite is available on PS4, Xbox One, Switch, PC and mobile.
What are your thoughts on these Fortnite event leaks? Are you excited for an Ice Storm and a Marshmello concert? Tell us in the comments section!