'Fortnite' Aloy Cup Start Time and How to Get The Aloy Skin Early
Fortnite's next big crossover has been revealed, and it features Aloy from Horizon: Zero Dawn. Want a chance to unlock this slick PlayStation skin early? Then you must compete in the Aloy Cup. Blow, we outline when the tournament starts, its rules and a few tips to access the latest leaderboards. Here's everything competitors need in one place.
What time is the Aloy cup in Fortnite?
The Aloy Cup is set to take place April 14 between 6 p.m. and 9 p.m. local time in North America. You'll find the full list of regional start times below, listed in Eastern Daylight Time.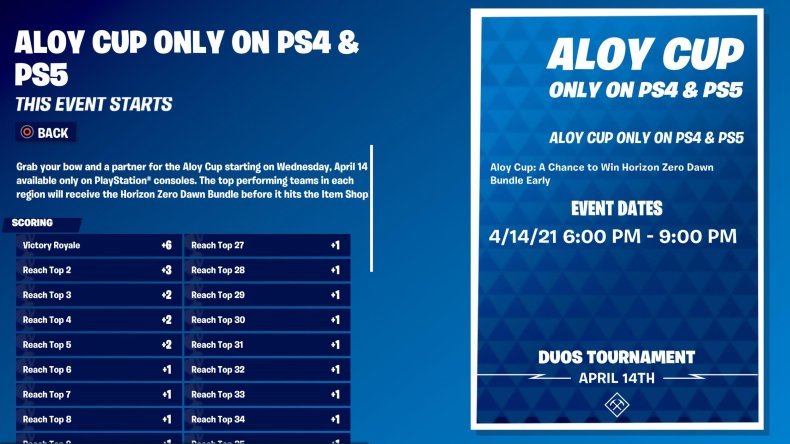 NA East: 6 p.m. to 9 p.m. EDT
NA West: 9 p.m. to 12 a.m. EDT
Europe: 12 a.m. to 3 p.m. EDT
Oceania: 3 a.m. to 6 a.m. EDT
Brazil: 5 p.m. to 8 p.m. EDT
Asia: 5 a.m. to 8 a.m. EDT
Middle East: 3 p.m. to 6 p.m. EDT
While it is possible to compete in other server regions by going to the options menu and swapping to another region, note that you can only compete in the tournament once per Epic account. In other words, swapping to multiple regions for additional chances to win might not work and could result in an account ban.
How do the rules and scoring work in the Aloy Cup?
Given that this tournament is based on a PlayStation-centric skin, the Aloy Cup is limited to players on PS5 and PS4. Per usual, your account must also be at level 30 with 2FA enabled. For more details on 2FA, be sure to read our bespoke 2FA guide.
As far as scoring is concerned, the Aloy Cup is a Duos tournament with this unique format:
Victory Royale: 35 points
Second: 29 points
Third: 26 points
Fourth: 24 points
Fifth: 22 points
Sixth: 20 points
Seventh: 19 points
Eighth: 18 points
Ninth: 17 points
10th: 16 points
11th: 15 points
12th: 14 points
13th: 13 points
14th: 12 points
15th: 11 points
16th: 10 points
17th: nine points
18th: eight points
19th: seven points
20th: six points
21st: five points
22nd: four points
23rd: three points
24th: two points
25th: one point
Eliminations: two points each
Bonus for Bow Eliminations: eight points each
How to get the Aloy skin early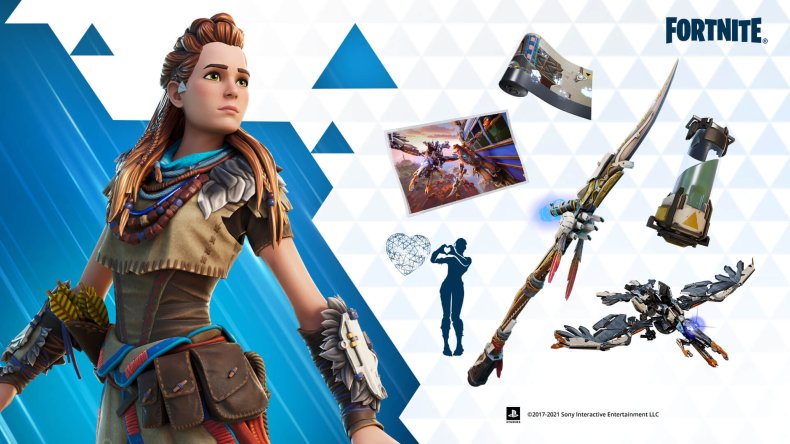 On the subject of prizing, each region must hit a different threshold on its respective leaderboard for both members of a Duo to unlock Aloy ahead of her public release date. Winners will receive the complete bundle that includes the Aloy Outfit, Blaze Canister Back Bling, Aloy's Spear Pickaxe, Glinthawk Glider, Shield-Weaver Wrap, Heart-rizon Emote and Aloy the Skywatcher Loading Screen. These cosmetics will come to the Item Shop April 15 at 8 p.m. EDT for everyone else.
NA East: First-500th
NA West: First-200th
Europe: First-800th
Oceania: First-100th
Brazil: First-200th
Asia: First-100th
Middle East: First-100th
The best way to see if you make the cut is to view the latest leaderboards in-game. To do so, head to the Competitive tab and select the tile for the Aloy Cup. Press the designated button to view the leaderboard. In the event that doesn't work, Fortnite Trackerhosts its own leaderboards as well. Just make sure you're looking at the correct results for your region if you try that option.
Fortnite is available now on PS5, PS4, Xbox Series X|S, Xbox One, Switch, PC and Android.
Will you be competing in the Aloy Cup? What are your thoughts on her skin design? Tell us in the comments section!