'Fortnite' ATKs & Shopping Carts Removed, Breaking Flaming Hoop Challenge
Epic Games have temporarily disabled ATKs and Shopping Carts in Fortnite to fix a glitch that causes vehicles to clip through the ground and become unusable. Sadly, that means this week's Flaming Hoop Challenge can't be completed until at least one of the impacted items returns. The news was revealed via a post on the Battle Royale subreddit Friday afternoon.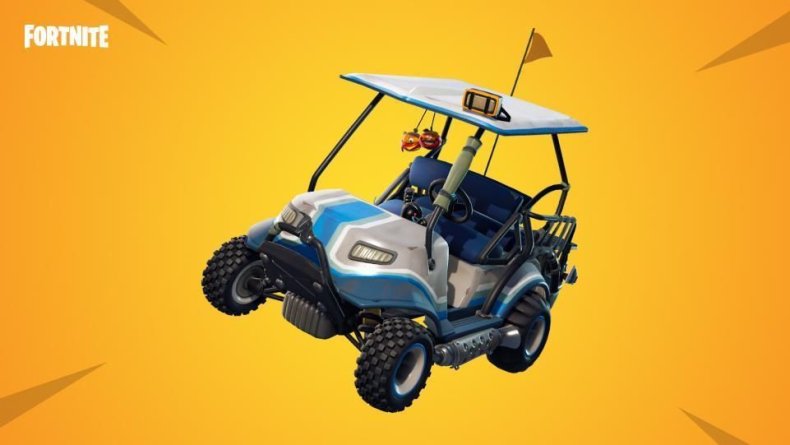 "Due to a bug with the Shopping Cart and ATK, we're temporarily disabling them in all game modes until we have a fix," the message reads. "We'll update you once this is resolved."
While the removal of the Shopping Cart has been a fairly common occurrence since it debuted in Fortnite update 4.3 at the end of May, having to do so this week is especially troublesome given that players are required to "jump through Flaming Hoops with a Shopping Cart or ATK" to complete Week 4's Weekly and Road Trip Challenges. Weekly Challenges don't expire till Season 5 ends around Sept. 25, so even if Shopping Carts and ATKs aren't immediately fixed their exclusion won't restrict progression of your Battle Pass for quite some time.
Epic has not formally commented on the nature of the glitch that caused Shopping Carts and ATKs to be removed, but you can see it in the clip below that ATKs can get sucked into the ground and immobilized. Rather than letting that problem fester, Epic has opted to remove the impacted items until they're fixed. In addition to mixing things up for players at large, the tweak could potentially alter strategies heading into Week 4 of Fortnite Summer Skirmish this evening. We'll update this article with more info as it arrives.
Fortnite is available now on PS4, Xbox One, Switch, PC and iOS.
What are your thoughts on Shopping Carts and ATKs being removed from Fortnite? Were you able to complete the Flaming Hoops Challenge in time? Tell us in the comments section!
'Fortnite' ATKs & Shopping Carts Removed, Breaking Flaming Hoop Challenge | Gaming