'Fortnite' Baller Locations: Where to Find Season 8's Newest Vehicle
The newest item for fans to mess around with in Fortnite is the Baller, a clear sphere vehicle that allows players to zoom around the map. A cross between Hammond from Overwatch and the getaway pod in Jurassic Park Lost World, the Baller gives players a lot of mobility. Here are all the known locations for the Baller vehicle so you know exactly where to drop on the Battle Bus.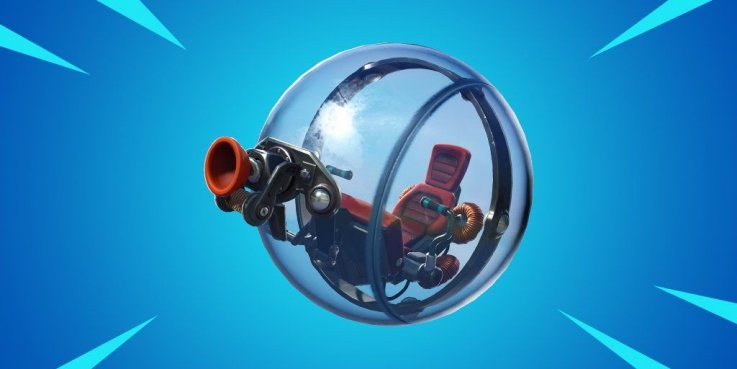 Fortnite Baller Locations
The Baller vehicle can be found in Expedition Outposts and Pirate Camps. These new locations are littered with rooms where you can find Ballers. These spawns do not change from game to game, meaning you'll be able to find the item in this exact spot no matter if you are playing in Duos, LTM or just having fun in Creative. They spawn on top of these small platforms that don't appear anywhere else on the island, so you'll know if your ball has already been taken.
There are five Baller locations in Sunny Steps, hidden in the Outposts near the craters and volcano. Slightly south, there are another two hanging out in Lonely Lodge. Head west and you'll find a whole bunch in the icy areas of the map: two in Shifty Shafts, one in Polar Peak and two more in Frosty Flights. Look for buildings that seem like laboratories or broken camps, you'll find them there. Here's a map of the exact locations of every single Baller in Fortnite.
Fortnite Baller Guide
Once you pick up a Baller of your very own, you'll realize that it doesn't really drive like anything else in the game. You can still perform tricks, but now you have a giant plunger on the front that can stick pretty much anywhere. Live out your Spider-Man dreams by hooking onto a building and swinging around Tilted Towers. If you land on players while hurtling back down to earth, you'll potentially deal enough damage to knock them out. It might not be easy to earn kills using the Baller, but that's what makes it so worth it.
How do you like the Baller? Tell us in the comments.
'Fortnite' Baller Locations: Where to Find Season 8's Newest Vehicle | Gaming