'Fortnite' Bandolier Added to Item Shop: We're All Soldiers Now
Fortnite can't stop releasing skins, and is bringing the Bandolier out just in time for the long weekend. Fans of the battle royale (who didn't spend all their in-game currency on the Moisty Merman monster skin earlier this week) can add another badass to their cosmetic collection. The Bandolier skin, only 1,200 V-Bucks, is a cheaper Epic rarity item that's worth the price. If you're desperate to complete the Road Warrior motif, you can pick up the Stop Axe Harvesting Tool for 800 V-Bucks. The whole set costs as much as a Legendary skin, making it a worthwhile purchase for Mr. T fanboys who absolutely love Rambo, but is only available for one day.
Bandolier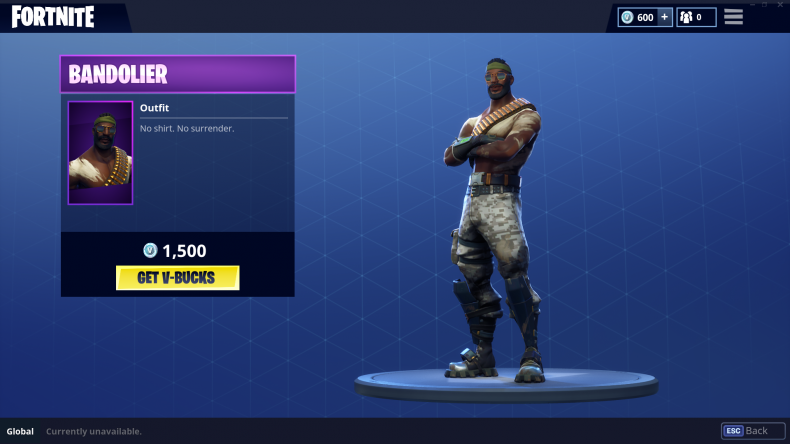 Stop Axe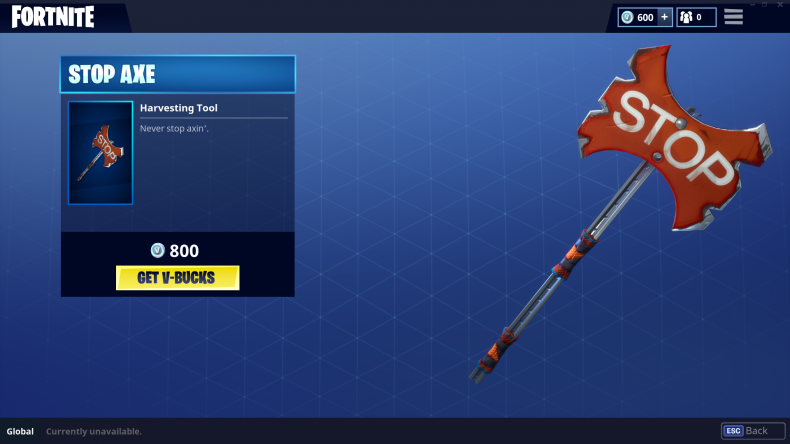 I rarely get to feel like a badass in Fortnite, soI hoped the Bandolier could fix that. Maybe with a little confidence I wouldn't miss shotgun blasts at melee range or plummet to my death after running out of building materials for a sky fort. I bought the Bandolier skin, played a game with the Mortal Kombat theme song running in the background and still lost in the first 20 players. Turns out a skin is not a solid replacement for actual confidence.
With the Bandolier finally released, only two skins are left for this patch. Data miners found a payload of skins hidden in patch 4.2, and if they're right only the Toxic Trooper and Hazard Agent remain. As the week progresses, expect to see these two cosmetics purchasable in the shop. The Hazard Agent skin is gorgeous and I can't wait to fulfill all my spaceman-meets-nuclear-sludge fantasies.
The rest of the cosmetics available in today's item shop are pretty common. Here's the breakdown of the last time these items entered the shop:
Death Valley - May 1
Midnight Ops - May 15
Mainframe - May 15
Brawler - May 12
Hootenanny - May 11
Slow Clap - May 2
Bandolier - Today
Stop Axe - Today