'Fortnite' Blitz Mode: What It Is and How to Play
Fornite just dropped a new limited-time event that involves a quick play game mode dubbed "Blitz Mode." if you're wondering how Blitz Mode works, we've put together a guide to the event. Check it out below.
What is Fortnite Blitz Mode? New Event Puts Four Squad Game Play On Steroids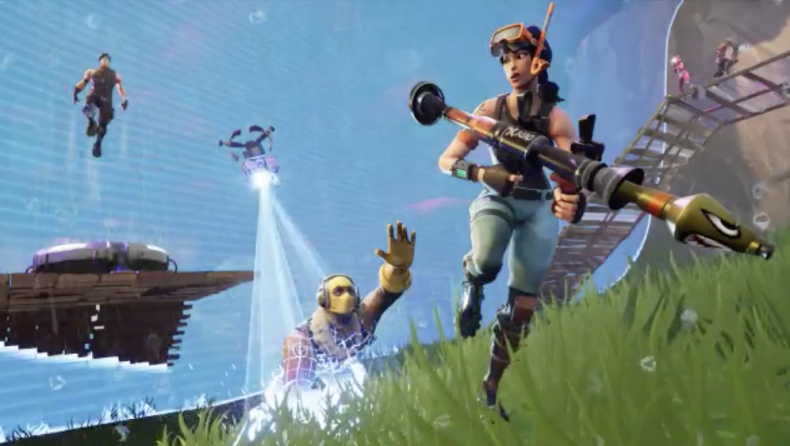 So Fortnite Blitz mode is similar to playing Fortnite's four-person squad mode -- but on steroids. Featuring ultra-fast, aggressive gameplay, players begin dropping onto a map that has a storm circle already formed. The countdown to shrink time begins as soon as the match starts. Because the gameplay has been drastically sped up, players can easily finish a Blitz mode match within 15 minutes -- though, to be honest, it feels a lot shorter.
Blitz mode includes a ton of high-end weapons and gear for players to grab almost as soon as they hit the ground -- which means the chances of being taken out early are increased as well. Besides dropping rarer weapons and gear Blitz mode also doubles the number of resources players can harvest. Here are Epic Games' stats on loot drops and other changes in Blitz Mode:
Loot Availability Changes:

Increased chances of treasure chests spawning from 50-70% to 80-90%.
Increased chances of ammo boxes spawning from 65-80% to 85-95%.
Floor Loot spawns nearly 100% of the time.
Supply Drop spawn interval lessened from 180s (+/- 30s) to 80s (+/- 20s).
Supply Drop descent time shortened from the 60s to 30s.
Launchpad spawn likelihood greatly increased.

Loot Resources increased from 30 to 100.
Treasure Chest Health increased from 200 to 500.
Ammo Box Health increased from 120 to 250.
With Blitz Mode's increased speed and sophisticated weaponry, you'll feel compelled to keep moving -- sometimes even sacrificing healing or shield boosting activities for fear that hanging around in one spot too long my make you an open target.
Though you'll likely find yourself dying quickly in Blitz Mode, you'll have more fun doing it than in any other Fortnite gameplay mode and it may soon become your favorite way to play.
How Long Will Fortnite Blitz Mode Be Available?
No official date has been set for when Blitz Mode will end. The Fortnite announcement only states that it is a "limited-time" mode. Once more is learned, we'll be sure to update this post.
​