'Fortnite' Blow Up Fishing Hole Locations at Lake Canoe, Flopper Pond and More
Fortnite's Week 6 questline asks players to blow up Fishing Holes at six different locations, including Lazy Lake Island, Lake Canoe, Sweaty Sands, Sharky Shell, Flopper Pond and more. In this guide, we'll reveal the location of each spot and explain what to do once you get there.
Blow up Fishing Holes at Sharky Shell, Sweaty Sands or Flopper Pond
This first challenge asks you to blow up three Fishing Holes at either Sharky Shell, Sweaty Sands or Flopper Pond. As those who've spent any amount of time in Fortnite Chapter 2 will know, Fishing Holes refer to the white foam circles you see around any major body of water on the map.
There are two main ways players can blow them up. The first is to throw a projectile in the center of the circle, and the second method is to take control of a Motorboat and fire a missile directly at the spot. You'll know you've done it right when the white foam circle instantly dissipates.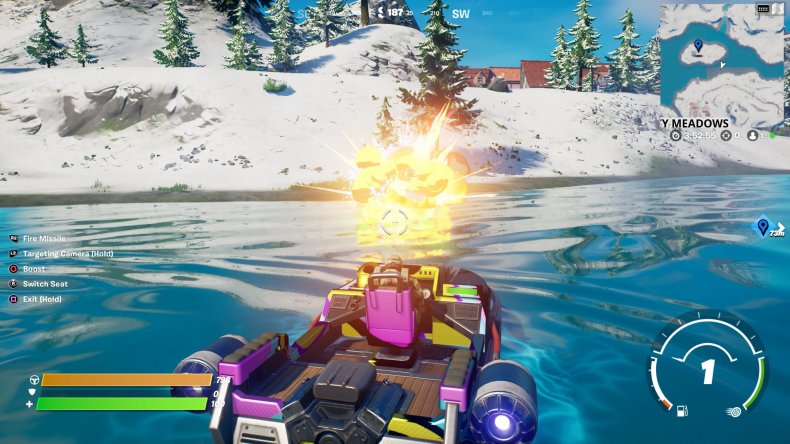 Now that you know what to do, here's a quick rundown of the three possible locations you can visit.
Sharky Shell: Sharky Shell refers to this small island north of Coral Castle. If you look close enough at the shape of the rock, you'll notice the formation looks like a shark. A Motorboat typically spawns in the big shark mouth opening. Just snag the vehicle and aim at any foam circles in the area around Locke's Lighthouse.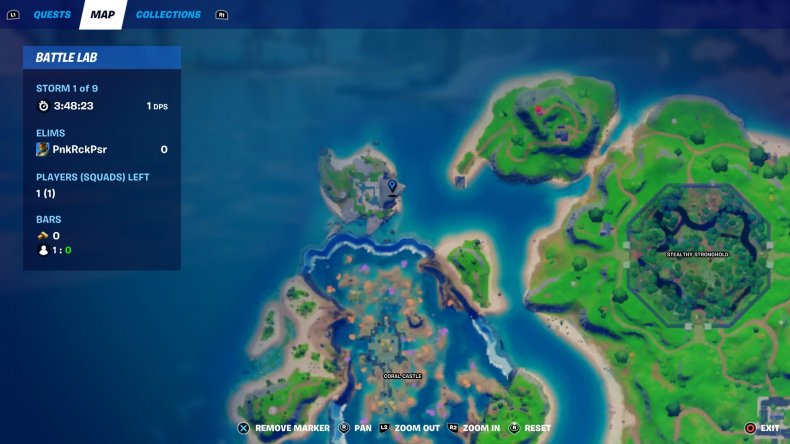 Sweaty Sands: Sweaty Sands is a named location on the Battle Royale map, making it much easier for players to find. For this location, you might want to use the boat inside Sharky Shell as well. Once you have a vehicle, patrol the coast on the eastern side of the pier. You shouldn't have too difficult a time finding Fishing Holes there.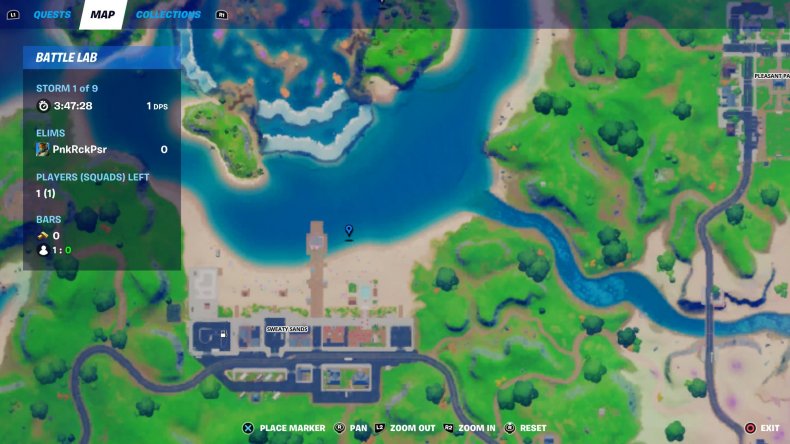 Flopper Pond: Flopper Pond is perhaps the easiest place to get the job done, as long as you have some projectiles in your backpack. Because it's a small, landlocked area, there's no need to even think about fussing with a Motorboat. Flopper Pond is this tiny, circular body of water east of Holly Hedges. Just walk to the edge and throw a projectile at any foam circles you see.
It's worth reiterating that you can use projectiles at all these locations in the event that a Motorboat has been taken, but it's way easier for you to clear Sharky or Sweaty with a vehicle.
Blow up Fishing Holes at Lazy Lake Island, Lake Canoe and near Steamy Stacks
This second challenge is more or less the same as the previous one, except this time you'll need to visit all three locations instead of picking one that tickles your fancy. Luckily, two thirds of them revolve around named points of interest.
Lazy Lake Island: The island being referred to in this case is the large island directly north of Misty Meadows. You'll see a dock in the area with some Motorboats on the shore nearby.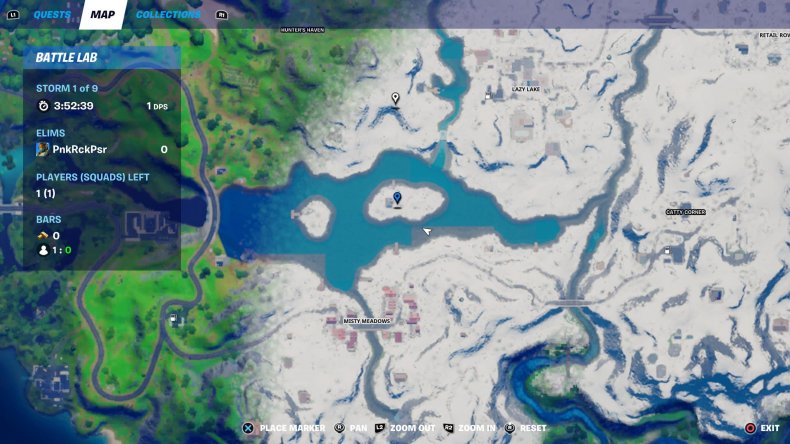 Lake Canoe: Lake Canoe is an unnamed location situated southwest of Dirty Docks. There's a boathouse there with a Motorboat spawn on the dock.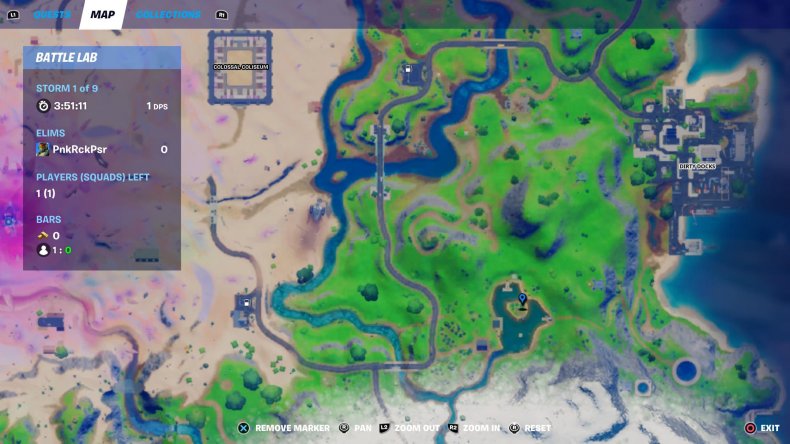 Near Steamy Stacks: Last but not least, the area near Steamy Stacks refers to this inlet northwest of the main location. You'll often find a boat stranded right at the bottom of the U-shape in the formation.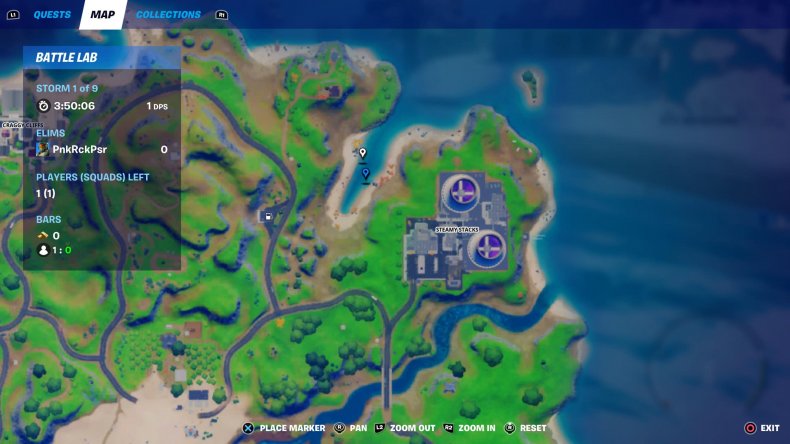 As long as you use boats or projectiles to erase the foam circles in these areas, the easy challenge completion is yours.
Fortnite Week 6 Challenges
Blowing up Fishing Holes accounts for just two of the seven Epic Quests making their debut in Fortnite on Thursday. Here's the full list of objectives, for those who've yet to take an in-depth look at the in-game quest log:
Blow up Fishing Holes at Sharky Shell, Sweaty Sands or Flopper Pond (three)
Destroy Motorboats (three)
Blow up Fishing Holes at Lazy Lake Island, Lake Canoe and near Steamy Stacks (three)
Catch fish (seven)
Signal the Coral Buddies
Destroy boats (seven)
Destroy Fishing Rod barrels (seven)
Get Headshots (20, 40, 60, 80, 100) [Legendary Quest]
That's all you need to know about blowing up Fishing Holes in Fortnite.
Fortnite is available now on PS5, PS4, Xbox Series X|S, Xbox One, Switch, PC and Android.
Were you able to find all the Fishing Holes necessary to complete your Week 6 Challenges? Which of these challenges is giving you the most trouble? Tell us in the comments section!