'Fortnite' BTS Party Royale 'Dynamite' Event - Start Time, Emotes and More
Fortnite Party Royale gets a K-Pop infusion on Friday, as BTS is set to premiere the Music Video Choreography Version of its mega-popular single, "Dynamite." Below, we reveal the start time of the festivities, explain how to watch them and show off what you can do to bust a move during the big event. Are you ready to bring the fire and set the night alight? Here's all you need to know.
When does the BTS "Dynamite" Party Royale event start?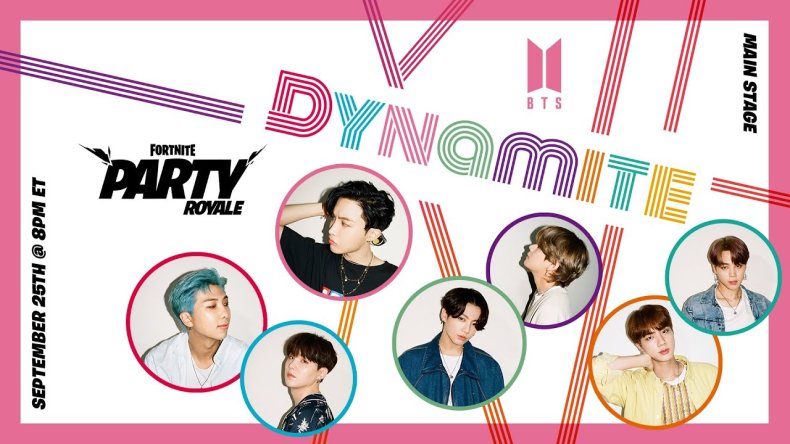 The premiere of the Music Video Choreography version of "Dynamite" takes place September 25 at 8 p.m. EDT. For about one hour, the Party Royale Main Stage will be showing the video on loop exclusively. By 9 p.m. EDT, the video will be posted to all BTS social media channels.
That being said, if you'd still like to watch it from the perspective of Fortnite, there will be a rebroadcast of the video September 26 at 8 a.m. EDT. After all, Fortnite is probably the best way to host a virtual dance party if that's what you're looking for.
How to watch "Dynamite" in Fortnite
As mentioned above, Fortnite's BTS event happens at the Main Stage in the Party Royale lobby. To get there, boot up Fortnite on your chosen platform and press the designated button to change your default lobby at the lobby select screen. Among the list, choose Party Royale and drop in.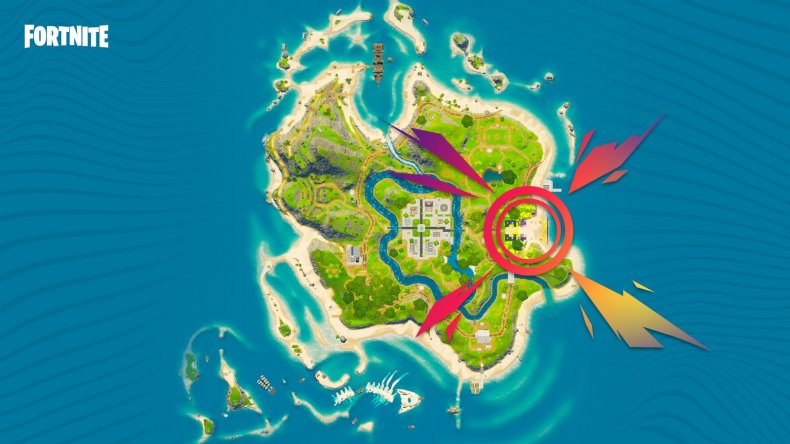 Once you land, the Main Stage is on the eastern side of the tiny Island. Just follow the bright lights or the huge crowd of players heading over there as the start time draws near. Given all the signposts, it's pretty impossible to miss.
Are there any BTS emotes available?
Since the Music Video Choreography Versions of BTS' most popular singles are all about the dance moves, Fortnite is also offering a few BTS-themed emotes for sale in the Item Shop. The BTS Dynamite Pack can be purchased for 800 V-Bucks, which features two emotes called "It's Dynamite" and "I'm Diamond." Provided you don't have any stored V-Bucks in your Epic Account, it will set you back $7.99 with 200 extra V-Bucks to spare. You can see the emotes in action in the tweet below.
Fortnite is available now on PS4, Xbox One, Switch, PC and Android.
Will you be hitting up the Party Royale Main Stage to see the "Dynamite" Music Video Choreography Version in Fortnite? What are your thoughts on the themed emotes? Tell us in the comments section!
'Fortnite' BTS Party Royale 'Dynamite' Event - Start Time, Emotes and More | Newsgeek