'Fortnite' Cars Update Delayed By Weeks & We're Unsure When They're Coming
Fortnite fans were hopeful that cars would be coming to the game Thursday morning or sometime today, but the development team at Epic Games has finally provided some clarity on the vehicle-related situation. According to a tweet posted Thursday afternoon, it looks like cars won't be released on the island for another few weeks.
"Our lawyers are currently sweating the policy details and fixing typos like 'otter coverage' instead of auto coverage," the in-universe tweet reads. "Due to this, many vehicles got taken for inspection. Expect a few weeks until we're road ready."
In other words, fans expecting some big cars developments in Fortnite over the next few days should manage their expectations. Many fans believed the cars update delay to be short, but it sounds like the issues are more significant than previously assumed. In fact, with Season 3 planned to wrap up around August 26, there's some concern that cars may not even make it into the current Battle Pass. However, we'd be more inclined to think they'll probably be one of the last major additions of the season.
Fortnite's car fever kicked off with the start of Season 3, as the Battle Pass trailer pictured several different vehicle types making their way around Catty Corner. While it took a full day back then for fans to realize cars would be a future addition, hype was reignited on Tuesday with the release of update 13.30. In an email sent out to content makers, Epic teased "No Sweat is investigating auto coverage. Until then, many of the island's vehicles have been recalled."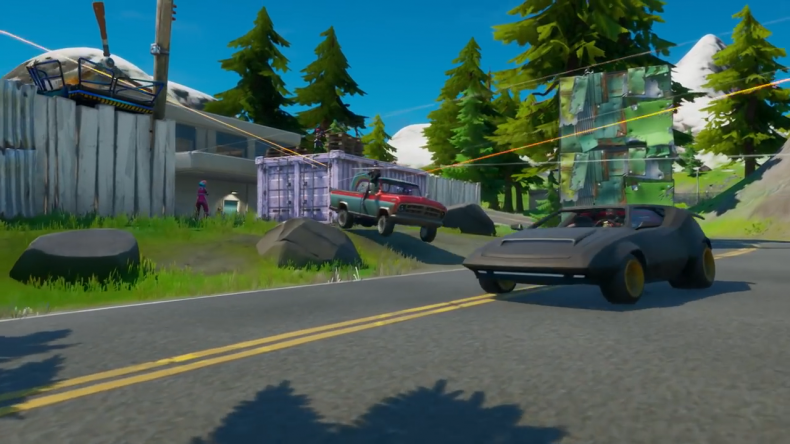 This mention led dataminers to discover that files tied to cars were available in the game but remained encrypted. The finding, alongside Week 6 challenge leaks that referenced cars, caused some to believe cars were essentially ready and would be making their debut soon. There was also discussion that when the water levels fell on Friday the map changes would make more room for cars to roam the streets.
The general consensus among the community, though, is that Epic originally intended for the cars update to go live July 21 but now needs a few more weeks to get the feature prepared. When it does arrive, fans can expect to see multiple vehicle types that slowly lose gas as they drive. In order to keep moving, players must gas up at a gas station or find a jerrycan scattered around the map. As cool as that sounds, fans won't experience it too soon.
Fortnite is available now on PS4, Xbox One, Switch, PC and mobile.
When do you think cars will finally come to Fortnite? What are your thoughts on the delay? Tell us in the comments section!