'Fortnite' Celebrity Pro-Am at E3 - Time, Date, Teams, Where to Watch Stream
Fortnite 's Celebrity Pro-Am is about to begin, and we're here to make sure you see every second of it. Below, you'll find all the dates, times, stream links and event details you need to know. Who will emerge victorious as 50 streamer-celebrity Duos team up for a $3 million charity prize?
WHAT TIME & DATE IS THE 'FORTNITE' CELEBRITY PRO-AM?
The Fortnite Celebrity Pro-Am takes place June 12 at 6:30 p.m. EDT. The event will be held at the Banc of California Stadium in Los Angeles.
WHERE TO WATCH THE 'FORTNITE' CELEBRITY PRO-AM
Since this event is so focused on streamers, the Fortnite Celebrity Pro-Am will be available online just about everywhere you'd expect it to be. Click the link for your favorite streaming service below.
Fortnite Twitch [Embedded]: Twitch is the chosen viewing platform for most Fortnite fans and hardcore gamers alike. Interact with passionate players in the chat, and watch the action by clicking the play button below.
Watch live video from Fortnite on www.twitch.tv
Alternate Video Links
If the Twitch link fails you, feel free to try some of these other options.
In most cases, YouTube is the most compatible streaming solution for older and newer devices. If you're having trouble with Twitch, we suggest trying there first.
WHICH CELEBRITIES AND STREAMERS ARE TEAMED UP FOR THE PRO-AM?
The current list features 50 Duos with one celebrity and one streamer competing for the same charitable cause. The full list of teams is below, with streamers named first.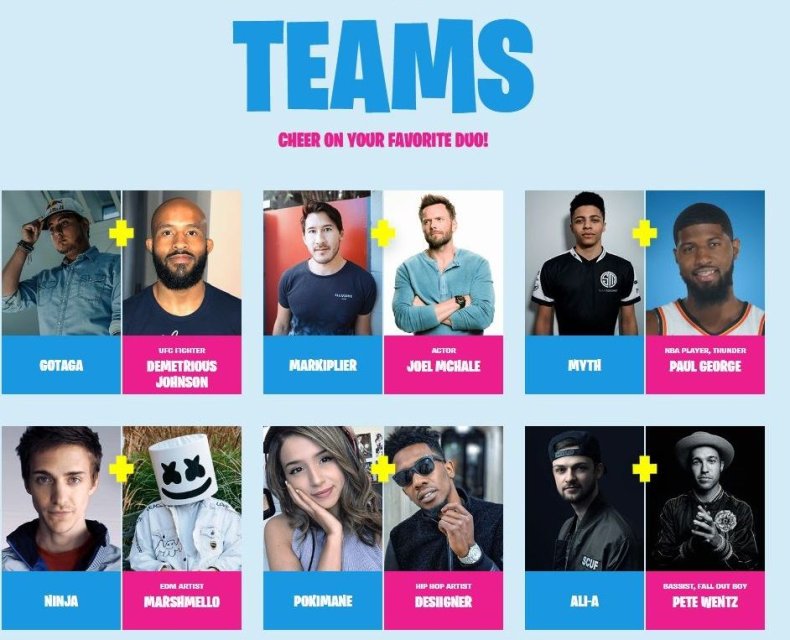 Gotaga - Demetrious Johnson (UFC)
Markiplier - Joel McHale (Actor - Community)
Myth - Paul George (NBA Player - OKC Thunder)
Ninja - Marshmello (EDM Artist)
Pokimane - Designer (Hip-Hop Artist)
Ali-A - Pete Wentz (Bassist for Fall Out Boy)
Elrubius - PartyNextDoor (Hip-Hop Artist)
Lirik - Rahul Kohli (Actor - iZombie)
Nickmercs - Andre Drummond (NBA Player - Pistons)
SSsniperwolf - Terrence Ross (NBA Player - Magic)
Valkyrae - Murda Beatz (Music Producer)
TimTheTatMan - Mack Wilds (Actor - Shots Fired)
Vikkstar123 - Ty Dolla $ (Hip-Hop Artist)
LoserFruit - The Backpack Kid (Dancer)
Summit1g - Kenneth Faried (NBA Player - Nuggets)
GoldGlove - Witt Lowry (Music Artist)
Berkcan Güven - Ryan Cartwright (Actor - Kevin Can Wait)
Darkness429 - Marcus Scribner (Actor - Black-ish)
Nadeshot - Tyron Woodley (UFC)
One_Shot_Gurl - Jack Falahee (Actor - How to Get Away With Murder)
Orkun - Jordyn Jones (Singer-Songwriter)
StoneMountain - Jordan Fisher (Singer / Actor - Moana)
Willyrex - Prince Royce (Singer-Songwriter)
XpertThief - Janina Gavankar (Actor - True Blood)
King Richard - JT Brown (NHL Player - Ducks)
CDNthe3rd - Xavier Woods (WWE)
Lolitofdez - Ron Funches (Comedian)
Cizzorz - Reggie Jackson (NBA Player - Pistons)
Lachlan - Robbie Amell (Actor - The Flash)
Sypher - Tarik Cohen (NFL Player - Bears)
NoahJ456 - Madilyn Bailey (Singer-Songwriter)
Izak Live - Drezo (EDM Artist)
Skyyart - Nathan Kress (Actor - Star Wars: Rebels)
Iijeriichoii - Dillon Francis (EDM Artist)
Muselk - Liam Mcintyre (Actor - Gears of War 4)
TBNRFrags - Lil Yachty (Hip-Hop Artist)
KittyPlays - Chandler Riggs (Actor - The Walking Dead)
Trymacs - Echo Kellum (Actor - Arrow)
Nadanial - Nick Kim (VFX Avengers: Infinity War)
DreadZTV1 - Arty (Musician)
Kinstaar - Sean O'Malley (UFC)
Friz - Geoffrey Arend (Actor - Madam Secretary)
Typical Gamer - Vince Staples (Hip-Hop Artist)
HandOfBlood - Jon Heder (Actor - Napoleon Dynamite)
TY2Tap - Jawn Ha
Samara Redway - Cyrus Spencer (Actor - So You Think You Can Dance)
Femsteph - Drameh (Actor - The Flash)
Nanaka - Tenchim (Tarento)
Bokyeom - Acau
Patriota - Kyla Drew (Actor - Prisoners)
The exact rules of the competition have not been revealed at this time, but the winning Duo will earn $3 million for a charity of their choice.
The Fortnite Celebrity Pro-Am airs June 12 at 6:30 p.m. EDT.
Are you going to watch the Fortnite Celebrity Pro-Am? Which Duo are you rooting for? Tell us in the comments section!