'Fortnite' Chapter 2 Season 6 Battle Pass Skins to Tier 100: Lara Croft, Raven and More
Fortnite Chapter 2 Season 6 has begun, and that means there's a whole new Battle Pass available for purchase. Below, we reveal all the major skins players can expect to unlock alongside every other reward through tier 100. Want to check out the designs for Lara Croft, Raven and more? We've got you covered.
Fortnite Season 6 Battle Pass skins
Before getting on the full list of rewards, let's unpack all the Outfits you can unlock at specific tiers. We have a feeling you're going to like what you see.
Agent Jones [Tier 1]: Look sharp, we're saving reality.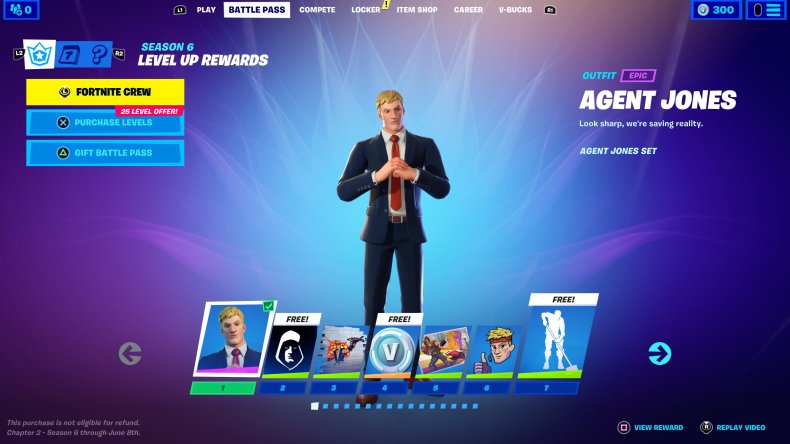 Lara Croft [Tier 15]: The extraordinary is in what we do, not who we are.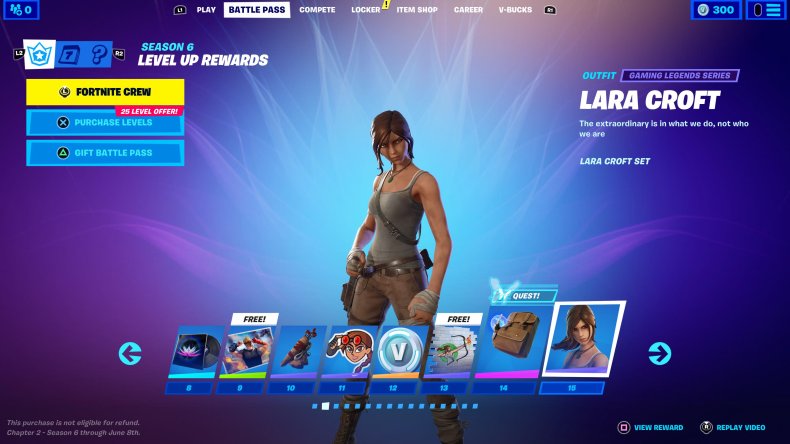 Tarana [Tier 29]: She sees visions of a long-gone world.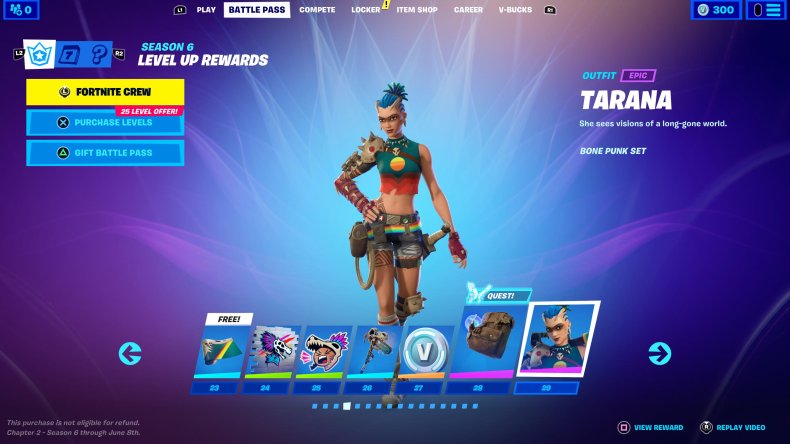 Raz [Tier 50]: On a mission to uncover the Spire's secrets.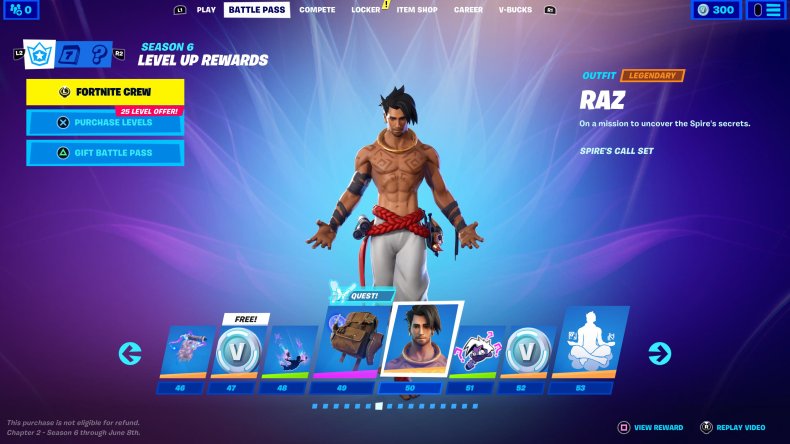 Cluck [Tier 61]: Cheep cheep cheep, cheep cheep b'kaw.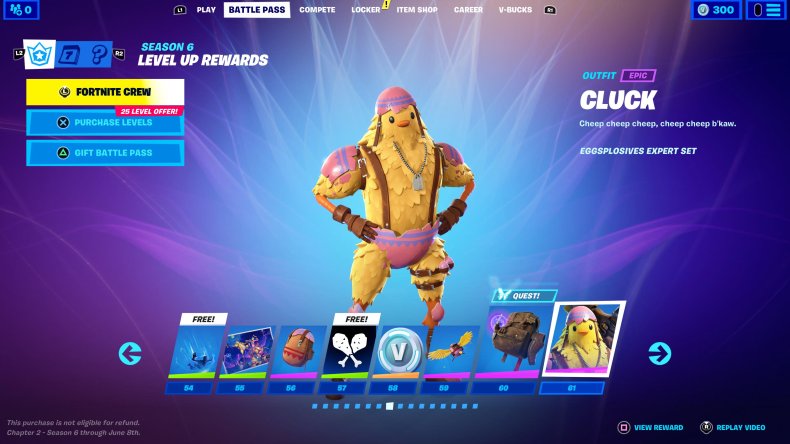 Rebirth Raven [Tier 77]: Daughter of a demon and founding member of the Teen Titans.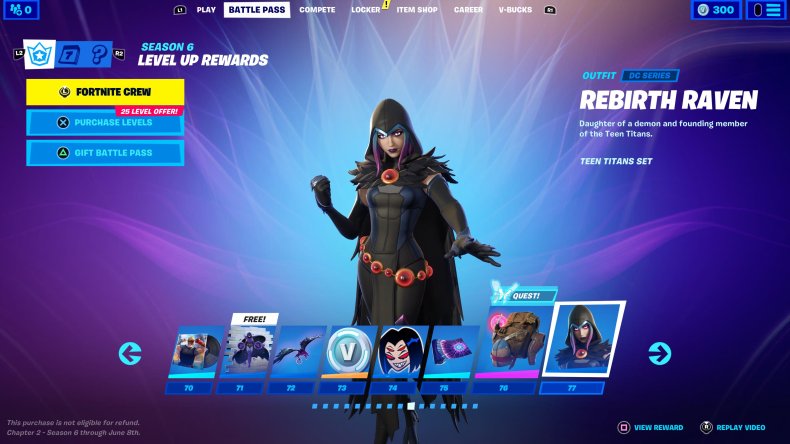 Spire Assassin [Tier 100]: Guardians of a world beyond reality.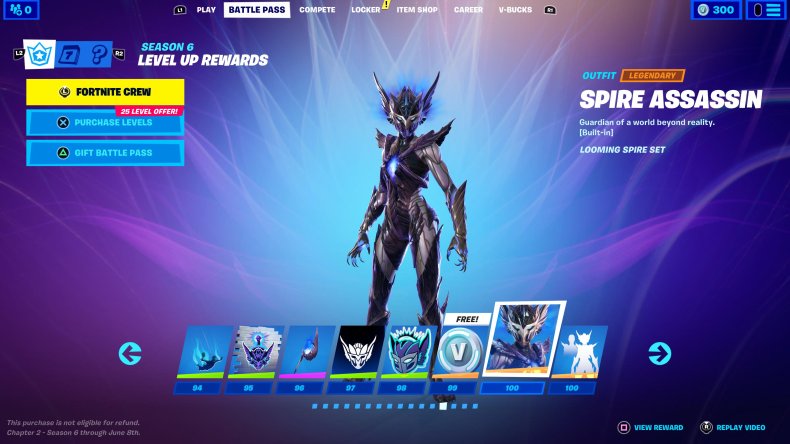 Season 6 Battle Pass Rewards
Here are the other rewards you can unlock through the various tiers. See them in action courtesy of this video from iFireMonkey on YouTube.
Agent Jones Outfit
Banner Icon
They Call Me [Spray]
100 V-Bucks
Ultimate Jones Loading Screen
Jonesin' Emote
Clean Sweep Emote
After Zero Music
Countdown to Zero Loading Screen
Survivor's Pack Back Bling
Little Bird Emoticon
100 V-Bucks
Both Eyes Open Spray
Jones' Field Pack Back Bling
Lara Croft Outfit
Pry Axe Pickaxe
Spelunker's Special Contrail
Evasive Maneuvers Emote
100 V-Bucks
Salvaged Chute Glider
Banner Icon
Lara Croft 25th Anniversary Style
Jurasically Charged Wrap
Primal Hunter Spray
Skully Shout Emoticon
T-Wrecks Pickaxe
100 V-Bucks
Jones' Field Pack Jump 15 Style
Tarana Outfit
Bone Patrol Glider
Banner Icon
Cardistry Emote
Primal Takedown Loading Screen
Dino Deck Back Bling
100 V-Bucks
Dino Feather Contrail
Tarana X-Tinction Armor Style
Crystal Axe of the Masters Pickaxe
Acolytes Curse Wrap
Glyph Master Spray
100 V-Bucks
Raise Up Music
Banner Icon
Glyph Raider Loading Screen
Soaring Cipher Glider
Endless Scroll Back Bling
100 V-Bucks
Chroma Flame Contrail
Jones' File Pack Jump 31 Style
Raz Outfit
Quite Curious Emoticon
100 V-Bucks
Dream Stance Emote
Warp Wave Contrail
Wing of the Hill Loading Screen
Hatch Pack Back Bling
Banner Icon
100 V-Bucks
Eggar Glider
Jones' Field Pack Jump 42 Style
Cluck Outfit
Boots 'N' Cats Emote
Bawk Off Spray
Drummies Pickaxe
Eggy Emoticon
Clucking Mad Wrap
Hatch Pack Slurpy Style
100 V-Bucks
Cluck Slurpy Style
Wild Music
Daughter of Trigon Spray
Soaring Soul-Self Glider
100 V-Bucks
Power of Azarath Emoticon
Zero Bloom Wrap
Jones' Field Pack Jump 88 Style
Rebirth Raven Outfit
Axe-Tral Form Pickaxe
100 V-Bucks
Raven's Wrath Loading Screen
Banner Icon
Dimensional Gate Back Bling
Azarath Metrion Zinthos Emote
100 V-Bucks
Raven Classic Style
Spire's Reach Wrap
The Spire's Shadow Loading Screen
Banner Icon
Spire Fire Glider
Bananope Emoticon
Kablammo Spray
100 V-Bucks
Soul's Reach Back Bling
Conduit Crasher Contrail
Spire Master Spray
Spire Flame Pickaxe
Banner Icon
Spire Spirit Emoticon
100 V-Bucks
Spire Assassin Outfit/Tower Guard Emote
As with most Fortnite Battle Passes there are some additional rewards to unlock at tier 100, but we thought we'd save those special ones exclusively for the video above in case you might want to avoid spoilers. It's plain to see the Season 6 Battle Pass features a wide assortment of prehistoric cosmetics with an added bit of DC flair for good measure. It sounds like there will also be some exclusive Battle Pass challenges tied to soccer star Neymar in the future, but those will likely be detailed to a greater extent in the coming weeks. Between the new crafting features and tameable creatures, Fortnite has essentially become ARK: Survival Evolved for the next few months. Are these rewards cool enough for you to spend the precious V-Bucks required to unlock them?
Fortnite is available now on PS5, PS4, Xbox Series X|S, Xbox One, Switch, PC and Android.
What do you think of the Season 6 Battle Pass based on this list of rewards? Which of the new skins is your favorite? Tell us in the comments section!