'Fortnite' Claim Your Trident at Coral Cove Locations Week 5 Aquaman Guide
Fortnite Season 3 continues with another Aquaman Challenge, and this one requires a certain amount of speed to complete. Below, we outline all three locations you can use to claim your Trident at Coral Cove.
The basic concept of this challenge is that every Battle Royale lobby has three Aquaman Tridents that appear in the same locations each time. In order to get this task done, you must be among the first to reach one of these destinations and fully search the Trident. While we've outlined all three possible Trident locations below, the truly difficult part of this challenge will be to make it to each spot as fast as possible.
This is especially true given that fully searching the Trident requires several seconds to complete. So, you'll need to reach one of these locations and remain totally undisturbed by foes the entire time. In our estimation it doesn't really matter which mode you use, but a large-team queue like Squads could work best.
Trident at Coral Cove Locations
Coral Cove is the area northwest of Sweaty Sands, which is in the northwest corner of the map and north of Holly Hedges. Generally speaking, your point of focus are these jagged rocks sticking out of the water around the tiki island northwest of Sweaty Sands. If you zoom in close enough on the mini-map you can actually see the rocks.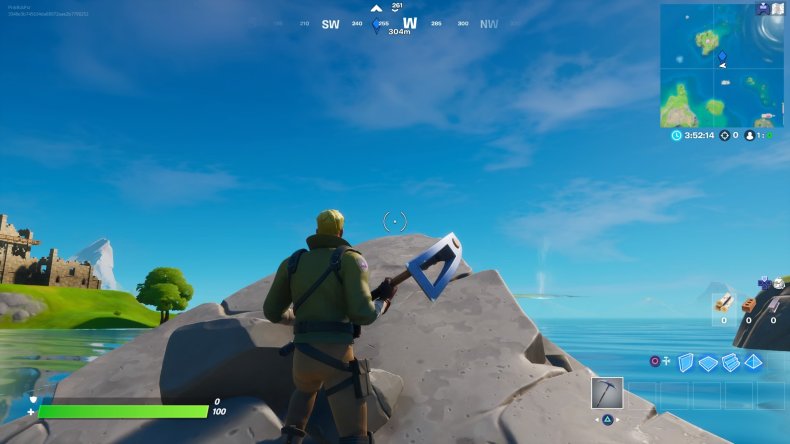 Trident Location 1: Southeast of the tiki island.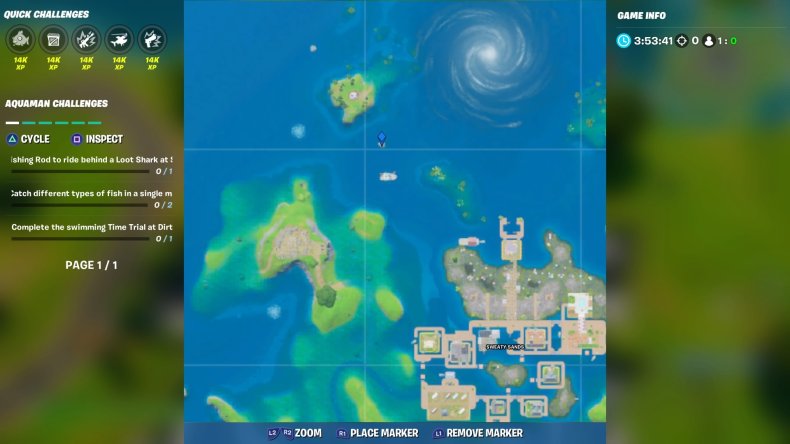 Trident Location 2: Northwest of the tiki island. You should see Locke's lighthouse in the distance.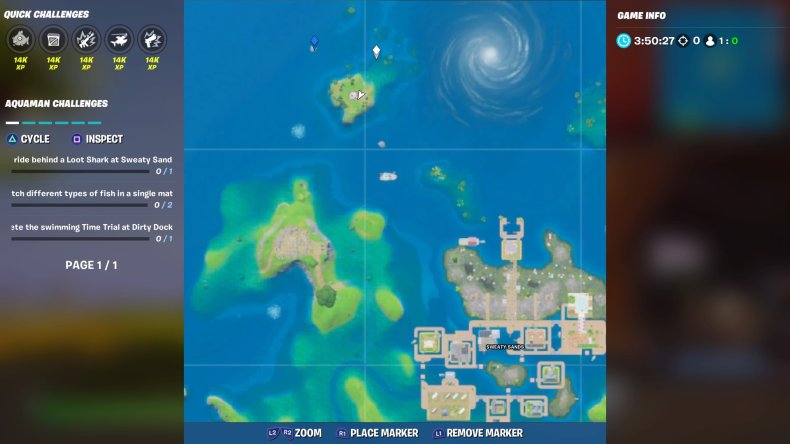 Trident Location 3: Directly north of the tiki island and northwest of the huge whirlpool on the map. You should be pretty close to the submerged tower sticking out of the water.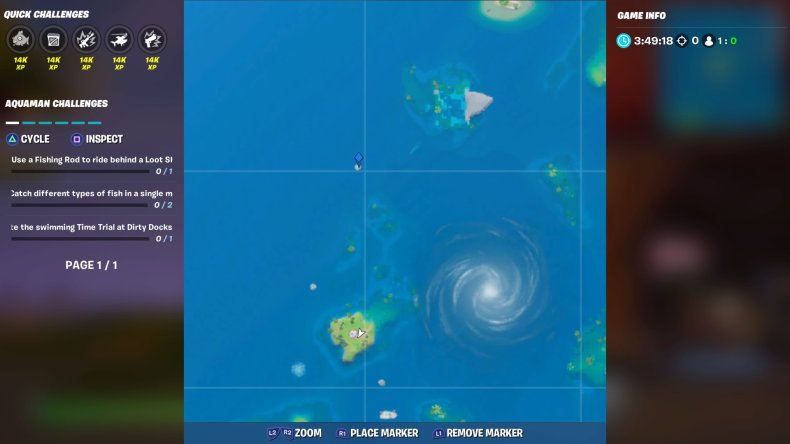 As long as you hit these Trident spawns quickly, the challenge itself is fairly easy. If you don't see the Tridents here, then you've missed your chance and must load into another lobby. Get it done right, though, and you'll unlock the Trident pickaxe as long as you've completed the four prior weeks of Aquaman Challenges.
Fortnite Week 5 Challenges
Claiming your Trident at Coral Cove is just one of the challenges Fortnite fans will be asked to complete during Week 5 of Season 3. Here's the full list of objectives for those who may have missed it in-game.
Search Chests at Sweaty Sands (seven)
Eliminations at Retail Row (three)
Use a Firefly Jar or Flare Gun at Misty Meadows
Land at the Yacht and finish top 25
Catch fish at Craggy Cliffs (five)
Upgrade a weapon at Salty Springs
Collect Floating Rings at Steamy Stacks
Search Ammo Boxes at the Fortilla (seven)
Claim your Trident at Coral Cove (Aquaman Challenge)
That's all you need to know about the Week 5 Aquaman Challenge in Fortnite.
Fortnite is available now on PS4, Xbox One, Switch, PC and mobile.
Were you able to claim your Trident at Coral Cove on the first try? Which Week 5 Challenge is giving you the most trouble? Tell us in the comments section!