'Fortnite' Fireflies From Weeping Woods Locations Week 10 Challenge Guide
Fortnite Week 10 Challenges have gone live, and one of the trickiest tasks of the set asks players to collect five Fireflies from Weeping Woods. In this guide, we'll discuss the basics of Fireflies and detail three possible spots in Weeping Woods you can use to complete this challenge in one or two matches.
The Basics of Fireflies
Fireflies are a Rare spawn that were added to Fortnite in a quietly released Content Update at the end of June. They spawn in specific wooded or campsite areas of the map in traditional queues like Solos, Duos or Squads.
If you're trying to collect Fireflies in Fortnite, one of the most important things to note is that they only appear at dusk or at night. So, if your map starts at a daytime spawn, you may need to wait a few minutes before seeing anything at any of the locations we're about to list. Fireflies can be found at PoIs like Frenzy Farm, Lazy Lake and Holly Hedges, but, for the purposes of this guide, we'll be focusing entirely on spawns located in Weeping Woods.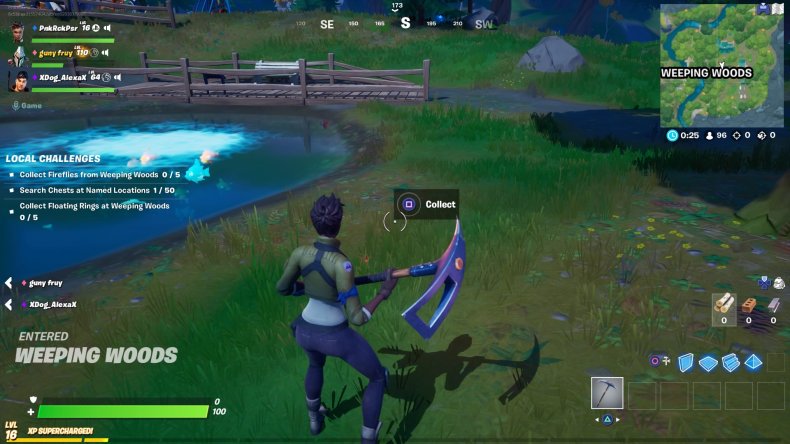 By collecting Fireflies, you essentially have the opportunity to use these bugs as a molotov cocktail that creates an AoE flame effect. For more info on that use case, read our dedicated Fortnite Fireflies guide.
Weeping Woods Firefly Locations
In order to find Fireflies in Fortnite, simply approach one of these three locations during dusk or night in a Solos, Duos or Squads queue. If the bugs don't appear, either move to a new spot or wait for the day-night cycle to change.
Fireflies are a random spawn, which means there's no guarantee they'll appear in all three of these places, but one spot should do the trick. They spawn pretty heavily when available, so collecting five bunches shouldn't be too difficult.
1) In the eastern section of the location near this lake.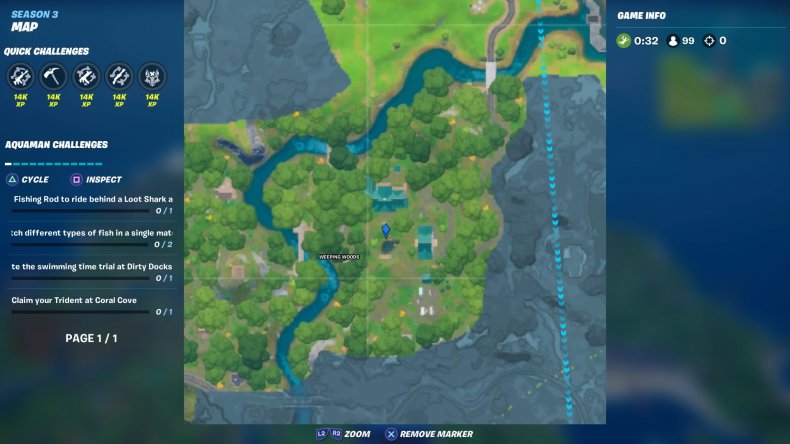 2) In these woods just ahead of the overturned busses, you'll see some large trees that are often home to Fireflies.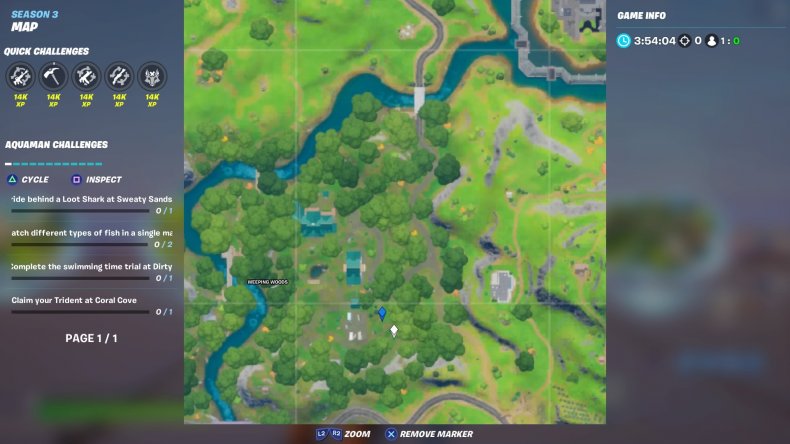 3) In the northern section of Weeping Woods by the river, you'll find a big clearing with a bunch of bushes and large trees. Fireflies love hanging around all those plants at the right time of day.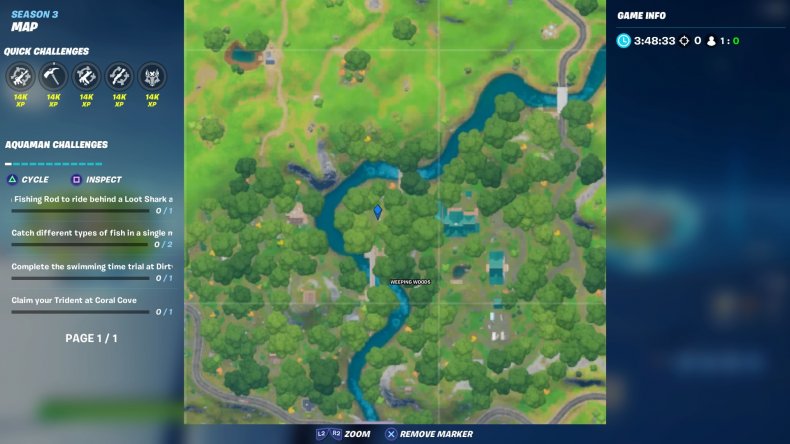 Just head to any of these three spots when the sun goes down, and you should have no issue finding five Firefly clusters.
Fortnite Week 10 Challenges
Collecting five Fireflies in Weeping Woods is just one of the Week 10 Challenges players can complete starting August 20. Here's the full list of challenges for those who've yet to check them out at the in-game challenge table:
Search Chests at the Authority (seven)
Eliminations at Misty Meadows (three)
Collect Fireflies from Weeping Woods (five)
Dance on the Apres Ski Dance Floor for 10 seconds (10)
Destroy shipping containers at Dirty Docks (seven)
Deal damage to opponents with Shotguns or SMGs (500)
Deal damage to opponents with Shotguns or SMGs (15,000)
Search Ammo Boxes at Frenzy Farm (seven)
That's all you need to know about collecting Fireflies in Weeping Woods.
Fortnite is available now on PS4, Xbox One, Switch, PC and Android.
Which of Fortnite's Week 10 Challenges is giving you the most trouble? Were you able to collect Fireflies from Weeping Woods? Tell us in the comments section!
'Fortnite' Fireflies From Weeping Woods Locations Week 10 Challenge Guide | Newsgeek