'Fortnite' Content Update 10.20 Adds Zapper Trap & Floating Island - Patch Notes
Fortnite Content Update 10.20 is officially live, bringing the Zapper Trap and Floating Island back to Battle Royale. Get the full details on the new Item by reading the patch notes below. As usual, the information arrives courtesy of an Epic Games blog post.
Fortnite Content Update 10.20 Patch Notes
Battle Royale
Weapons + Items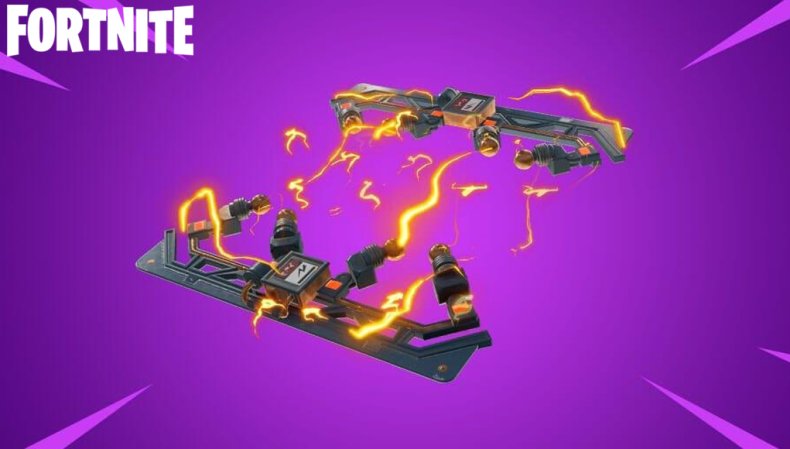 Added the Zapper Trap.

This item is a thrown consumable and occupies an inventory slot.
On impact, the thrown object deploys a damaging trap on both sides of a building piece.
Upon impacting terrain, it automatically builds a wall and then deploys a damaging trap on both sides of the wall.

The traps shock enemy players who are within a tile of their face.
The traps have a one-second deploy time before they can be triggered.
When triggered, the traps have a 0.5-second delay before firing.
After the traps have fired, they have a cooldown of two seconds before they can be triggered again.

Epic Rarity.
Found from Floor Loot, Chests, Vending Machines, Supply Drops and Llamas.
Drops in stacks of two.
Max stack size: four.
Gameplay
Floating Island

The Floating Island has returned and is slowly making its way around the map!
Though separated from the land below, it can be accessed via its low-gravity vortex.
Recap
From hotfix on August 27

Removed the overheat sound from the Minigun.

This was to address an issue in which the overheat sound would play longer than intended and/or incorrectly represent the overheat value.

From hotfix on August 28

Made changes to Turbo Building. The details of these changes can be found in our blog post.

From server on August 29

Resolved an issue in which the names of POIs would not appear on the map.

From server on August 31

Resolved an issue with the B.R.U.T.E.'s air stomp.
Creative
Prefabs & Galleries
Added two New Prefabs
Added three New Galleries

Prison Gallery
Flush Factory Gallery
General Props Gallery C
Recap
From patch v10.20.1

Bug Fixes

Unmanned vehicles will again trigger damage traps.
A large shadow no longer appears while in fly mode.
Resolved an issue in which featured portals would not respect certain settings on certain devices.
The Music sequencer will play for both the client and server.
Vehicles will spawn on game start instead of in the warm-up portion.
Save the World
Weapons + Items
The Hot Mix Pistol slides into the Weekly Store.

Fires a pair of Sonic Blasts that pierce enemies. This Hot Mix will really get your feet moving!
Available in the Weekly Store from Wednesday, September 4 at 8 p.m. EDT, until Wednesday, September 11 at 8 p.m. EDT.
General
Recap
From patch v10.20.1

Improved stability on Xbox One, iOS, PC, and Mac.
While we don't yet fully understand how the Zapper Trap functions in game, its basic premise sounds a lot like the old Ceiling Zapper that debuted in the early days of Battle Royale. That trap was meant to shock opponents whio stand on it, and this defense mechanism works the same way. The Ceiling Zapper was ultimately swapped for spikes because it was too loud, but we imagine this new iteration takes those auditory shortcomings into account.
As for the map changes, the return of Floating Island is sure to turn more than a few heads this morning. Kevin the Cube was one of the most beloved fixtures in the Fortnite universe, so it's nice to see him back in his rightful place at Loot Lake. Previously the map featured a couple monuments in his honor, but now it's got the real thing. The altered Rift Zone doesn't necessarily bring anything new to the table, but it's still a nice shot of nostalgia for those who've enjoyed Fortnite over the past few months. Like most Content Updates, Fortnite Content Update 10.20 isn't exceptionally massive, but it features some cool stuff for fans to enjoy.
Fortnite is available now on PS4, Xbox One, Switch, PC and mobile.
What are your thoughts on Zapper Trap and the return of Kevin the Cube? Is there enough to see in Content Update 10.20? Tell us in the comments section!