'Fortnite' Update 7.30 Adds Bottle Rockets & Vaults BoomBox - Patch Notes
Fortnite Content Update 7.30 is officially live, and we have the patch notes to prove it. Today's update features Bottle Rockets, Foraged Campfires and a vaulted Boombox. Read the full details below courtesy of an Epic Games blog post.
Fortnite 7.30 Content Update Patch Notes
Battle Royale
LTM Wild West Duos
Fight for a Victory Royale using a limited set of weapons and items, such as Hunting Rifles, Shotguns, and Dynamite. This town ain't big enough for the hundred of us!
Increased the chance for Slurp Juice to appear in Supply Drops.
Unvaulted the Revolver and the Double Barrel Shotgun for this mode.
Weapons & Items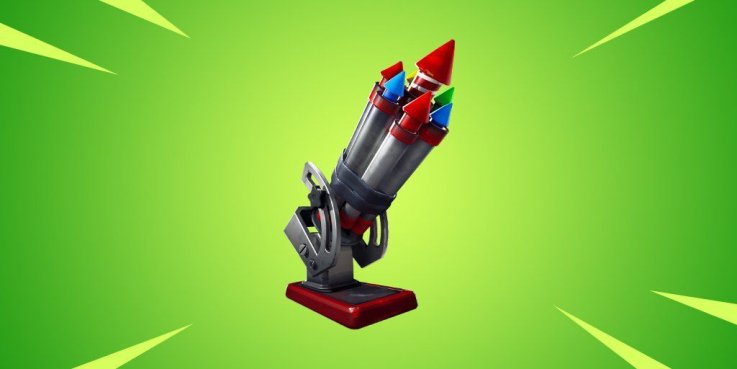 Bottle Rockets

A thrown item that launches a barrage of bottle rockets to the toward the targeted direction.
Rarity: Uncommon
Found from Floor Loot, Chests, Vending Machines, Supply Llamas, and Supply Drops.
Drops in stacks of two.
Max stack size of six.
Fires 45 rockets of varying speeds randomly within a cone over roughly 9 seconds.
Deals 10 player and 40 environmental damage per explosion.
Max two active per player.

Environmental Campfires

Campfire props in the world can now be lit by interacting with them.
Behaves like the Cozy Campfire, healing two health per second for 25 seconds to all nearby players.
Each campfire can only be used once per match.
You can tell if a campfire has been used by whether or not you can still see wood in it.

Vaulted
Reduced the chance of receiving rocket ammo out of ammo boxes from 12 percent to six percent.
Increased the impulse strength of the Launchpad by X percent.
Reduced the chance to receive Dynamite from Chests from X percent to Y percent.
Sneaky Snowman will no longer drop from Chests.
Chiller Grenade

Lowered the volume of the beep.
Events
Architect Pop-Up Cup
Removed the ability to edit enemy structures. Thank you for your feedback!
Creative
Prefabs
Disco Gallery B
Added a second gallery of concert-related props.
Weapons
Bottle Rockets

A thrown item that launches a barrage of bottle rockets to the toward the targeted direction.
Save the World
Missions
Weekly Frostnite Challenge 6: Trap Attack

Traps are buffed but enemies ricochet back any ranged damage.

Use traps and melee attacks to defeat enemies..
Survive for 30 minutes three times to collect the Week 6 Challenge Banner.
Survive for 30 minutes to earn your choice of oneDragon weapon.

Dragon's Roar
Dragon's Tooth
Dragon's Claw
Dragon's Might

Available on February 6 at 7 p.m. EST.

Lunar Llama added to the Loot store
Available from Feb 6 at 7 p.m. EST until the end of Season 7.
Contains Dragon Weapons and Lunar New Year Heroes from last year's Spring It On! event.
Costs 500 Snowflake Tickets
Heroes
Subzero Zenith will be available in the Event Store.

Mythic variant of T.E.D.D. Shot
Available on February 6 at 7p.m. EST.

Wukong returns to the Event Store.

Available on February 6 at 7 p.m. EST.

Lunar New Year Heroes are returning in the Lunar Llama.

Berserker Headhunter
Berserker Renegade
Flash A.C.
Flash Eagle Eye
Riot Control Hazard
Riot Control Izza
Thunderstrike Mari
Thunderstrike Scorch

Note: Most Heroes will become unique once the new Hero Loadout launches.
Weapons
Dragon Weapons are returning in the Lunar Llama.
Dragon's Claw sniper rifle
Dragon's Fang spear
Dragon's Fury fireworks launcher
Dragon's Might fireworks shotgun
Dragon's Roar assault rifle
Dragon's Tooth sword
As far as the new features are concerned, Bottle Rockets and Foraged Campfires are both pretty interesting additions. It's been a little while since we seen a new heavy explosive find its way into Fortnite's armory, but this sounds like a cool way to bring some festive fun into the mix. Assuming their implementation is totally bug-free, it adds just enough to the meta to keep players invested. Foraged Campfires, on the other hand, are just a smart and interesting change to the game. Players have been dying to make use of the fire pits scattered around the map, and now they can. In fact, some fans feel these fires might hold the key to expanding the visuals of the Prisoner skin in some way. For a Content Update, patch 7.30 offers a decent amount of worthwhile adjustments.
Fortnite is available now on PS4, Xbox One, Switch, PC and mobile.
What are your thoughts on Bottle Rockets and Foraged Campfires? Is the aim assist nerf necessary? Tell us in the comments section!
'Fortnite' Update 7.30 Adds Bottle Rockets & Vaults BoomBox - Patch Notes | Gaming