'Fortnite' Daredevil Cup Start Time & How to Get The Daredevil Skin Early
Fortnite fans can take part in the Daredevil Cup starting October 14, and we want to make sure you're prepared for the action ahead. Below, we recap the tournament's start time, rules and possible rewards. Want to get your hands on the Daredevil skin before your friends? Here's what you need to know.
What time is the Daredevil Cup in Fortnite?
Fortnite's Daredevil Cup takes place October 14 from 5 p.m. to 8 p.m. local time. In other words, while the start times may vary in other regions based on time zones, the 5 p.m to 8 p.m. hour is all you need to be aware of.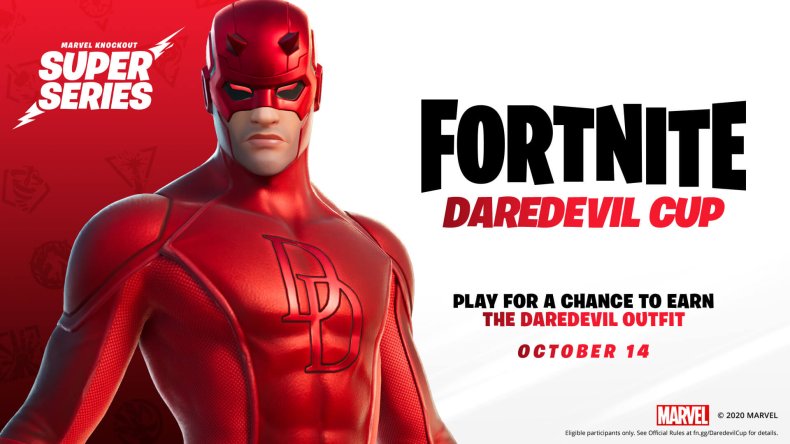 For those keeping track of the global tournament, we've listed all regional start times below in Eastern Daylight Time.
NA East: 5 p.m. to 8 p.m. EDT
NA West: 8 p.m. to 11 p.m. EDT
Europe: 12 p.m. to 3 p.m. EDT
Oceania: 3 a.m. to 6 a.m. EDT
Brazil: 5 p.m. to 8 p.m. EDT
Asia: 4 a.m. to 7 a.m. EDT
Middle East 8 a.m. to 12 p.m. EDT
How does scoring work in the Daredevil Cup?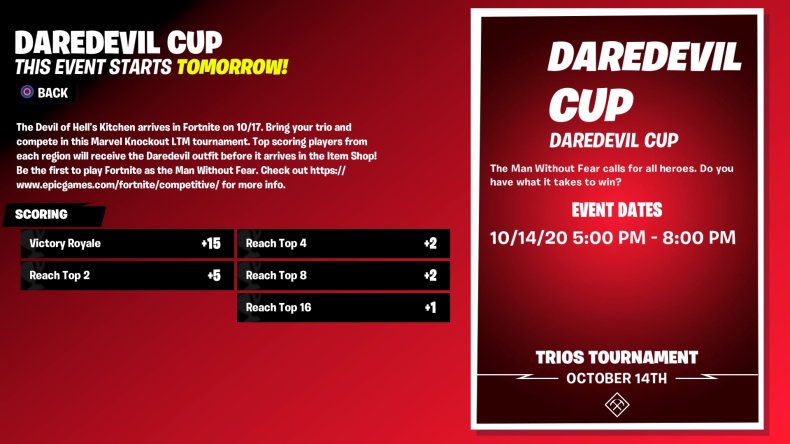 This tournament features Marvel Knockout LTMrules, which means trios spawn with four Superpowers per player and must accumulate as many Eliminations as possible before the timer runs out. Abilities are assigned at random, but are matched between the competing teams. Work your way through four rounds to reach the top of the tournament ladder. Daredevil Cup scoring is based on placement on the in-game tournament ladder over a maximum of 10 individual matches.
First: 25 points
Second: 10 points
Third-Fourth: five points
Fifth-Eighth: three points
Ninth-16th: one point
How to get the Daredevil skin early
For this particular tournament, the only prize is early access to the Daredevil skin before it officially comes to the Item Shop on October 17. The number of possible winners varies by region.
NA East: First-500th
NA West: First-200th
Europe: First-800th
Oceania: First-100th
Brazil: First-200th
Asia: First-100th
Middle East: First-100th
This is also the first tournament of four tournaments in the Marvel Knockout Super Series that will similarly offer early access to three more Marvel skins in the future. Just for participating in all four tournaments you can earn the Marvel Nexus Glider, which essentially features the Season 4 loading screen art on a Glider. That's all you need to know about Fortnite's upcoming Daredevil Cup.
Fortnite is available now on PS4, Xbox One, Switch, PC and Android.
Will you be playing in the Fortnite Daredevil Cup on Wednesday? Do you think you can get the Daredevil skin early? Tell us in the comments section!